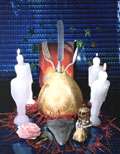 David Byrne, The Wedding Party: El Santo, 1998.
Written by Francesca Turchetto
Translation by Anna Clarkson
In his solo show David Byrne presents the latest developments in his six year dialogue regarding the possibility of uncovering the hidden face of the things around us, in a vision of the world which seeks to break up the unequivocal school of thought. Eight everyday objects are dressed in elegant clothes – here Byrne employed the help of costume maker Adelle Lutz – and are placed in the human context of a wedding ceremony.

For example, a flower vase adorned with an outfit of precious fabric becomes a radiant bride, a radio dressed in a skirt transforms itself into an old aunt, an alarm clock draped in regal red cloth is the cardinal who carries out the ceremony, in a game of parts where the objects, retaining their original features, seem to be surreal caricatures of human beings. On the walls hang large portrait photographs of each member of the wedding procession, amplifying this humanization of things and the objectification of the human figure. The bride, the groom, the various relatives, and the cardinal are placed within a particular context, which enhances their role.

The gaily colored flower vase is depicted under a celebratory shower of rice; the radio in a room of pink velvets which enhances its mundane character; the alarm clock surrounded by sacred icons. The frame of each work is carefully selected by the artist and picks up a particular color of the photographed subject in order to neatly conclude each piece. In using instruments which have for years characterized his artistic research, Byrne demonstrates his desire to marry a magical-anthropomorphous vision of things – which, by his own admission, gave rise to the execution of these latest works, which actually recall voodoo rituals or fetishism – with an extremely rational vision.

Once again the result is a curious and demystifying set of works in which irony and reason, sacred and profane, rituality and mundanity intertwine to give us a work which diffuses logic based on the principle of identity and non-contradiction.