By Ben Wener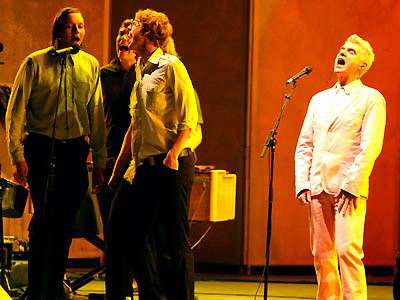 How heartening that years later David Byrne still can't resist an over-the top stunt.
Every time he returns for a SoCal show he's got some new twist to unveil. For his headlining turn Sunday night at the Hollywood Bowl - the first of six world-music festivals to be staged at the legendary venue this summer by KCRW/89.9 FM - not only did he enlist perhaps the most acclaimed new band of the past year, the Arcade Fire, but he finished his 15-song set by trotting out San Francisco's campy Extra Action Marching Band for a ribald, ramshackle take on Beyoncé's "Crazy in Love."
OK, maybe that finale was a tad too chaotic, what with silver-haired, pink-suited Byrne swarmed by pom-poms and trumpeters in corsets, breathlessly struggling to keep pace while reading lyrics off a sheet next to his foot pedals. Maybe he should have tried more remakes of his own work, given how well Extra Action's horn blats complemented "Burning Down the House" and how beefier the troupe's drum squad made Byrne's already percussive take on Cole Porter's "Don't Fence Me In."
As usual, this was hit-and-miss stuff. But sometimes - as has been the case with the former Talking Heads frontman's many forays into world-beat amalgamation over the years - it's not the results that count. What matters is the spirit of things, that these experiments are attempted at all.
The only disappointment of this three-hour experience, then, was the meager amount of cross-pollination - among the acts that appeared, that is, not within their own sounds.
For instance, Byrne also invited along Si*Sé, a Brooklyn outfit from his Luaka Bop label that (on record) fuses burbling electronics with lulling down-tempo urban grooves. Here, the sextet offered six bland numbers that played like retread acid-jazz, then wasn't heard from again.
Likewise, the Arcade Fire, the stately, talented, almost rambunctious Montreal band that might best be described as Belle and Sebastian with more passion, resurfaced during Byrne's set merely to add hollered vocals and steel drum to the lilting Heads tune "This Must Be the Place (Naïve Melody)." Ultimately it seemed more a show of support from forebear to offspring than a meaningful collaboration.
What's more, given the venue's unrealistic curfew, Byrne's 75 minutes felt skimpy; though his sound was fuller here, abetted once again by the Tosca Strings, he played almost twice as long (and with greater confidence) at Disney Hall last year. Take away the Extra Action portion Sunday night and what remained was a dozen songs, a third of which were fleeting, another third of which (including the fitting groove "I Zimbra") were uncharacteristically choppy and hampered by monitor glitches.
There were gems: revivals of tunes originally done with Thievery Corporation ("The Heart Is a Lonely Hunter") and Ryuichi Sakamoto ("Psychedelic Afternoon") were surprises, Byrne's own "Finite = Alright" was superbly enhanced by the Tosca players, and Heads favorites "Road to Nowhere" and "Psycho Killer" were treated to slight but stirring rearrangements.
But no sooner did Byrne's set gather momentum than it began its outrageous ending. Which means one thing: The Arcade Fire stole this show.
Surely half of the crowd had come for that more than Byrne, anyway, but the other half - especially older Bowl regulars in the boxes close to the stage - went from having a blasé response to its brimstone-and-grandeur approach to giving the group a standing ovation, then remaining up for the final two numbers. Less of a reaction would have been shameful, for the Arcade Fire - led by singer-guitarist Win Butler and his wife, singer and multi-instrumentalist Régine Chassagne - is one of the most infectiously exciting bands to surface this decade.
The quintet's mournful yet hopeful and above all sweeping debut, "Funeral," is plenty intriguing, but it's improved by a live encounter, wherein other players heighten Butler's sometimes tentative vocals by bashing cymbals and xylophones, furiously strumming guitars and culling extra atmosphere out of accordion and strings (the Tosca gang assisted here as well).
At Coachella in May, the group instantly received roaring approval from scores of recent converts. Thus this show was the true test of its mettle, and intimidated though Butler and pals were initially, they melted away reservations with epic yet urgent music. If they can make it here, they can make it anywhere.