'It's really a great honor': A conversation with Mark Bautista of Seattle Rep's 'Here Lies Love'
Via Queen Anne News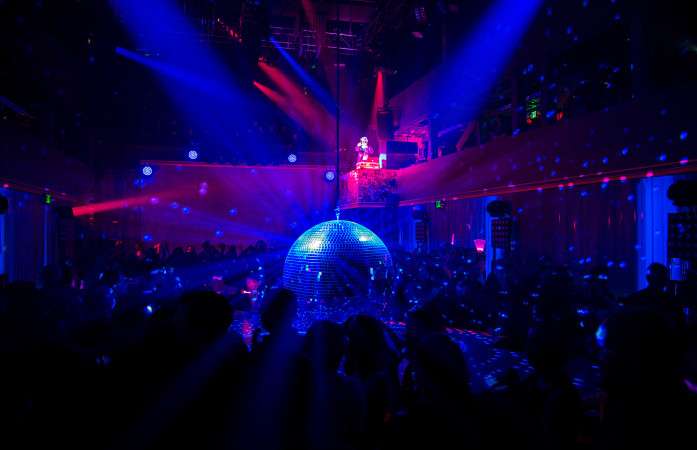 Seattle Repertory Theatre's production of Here Lies Love. Photo by Navid Baraty
Written by Joe Veyera
Mark Bautista has done a little bit of everything.
The 33-year old has starred on both TV and the big screen in his native Philippines, along with releasing several albums in a career that launched with the televised singing contest "Star for a Night."
Seattle now gets the chance to see Bautista's acting chops up close, as he plays former president of the Philippines Ferdinand Marcos in Seattle Repertory Theatre's production of "Here Lies Love," which opened last weekend and runs through June 4 at the Bagley Wright Theatre.
The Queen Anne & Magnolia News sat down with Bautista to discuss the role — which he reprises from the show's London run — and how the theatre scene is evolving in the Philippines.
What drew you to the role?
Bautista: They actually held an audition in the Philippines a couple of years ago. So, David Byrne and [director] Alex [Timbers] and the team went to the Philippines, and I just tried my luck and auditioned for that show. Luckily, I got the role — the lead role of Ferdinand Marcos — and I'm so lucky to go to London and perform. It's actually a great experience.
How much do you feel you have to be true to history, and how much do you feel you get to play with the character of Marcos?
Bautista: We have to, as an actor — I need to research more on the character of Marcos, and I actually went to meet Imelda in the Philippines to know Ferdinand Marcos as a person and as a president, and I have to also inject my own character in the role. I just have to make it real and truthful.
What was that like, meeting Imelda Marcos?
Bautista: It was amazing. It was surreal, because I didn't expect to meet her at that time, and I'm just so honored and so privileged that I was able to meet her. It was an amazing feeling.
What's been the biggest challenge for you in this production?
Bautista: This story is really very — for the Filipinos — it's very sensitive and very complicated, so I think my role is, my challenge is, telling the people the truth. There's a thin line between telling the truth and not making them appear in a bad light, putting the Marcoses in a bad light, so I think it's a balance.
How much does your experience growing up in the Philippines play into how you perceive this role?
Bautista: I was actually born after martial law, but with this one, I guess — You know what? It's amazing, because I feel like I'm privileged to do this role, because it's part of our history, and I think this show will make Filipinos really, really proud that we have our own Filipino-themed musical, and I'm actually just happy to be doing this.
What keeps you coming back to this production?
Bautista: I'm just so fortunate that I was given the chance to do it again. I've always loved this show. This show is really close to my heart. It brought me to places I never imagined. I performed at the National Theatre in London, and I was given that opportunity to perform there and I think that's a great honor. For this one, I'm also happy the team considered me to be playing the role again. It's really a great honor.
What have you learned from this experience?
Bautista: I've learned a lot, that in theatre it's not just about your talent and your skill, but it's also about camaraderie, and being with the people around you. I've also learned about the Marcoses. There are things in the show I had never known, so I'm having this new information about them also.
How are you enjoying Seattle?
Bautista: I feel at home now, compared to my arrival, when it was different. I felt like, "oh, it's so quiet. The weather is weird," but now I'm getting used to it. I'm loving it.
If you had to convince someone to see the show, what would you tell them?
Bautista: I think they should watch the show because it's a musical that's never been made like this before. It's a unique musical, it's immersive, and it's fun, exciting, and they will enjoy 90 minutes of the show. There's no intermission, and they'll enjoy everything.
Are there any roles that you've had, or work that you've done that you felt helped you in preparing for this show?
Bautista: I think I did some musical plays in the Philippines, and before I did the one in London, I also did the Full Monty, and after that London show, I did a musical. I was doing other TV shows, TV series, dramas.
How does the theatre scene in the Philippines compare to what you did in London and what you're doing here?
Bautista: Now, theatre in the Philippines is really growing. I am very, very happy about the theatre scene in the Philippines. A lot of new productions are coming up, and international shows are visiting the Philippines and doing their shows. Recently, we had Wicked and Les Mis from the West End tour, and there's a lot more, and there are a lot of Filipino companies emerging right now. I can't compare it to London, because it's really something different, and I'm just happy the Philippines is going that way.
Is that something you hope to do, to build that culture in the Philippines?
Bautista: You know what, it's a dream. I hope that we can have more theatres in the Philippines, like the ones on Broadway or the West End, I also hope we can have that scene in our country.
Is there anything else you'd like to mention?
Bautista: I just hope Filipinos will watch the show. For some, this is a really an important history for us. But we're not limiting the show to Filipinos. This show, everyone will enjoy it, and I just hope everyone will catch the show and enjoy it and spread the word.