David Byrne Curating a Staged Musical Variety Show
Via Lemonwire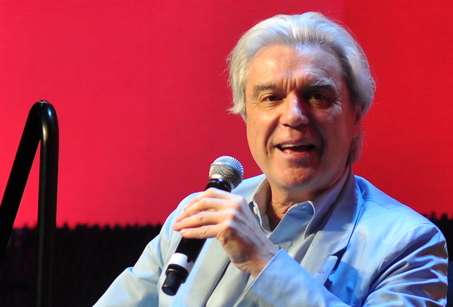 David Byrne speaking at the MoPOP conference at Seattle in April this year.
Written by Jeremy Gurto
Rock music's resident eccentric David Byrne is sticking to character and preparing for a staged so-called "variety show" made up of bands and performers Byrne himself personally recommends.
The idea is based off a new edition of Byrne's own best-selling 2012 book How Music Works and a new chapter where he describes how people discover music in the modern age. Along with "social and cultural forces", "narrative and context" and the music itself, Byrne cites "recommendation by experts". Though maybe presumptuous to call himself a music expert, given his TED Talks and writings on the subject, he definitely knows at least how to interestingly deconstruct the very idea of music.
The show itself is planned to be a one-night event and scheduled to take place at the Town Hall in New York City on June 1 with tickets now on sale. A press release states that it will not just include music but dancing, theater, magic and science performances.
Byrne himself has had a full year, focused mainly on his musical on the life of Joan of Arc. Having already ruled out a reunion with his former band Talking Heads (saying it would "be a number of steps backwards), Byrne is set to collaborate with Oneohtrix Point Never and release his first solo album since 2004's Grown Backwards early next year.
Given Byrne's scholarly musical knowledge and Talking Heads' range of unique influences from Fela Kuti to David Bowie, the idea of a personally curated stage show by David Byrne promises to be a "once in a lifetime" experience.