Here We Go Again: The Politics of Stop Making Sense
Via GQ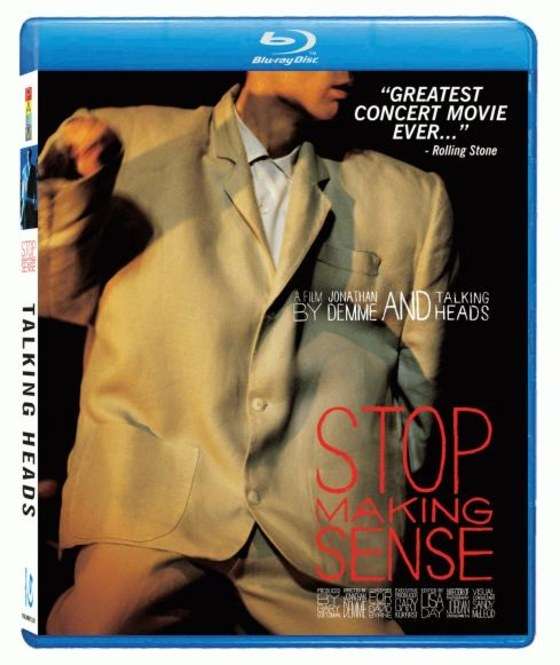 Written by Tom Carson
Even if you're the right age to have been a fan, odds are your Talking Heads isn't my Talking Heads. Mine, which I cherish, is the jittery New York art band my brainiest college crony—future Babylon Dance Band front man Chip Nold—dragged me to see at Max's Kansas City sometime in late 1976 or early 1977. Anyhow, before adding Jerry Harrison on second guitar and keyboards turned the original trio of Chris Frantz, Tina Weymouth and David Byrne into a quartet. But if you're most people, the Talking Heads you care about is the visionary Reagan-era crew of pop-funk ecstatics caught at their live peak in Jonathan Demme's 1984 Stop Making Sense.
Widely and probably rightly regarded as the best concert doc ever made, Demme's film is celebrating its 25th anniversary this month with a new Blu-ray release, chockablock with extras (interviews! audio commentaries! bonus performances!) for those who crave extras. Because of the way the set is structured to reprise the group's past before going joyously stratospheric—after songsmith/singer/ conceptmeister Byrne's solo-with-boombox-percussion "Psycho Killer" starts things off, musicians are added one at a time until the full ensemble starts burning down the house—the version of Talking Heads I'll always most dote on gets showcased near the start in "Thank You For Sending Me Angel" (jittery trio) and "Found a Job" (early quartet). Bless 'em for indulging my memories on their way to satori.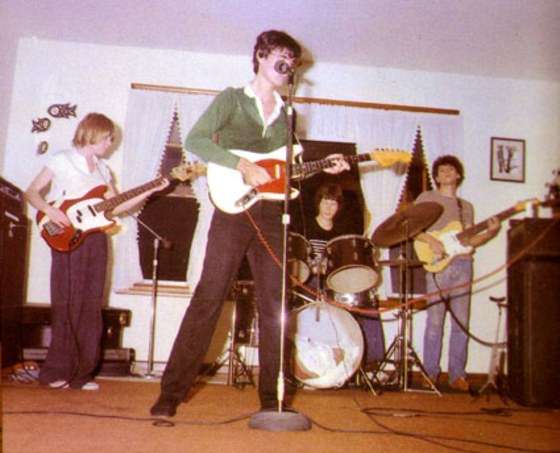 Don't misunderstand. Pulling boho-insider rank is the last thing on my mind, not least since plenty of lower-Manhattan cognoscenti from James Wolcott on had discovered the band long before shnooks like me ever saw the inside of CBGB. The fact is, "my" Talking Heads is a musical footnote. That's true no matter how many art nerds got inspired to mimic them—and for a while, it seemed like almost every provincial punk scene had at least one homage going, seldom with much to show for it.
Your Talking Heads, on the other hand, is an '80s pop landmark. Claiming the early edition was the real deal latecomers missed out on would be an affectation as foolish as saying the Beatles went downhill once they quit Hamburg, and I won't. It's just that, in my case, the pleasures of Stop Making Sense, which the passage of time hasn't diluted—c'mon, this music is freaking amazing—can't help but be tinted by a certain, let's say, estrangement.
From what? The ashes of punk, for one thing. Its unsurprising failure to conquer the planet had driven me for solace to Madonna instead of, I dunno, Minor Threat. (I figured she could never let me down by failing to live up to her ideals; no ideals, no problem.) But also from Reaganism, to whose collective euphorias and know-nothing Utopias—ooh, am I about to get myself in trouble——Stop Making Sense wasn't exactly antagonistic. It wouldn't have been a hit if it had been.
My best guess is that I've just lost or am about to lose about 95 per cent of you—some this week, and some for good. So put it this way: Back during "Morning in America," whose peak as one of the most effective re-election ads of all time coincided with the movie's release, celebrations whose effectiveness depended on nobody having much definite clue what was being celebrated made me kind of suspicious. And if you're wondering whether I was a real killjoy in those days, yep—I was a real killjoy in those days. Coffee used to look back at me and bleat fairly piteously that trying a little milk or sugar once in a while wouldn't be the end of the world.
Even people who don't roll their eyes at the idea that cultural perceptions can be affected by the perceiver's lousy political mood may find this sample counterintuitive. In his Talking Heads incarnation, Byrne's core beliefs on any subject were usually fairly elusive, and that was useful to his art. He'd have been a lot less interesting in his cover-of-Time heyday if he'd had a program. But Demme is a certified liberal Good Guy. Stop Making Sense—whose music never stops defining geeky white-boy cerebralism and funk's access to all things primal as partners in a grander, presumably democratic shared enterprise—is a triumph of multiculti fusion, not exactly a Reaganite priority.