2018 New Orleans Jazz Fest, Day 3: David Byrne's brain, Jon Batiste's wonderful 'World'
Advocate staff photo by Emily Kask
By Keith Spera
In the middle of Sunday afternoon, the New Orleans Jazz and Heritage Festival's past looked toward its future.
Before Irma Thomas' performance on the Acura Stage, George Wein, the festival's 92-year-old founder, gingerly made his way onto the stage. He was escorted by Quint Davis, who was a college student when Wein hired him to help recruit musicians for the very first Jazz Fest in 1970.
Wein's appearance was meant to kick off the countdown to the historic 50th Jazz Fest next year. Clearly, he'd like to be back then.
"I'm 92 years old," he said. "I'm waiting for the saints to go marching in. I hope they'll let me join them. But I'm not ready yet."
He concluded with, "I'll see you next year for the 50th year of the festival, okay?"
Even as it approaches the half-century mark, Jazz Fest continues to present fresh ideas.
For instance, it's unlikely that any of the thousands of performers who have graced the festival's stages over the decades had ever started a set by serenading a brain.
But at the Gentilly Stage on Sunday, former Talking Heads frontman David Byrne did just that. Barefoot in a trim gray suit, Byrne fixed his thousand-yard stare on the twin hemispheres of a full-scale replica of a human brain. He sat there, contemplating it, singing to it.
Clearly, there would be a performance art element to his performance. Byrne, always one of rock's more professorial innovators, did not disappoint. He and his ensemble, a dozen members in all, more or less redefined how a band presents itself.
No element of that band was static. Instead of a drum kit, he deployed a corps of individual drummers, each strapped to a single drum. The instruments were all wireless; no amplifiers were visible.
And all dozen performers, in matching gray suits, engaged in a continuous choreography as they played. It wasn't Beyoncé-level choreography, but it was enough to make for an innovative, shape-shifting presentation.
Sometimes Byrne was alone at the center of an otherwise clean stage; sometimes he was at the center of a line of instrumentalists. Sometimes they formed a wedge off to the side, or arrayed behind their leader.
It was a remarkably innovative presentation, especially in a festival setting. Making it even more impressive was how it all sounded. Byrne's unique voice made use of subtle changes in inflection and tone; he is so precise that any slight shift makes for high drama.
And the musicians built one churning, danceable groove after another on a succession of Talking Heads chestnuts and more recent Byrne solo material. "Once in a Lifetime" sprang to life in all its offbeat glory; so did "This Must Be the Place" and "Slippery People."
As "Dog's Mind" pulled up abruptly, Byrne laughed. "That is as far as we can go," he said. If there was a way to go even further, he likely would have found it over the course of one of the most inventive and unique presentations in Jazz Fest's long history.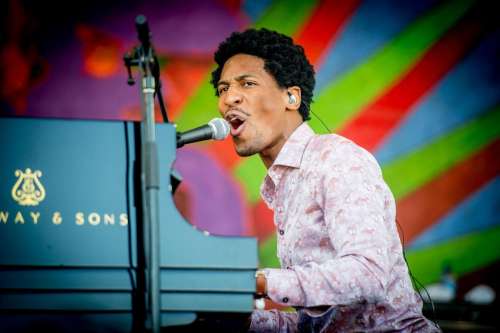 Advocate staff photo by Emily Kask
Earlier on the same stage, Jon Batiste, the New Orleans-born leader of Stephen Colbert's late-night TV house band, fronted the late Sharon Jones' Dap-Kings. Batiste and the horn-heavy ensemble reprised his take on Fats Domino's "Ain't That a Shame," which Batiste performed Saturday at the Acura Stage during a Domino tribute.
The New Orleans canon supplied much of Batiste's material. The group slow-stepped through a bluesy "St. James Infirmary." Batiste switched to organ for the percolating funk of Allen Toussaint's "Yes We Can Can."
In arguably the set's most striking moment, Batiste took on Louis Armstrong's signature "What a Wonderful World" alone at a grand piano. His touch on the keys was light; he picked his way through the arrangement with a natural grace. And he had just enough fun with it. At the end of the line, "I think to myself," he added, "Self" — as if he were in fact addressing himself. That respectful bit of modest humor let Batiste live in the song and make it his own.
Meanwhile, returning to the Congo Square Stage for the first time in four years, contemporary R&B star "Uncle" Charlie Wilson deployed fans across the front of the stage to counteract the blazing sun. Given Sunday's relatively low humidity, that sun wasn't nearly as blistering as it was four years ago.
Nonetheless, Wilson and his hard-working troupe of dancers and musicians worked up a sweat.
His dancers donned angel wings for the ballad "You Are." But the angels were gone by the time he revved up the Gap Band's "You Dropped a Bomb on Me."
As the final act on the Acura Stage, Jimmy Buffett held court with his Acoustic Airmen, a more acoustic-minded ensemble than his Coral Reefer Band.
As merry as always, Buffett, ukulele star Jake Shimabukuro, guitarists Mac McAnally and Sonny Landreth, and steel pan drummer Robert Greenidge gave Crosby, Stills & Nash's "Southern Cross" a Caribbean lilt. In Buffett's own "Volcano," they amped up the lilt that was already there.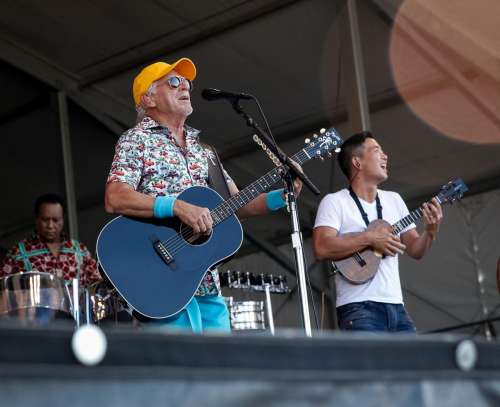 Advocate staff photo by Emily Kask