5 ways David Byrne revisits greatness in Indianapolis
Via Indy Star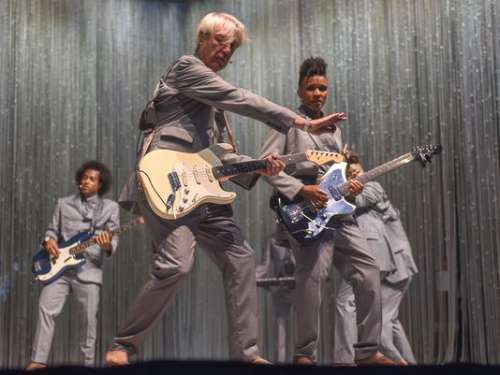 Photo by Chris Shaw/Live Nation
By David Lindquist
Anyone who tries to recapture a type of magic should be prepared for disappointment.
"The Godfather Part III," for instance, won zero Academy Awards. Michael Jordan never made the NBA playoffs as a member of the Washington Wizards.
Musician David Byrne, however, is making triumphant history with a tour to promote his current solo album, "American Utopia."
Thirty-five years after Talking Heads — Byrne's Rock and Roll Hall of Fame band — made groundbreaking concert film "Stop Making Sense," the singer-guitarist has found a new way to shatter expectations of what happens on a stage.
The genius idea of "Stop Making Sense" revealed itself as Byrne and his band mates transformed a bare stage into a full-production rock show, adding musicians and equipment in song-by-song increments.
For the "American Utopia" performance, a minimalist stage remains minimalist. No drum kits or amplifiers clutter the floor, allowing Byrne and his 11-member supporting cast to dance and act out songs on every available inch of real estate.
Check out five ways Byrne delivered a worthy "Stop Making Sense" sequel Saturday night at the Farm Bureau Insurance Lawn at White River State Park:
1. Mesmerizing visuals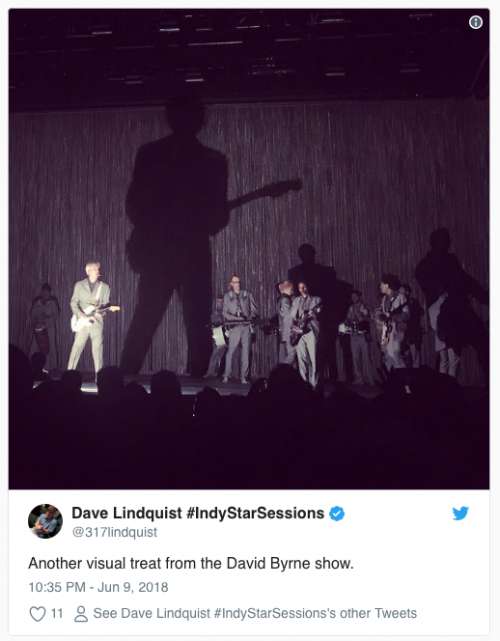 "Stop Making Sense" introduced Byrne's "big suit" influenced by Japanese theatre. The 66-year-old didn't change costumes Saturday, but his large shadow projection during a rendition of Talking Heads' "Blind" triggered memories of "Stop Making Sense." Other callbacks included Byrne singing next to a bare lightbulb during "American Utopia" tune "Bullet" (he danced with a shaded lamp in "SMS"), and backing vocalists Chris Giarmo and Tendayi Kuumba running in circles during "Utopia" selection "Every Day is a Miracle" (Byrne literally ran laps around his fellow musicians in "SMS").
2. Uplifting music
Of course, one of the prime motivations to listen to David Byrne's music is the chance to let your backbone slip. Saturday's dance-friendly highlights included Talking Heads tunes "Slippery People" and "Blind," expertly anchored by bass player and Indiana University alum Bobby Wooten. For "American Utopia" selection "I Dance Like This," three percussionists played variations of koras, or West African lutes, to create a racket in tandem with guitarist Angie Swan.
3. Technical achievement
All wireless systems performed flawlessly Saturday, when six percussion instruments, a keyboard, sometimes two guitars and one bass meshed for clean, balanced sound. The percussion concept is suggestive of a Fela Kuti or Tito Puente band, with individual players handling seemingly small tasks that emerge as a powerful pattern or multiple patterns to catch a listener's ear. Or simply break a conventional drum kit into parts so a snare player can face off with bass player Wooten on one side of the stage during Talking Heads classic "This Must be the Place (Naive Melody)" and someone else can hit a lower-toned drum while engaging guitarist Swan on the other. No production is infallible, however. A member of the crew was tardy in having a guitar ready for Byrne before "Blind," and the outdoor setting could be blamed for a cough or two amid his singing (not to mention the bugs buzzing around his head).
4. Food for thought
On one level, Byrne is the master of "what does it all mean?" lyrics. Humans really don't know much more than dogs, he points out on "Utopia" track "Dog's Mind," and he once famously sang about heaven being a place where nothing happens. But he's fighting the good fight for making the most of what we have here and now. Byrne made a between-song plug for voter-registration organization Headcount.org, and he summed up a philosophy in the lyrics of "Every Day is a Miracle": "You've got to sing for your supper; love one another." Finally, no message rang louder than the show-closing "Hell You Talmbout." This Janelle Monae & Wondaland Arts Society cover is built upon chants of the names of unarmed black Americans killed by police and renegade citizens followed by the phrase "Say his/her name."
5. Deep cuts
It's likely only the most die-hard Byrne fans had a familiarity with every song performed at the Lawn. It's a tribute to the musician's deep catalog and high artistic standards that three show highlights arrived with "Lazy," a 2002 collaboration with English house duo X-Press 2; "Toe Jam," a 2008 collaboration with Norman "Fatboy Slim" Cook and Dizzee Rascal; and "Dancing Together," part of a 2006 Imelda Marcos-inspired musical Byrne wrote with Cook.
Saturday's set list
1. "Here"
2. "Lazy" (originally a collaboration with X-Press 2)
3. "I Zimbra" (Talking Heads song)
4. "Slippery People" (Talking Heads song)
5. "I Should Watch TV" (originally a collaboration with St. Vincent)
6. "Dog's Mind"
7. "Everybody's Coming to My House"
8. "This Must be the Place (Naive Melody)" (Talking Heads song)
9. "Once in a Lifetime" (Talking Heads song)
10. "Doing the Right Thing"
11. "Toe Jam" (originally a Brighton Port Authority collaboration with Fatboy Slim and Dizzee Rascal)
12. "Born Under Punches (The Heat Goes On)" (Talking Heads song)
13. "I Dance Like This"
14. "Bullet"
15. "Every Day is a Miracle"
16. "Like Humans Do"
17. "Blind" (Talking Heads song)
18. "Burning Down the House" (Talking Heads song)
Encore
19. "Dancing Together" (from the Byrne-Fatboy Slim musical "Here Lies Love")
20. "The Great Curve" (Talking Heads song)
Second encore
21. "Hell You Talmbout" (Janelle Monae & Wondaland Arts Society cover)