A Celebration of Specialness: David Byrne's True Stories (1986)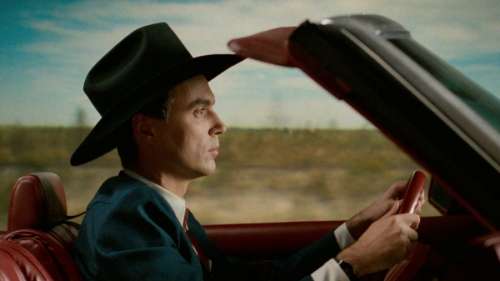 By Callie Smith
One of the Talking Heads' tracks that stands out on their discography is from 1978's More Songs About Buildings and Food. "The Big Country" has a bit of a country twang in its instrumentation and a condescending attitude for anyone who doesn't live in a big city. For five minutes, David Byrne plays a caricature of how he believes he's perceived: a city person who decides that everyone in rural or suburban areas simply isn't worth a second thought to an important, cultured person like himself.
Of course, "The Big Country" is a deeply satirical song where Byrne is playing into a stereotype, but many didn't get the joke. As Talking Heads grew away from new wave rock into pop rock, it became a bit of a thing for fans to boast of how they liked old Talking Heads better than the new, rather than recognizing the shift for what it was: inevitable. The band grew through incorporating sounds from many diverse cultures in their music, from the African influences in Remain in Light to the funk of Speaking in Tongues to the pop and country vibes of Little Creatures. The lyrics in these albums started to use less biting satire in favor of more genuine sentiments, though everything remained cloaked in the obscurity of Byrne's lyrical style. Slowly, his affection and, more importantly, fascination with so many cultures went from just influencing in Talking Heads to being one of the most central themes present in all of Byrne's work.
This theme is most present in both musical and visual form in Byrne's only directorial effort and its identically titled accompanying album, True Stories. Coming off the wild success of Speaking in Tongues and the iconic Jonathan Demme concert documentary, Stop Making Sense, funding for the small-scale feature came from a big studio, on the condition that it would contain an album's worth of Talking Heads songs. Despite being tied to a new album from one of the most popular bands of the era, True Stories didn't do tons of box office business. The gross only reached around two and a half million dollars, and the film quickly faded from the public's memory of Talking Heads, especially once the band broke up and focused on their solo careers.
Its erasure is so, so unfortunate, because there's never really been a film quite like this one. As singular and enigmatic as the man who made it, True Stories eschews the traditional methods of visual storytelling and takes a lot of roads less traveled by.
The idea for this film came from a set of newspaper stories Byrne gathered over the years, full of tall tales of bizarre people all over the United States. Scriptwriters Byrne, Stephen Tobolowsky, and Beth Henley gather all his clippings and throw them all into the small (and totally fictional) Texas town of Virgil. As we enter the town with our narrator and guide in the form of Byrne himself, the good people of Virgil are preparing to celebrate their sesquicentennial with a parade and talent show, which they've lovingly dubbed the "Celebration of Specialness". The event is being sponsored by the local tech company, Varicorp, where most of the citizens of Virgil work.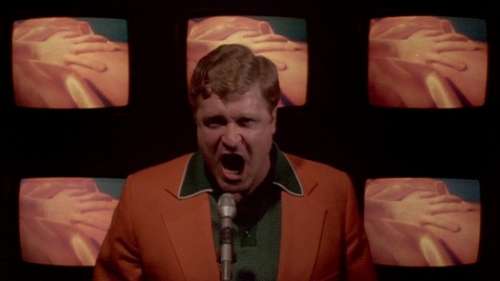 From that general setting, lots of vignettes and storylines branch off, each paired with a song with musical and/or lyrical relevance: Ramon, a mariachi musician, believes that he can read other people's mental signals. Miss Rollings is so wealthy she never has to stop watching TV in her bed. Her kind assistant, Mr. Tucker, practices voodoo in his spare time. Earl Culver, a local, well-liked businessman, never speaks to his wife Kay directly, only through their children and other people. When she isn't taking care of their family, Kay runs a local fashion show with outfits based on mundane, everyday things. Oh, and of course, there's also the crazy conspiracy theorist that leads their local church. The townsfolk are played with real honesty by the ensemble cast with a constant touch of dry humor. It's innate to Byrne's witty script and direction, but it can feel a little odd as an audience member to be encouraged to laugh at the very genuine characters.
What really encapsulates that feeling is John Goodman's turn as Louis Fyne. Louis works in the clean room at Varicorp, but he's also an aspiring songwriter. As a sweet but desperate bachelor who's looking for love in every imaginable place, Louis hangs out in karaoke bars, airs a lonely hearts ads on TV, and even asks Mr. Tucker to perform voodoo rituals to aid his search. Louis is a sad kind of character who wears his heart on his sleeve and often has it broken, so even in his oddest moments, he's a character the audience can fully understand, unlike most of the other wild cards in Virgil. Goodman grounds the audience as he walks the line between being comedic while also keeping Louis's humanity intact.
That nuance is what makes Louis the gateway character to understanding and relating to the rest of Virgil. It's a feeling we're learning alongside Byrne's narrator, who's just as new to the town as we are. His is a slightly alien, almost anthropological perspective that slowly gives way to fondness for the people that so openly welcome him.
And that's what True Stories is all about: that journey to learn empathy for anyone, no matter how different they are. It's a theme that's always remained at the heart of Byrne's work, since the start of Talking Heads through his solo work, all the way to last year's American Utopia and its stunning tour. Byrne's work is and has always been a series of celebrations of specialness, showcasing the differences and diversity that truly make America great.