A David Byrne bicycle ride through St. Petersburg
Photo by Jody Rogac
By Ray Roa
If you see a gray-haired rock star with his gigantic band all joyously riding bicycles around St. Petersburg this weekend, then don't worry: It's only David Byrne. The 66-year-old music icon is at the Mahaffey Theater on September 30, and while he is famous for the pioneering sound his older band, Talking Heads, brought to rock, Byrne is also an outspoken advocate of vibrant city life that supports bicycle culture. His 2009 book, Bicycle Diaries, intimately explains his adoration for the specific mode of transportation.
"On a bike, being just slightly above pedestrian and car eye level, one gets a perfect view of the goings-on in one's own town," Bryne wrote before going on to explain how, unlike many other U.S. cities, almost everyone in New York has to step onto the sidewalk and encounter other people at least once a day."Everyone makes at least one brief public appearance. I once had to swerve to avoid Paris Hilton, holding her little doggie, crossing the street against the light and looking around as if to say, 'I'm Paris Hilton, don't you recognize me?'"
During an August installment of WXPN's World Cafe, Byrne spoke with host Talia Schlanger backstage at the XPoNential Music Festival where she went searching for the songwriter before peeking into a road truck where 12 identical bicycles stood in a row. She was in the right place, and when she finally wrangled Byrne up, she asked him if a band of bicyclists is the norm for this tour in support of a new album, American Utopia.
"I do this all the time when I tour," Byrne explained. He said that it's a great way to explore whatever city he and his band are visiting. Bicycling is an embrace of the idea of freedom. It's not being trapped backstage or in some hotel room just waiting for the show to start. "You're your own master — you can do whatever you want, go wherever you want, stop whenever you want."
So in the spirit of exploration, and in celebration of the life of a songwriter who's truly invited us to change the way we see the world, CL has tapped into some of Byrne's words and experiences (and also tapped Bay area illustrator Amanda LaForest — aka The Peach Moon) to give the man and his band a montage highlighting special places all within biking distance of the stage he'll be singing on come the evening time. See you on the streets, David, we hope you try and see it all.
See the bottom of the post to listen to a playlist of the songs below and head to Google Maps to visit these locations from Amanda's illustration below.
David Byrne w/Tune-Yards. Sun. Sept. 30, 7 p.m. $59.50 & up. Mahaffey Theater, 400 1st St., St. Petersburg. More info: themahaffey.com.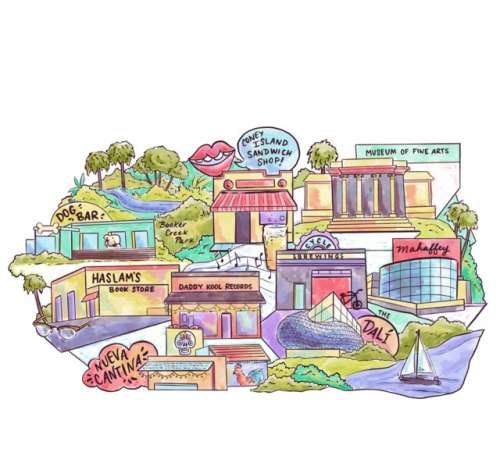 Illustration by Amanda LaForest
Museum of Fine Arts "Facts are simple and facts are straight… Facts are written all over your face," Byrne sings on "Crosseyed and Painless" from Talking Heads' 1980 album, Remain In Light. Sounds like a good reason to check out This Is Not A Selfie, the MFA's photographic self-portraits from the Audrey and Sydney Irmas collection, right?
Booker Creek In Bicycle Diaries, Byrne, who has ridden his bike in Manila (one of the world's busiest metros), admits that the politics of the Philippines "are not as simple as they were in my preconceived picture." What better place to respect that idea then Booker Creek, which CL contributor Professor Tom Hallock one kakayed through and called "a lesson in forgetting."The creek's most scenic stretches formerly ran through Campbell Park, according to Hallock. "Once part of a black middle-class neighborhood leveled for I-175. The Trop's parking lots were the Gas Plant District, a poor but thriving remnant of Jim Crow-era segregation."
Dog Bar "Dog's Mind" is an American Utopia song inviting humans to take a dog's-eye view. Sure, sometimes doggy dancers doody, but this fenced-in watering hole is a doggy daydream we could patronize all day long.
Haslam's "The Book I Read"is a highlight on Talking Heads' 1977 debut album 77 (which should be issued with your first record player), and this Depression-era bookstore is a good place to maybe see Byrne and be a little embarrassed to admit that he once hit the soft spot in your heart with the book he wrote.
Coney Island Sandwich Shop Byrne has said that he once worked at a hot dog stand called New York System, and in a video for Talking Heads' "Once In A Lifetime", Byrne purportedly mimics hand positions that workers supposedly used to make cradling wieners before the condiments get applied. "I saw these Japanese kids dancing in the park in Tokyo, these kind of rockabilly dancers, and then there were these kind of space cadet kids that had a completely different set of movements," is how Byrne explained the clip in an interview with Pitchfork. "I videotaped a bunch of them, and that's where I got that."
Daddy Kool Records "But something about the way it sounds when the melody ends, and the rhythm kicks in," Byrne sings on "This Is That" from American Utopia. "It knows where I'm at, and it knows where I've been." Byrne could stop into Planet Retro Records after Coney Island, but if he needs another record shop to use his cash card at, then why not hit up one of St. Petersburg's longest running places to find vinyl and make a friend.
Cycle Brewing This is a David Byrne bicycle map of St. Petersburg. How could we not include Cycle Brewing? It totally should've made a beer called "Cycle Killer" in honor of Byrne's visit, right? Maybe next time.
Nueva Cantina David Byrne's online journal is a joy, and in 2014 he wrote about exploring Los Angeles and eating fish tacos before eventually finding himself checking out quinceañera cakes at a bakery. The Fourth Street location of this shop is is a good place for a pre-show meal, and it's the second to last stop on this bike tour.
The Dalí Byrne loves museums, and the imagery from a song off of Byrne's 2004 solo album for this structure (made of "Glass, Concrete and Stone") is a perfect ending for a tour that should definitely find Byrne letting his mind go 50 feet high before he lets his body and soul be his guide onstage at Mahaffey.