American Utopia - David Byrne Revisits Talking Heads And More On Stage In Chicago
Via Forbes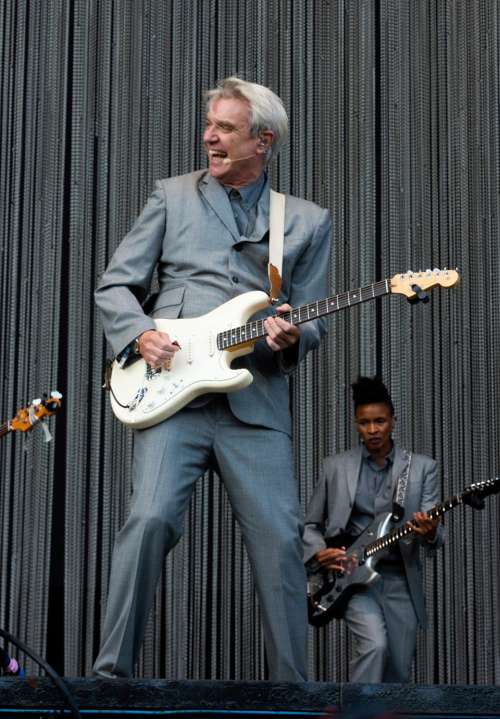 Photo by Paul R. Giunta / Invision / AP
By Jim Ryan
As David Byrne's "American Utopia" tour finishes up a sold out three night run at Chicago's Auditorium Theatre, it's worth looking back for perspective.
At the end of the summer in 2001, the former Talking Heads frontman had just returned to America for a run of live performances in support of his sixth solo album Look Into The Eyeball.
But that tour came to an abrupt halt following the events of 9/11.
A run of midwest dates had been scheduled to start on September 13, 2001 in Madison, Wisconsin. America was in turmoil, air travel became inordinately difficult and that performance was canceled.
That tour wound up being retooled a bit but, incredibly, it did resume as scheduled the next night in Chicago, at the Riviera Theatre, on September 14th, only three days after the attacks.
It was the first major concert in the city that wasn't canceled or postponed.
Byrne, an avid cyclist, famously avoids driving. But he spoke passionately from the Riviera stage that night about the level of importance he felt in the age old adage, "the show must go on." Returning to normalcy was important and Byrne rented two vehicles to transport band, crew and gear from New York to Chicago for the show, driving from Chicago to Indianapolis for a scheduled performance on September 16th too.
That night in Chicago was a strange one. From the venue staff and assembled audience to the musicians on stage, many a puzzled look was exchanged. "Should we be here right now?" "Is it too soon?" Nobody really knew those answers. It was largely uncharted ground.
When Byrne began his encore with the 1979 Talking Heads hit "Life During Wartime," it breathed surreal new life into into the song during turbulent times that carried more questions than answers. But, when the show was over, thanks in part to Byrne's on stage optimism, one thing was clear - even if only fleetingly, things seemed a little bit better.
All of which is to say that Byrne, in addition to having a storied history on stage in the city of Chicago, knows how to capture a moment.
And he's doing it again across the country now as part of his current "American Utopia" tour.
In a contemporary American society that is frequently described as polarizing, depressing and divisive, Byrne has chosen not to wallow in the clutter, instead focusing on the good and where it can be found.
He's gone out of his way to point out that "American Utopia" is not an ironic title for the tour or his latest studio album (March, Todo Mundo/Nonsesuch Records). Songs from it, like "Every Day is a Miracle," stand out live as a sincere representation of that notion. And the headline of his website is emblazoned with the request, "FIND REASONS TO BE CHEERFUL!"
David Byrne rarely looks back. The desire to push the music forward, at all times, is a trait that has defined his solo career. But he's repeatedly made a concerted effort to compare the ambition, scope and production of this "American Utopia" tour to that of the oft-celebrated Talking Heads live opus, Stop Making Sense.
The 1983 concert film is widely considered to be one of the best ever in the genre. So linking the two in the minds of fans is a bold move. It's also a risky one in that, fan expectations and nostalgia for that production are immense, setting the bar high for the live presentation of "American Utopia."
The Talking Heads sold nearly ten million live and studio albums in America. But in a quickly changing music industry landscape where it's become harder than ever to sell albums, or profit in any way off of recorded music, a strong live show has become imperative.
It's what fuels ticket and merchandise sales. Byrne, for instance, is selling a $90 "American Utopia" hoodie on this tour. Feel free to ponder the irony of that, but it's one of the few ways in which artists have been able to successfully monetize.
For the sake of context, on that September 2001 night in Chicago, Byrne sold approximately 2,500 tickets at the Riviera Theatre. That was a stripped down affair featuring little more than a band on stage performing live.
Fast forward to 2018, Byrne has sold almost 12,000 tickets over the course of three sold out nights in Chicago alone, due largely in part to the high "American Utopia" production values (which managed to fuel album sales too, as American Utopia became the first David Byrne solo album to crack the top ten on the Billboard 200 album chart when it debuted in March at #3).
On night one of three in Chicago, "American Utopia" began with Byrne on stage sitting alone in a chair, behind a desk, holding in his hand a brain. The show started with the final song from his latest album, "Here." From there, the set moves to the final cut from his 2004 solo effort Grown Backwards in "Lazy," before entering more familiar territory with the Talking Heads' "I Zimbra."
As the show begins, a wall of lights rises up alongside each side of the stage and behind it, running from the floor up to the top of the stage, giving the ironic visual impression of almost trapping the performers inside a box. Over the course of those first three songs, additional vocalists and musicians begin making their way on to the stage. The number of performers swelled to eight during "Lazy" and a dozen during "I Zimbra."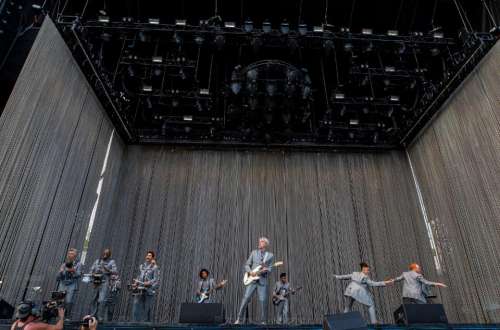 Photo by Scott Legato / Getty Images
"Are you guys really playing that or are there tapes and backing tracks?" Byrne said he was asked following a recent tour stop in San Antonio.
In a live music environment where technology has enabled the performer to cut many a corner, Byrne was having none of it. "Everything you hear is coming from this stage, being played by these brilliant musicians," he said Friday night on stage in Chicago.
Chicago's Auditorium Theatre stands as, arguably, one of the best venues in which to experience "American Utopia." Located on the downtown campus of Roosevelt University, the building was designed by architects Dankmar Adler and Louis Sullivan. Completed in 1889, the hall remains nearly acoustically perfect.
Byrne's latest single, "Everybody's Coming to My House" ended with beautiful a cappella vocal harmonies that belied the strength of the room in which they were being performed. That song, in making the case for the merits of his latest studio album, acted as the intro to the unquestionable high point of the evening, moving promptly into Talking Heads hits "This Must Be The Place (Naive Melody)" and "Once in a Lifetime."
The typical trappings of the live show are abandoned almost entirely during the "American Utopia" show. There are no mic stands (Byrne wears a mic'd headset). There are no video screens. There's no rugs on the stage. Perhaps, most strikingly, there aren't even any stationary instruments (not even a drum kit). Every performer carries their instrument, even the percussionists, and moves about the stage, often barefoot, with Byrne in synchronized routines.
The music of the Talking Heads remains relevant. That was perhaps most notable during a performance of "Slippery People" in which Byrne was backed by a full eleven piece band featuring six percussionists. The song's lyrics take on new meaning today and it's clear why it's included in this set. But Byrne never addresses any one person in particular. And he doesn't have to - there's no lack of options in this world.
Similarly, "Slippery People" was also one of several tracks performed to feature a lyrical reference to guns. The Heads hit "Once in a Lifetime" does too. And from American Utopia, "Bullet" is the latest example.
The show closed with a cover of Janelle Monae's 2015 protest song "Hell You Talmbout." The call and response song features the names of African Americans who've been killed by law enforcement and asks, simply, for the audience to repeat the names back. "Sadly, it's still relevant today and, with her blessing, we've continued to update it," said Byrne of the Monae track.
It was the closest to directly addressing a controversial topic, or offering an opinion on one, that he came all night. Like a great artist should, Byrne strives to make you think - he never tells you what to think.
The one request he did make was a simple, non partisan one - that people vote.
"America's turn out record is... not so good," he stated, noting the obvious. "That really should change."
Byrne partnered with Head Count who had volunteers present in the Auditorium lobby in the hopes of registering voters.
In stripping away virtually every bell and whistle that contemporary tours rely upon, David Byrne showed that, even in a live concert industry driven by the constant, brisk advances in technology, sometimes less is more. Sometimes it's stunning.
On night one of three in Chicago, "American Utopia" functioned as a thought provoking example of the power of live music.