Best concert ever? David Byrne's 'American Utopia' tour is right up there
Via Alabama.com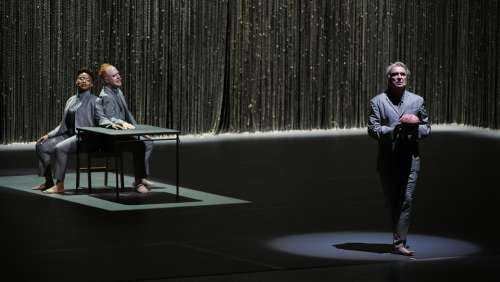 Photo: Joe Songer | jsonger@al.com
By Mary Colurso
When the audience first saw David Byrne on Wednesday night at the BJCC Concert Hall, he was holding up a model of a human brain.
Singing the lyrics to "Here," a tune from his latest album, "American Utopia," the former Talking Heads frontman -- white-haired and slightly wild-eyed -- looked like an obsessed college professor or the featured speaker at a mad scientist symposium.
Then the tempo picked up, Byrne's 11-member band started to march in, and he proceeded to blow our minds for the next 100 minutes.
This thrillingly creative concert was like nothing Birmingham has ever seen before -- a theater spectacle, a visual-arts project, a piece of social commentary and a musical journey that reflected the career of its maker.
The 8:45 p.m. show also served as an homage, of sorts, to the high-school color guards Byrne filmed for his 2016 documentary, "Contemporary Color."
Nearly everyone on stage was barefoot. Everyone was dressed in a simple, silver-gray suit. Everyone carried his or her wireless instrument -- guitar, drums, bass, percussion, keyboard -- and moved across the stage with choreographed precision.
It was like watching the world's artsiest marching band, strutting its stuff at the behest of a proudly eccentric leader. And it was wonderful, from start to finish.
Byrne, 66, has always been a music visionary, melding sounds and sights into performances that are just weird enough, and just accessible enough, to come off as extremely cool. As Wednesday's concert proved, Byrne has lost nothing of that quirky appeal. His yelping, staccato vocal delivery was as potent as ever -- Byrne sounded exactly as longtime Talking Heads fans would expect -- and his dance moves (by turns fluid, awkward, surreal and startling) punctuated the action in compelling ways.
The well-chosen setlist, 21 songs strong, included several Talking Heads essentials -- "Once in a Lifetime," "Burning Down the House," "I Zimbra," "Slippery People," "This Must Be the Place" and more -- plus material from Byrne's solo career. (His version of "Toe Jam," originally a 2008 collaboration with Fatboy Slim and Dizzee Rascal, was a standout.)
Byrne's penchant for world music was much on display, and the rhythms of Latin America, Africa and other far-flung places could be heard throughout the show, prompting displays of propulsive joy from the musicians on stage.
No slackers could be glimpsed among the 11 players; all were dynamic and right in tune with Byrne's aesthetic, taking spotlight solos and blending into the ensemble with equal ease. (The two backup singer/dancers were marvels, flanking Byrne like ultra-charismatic bookends.)
Byrne didn't talk much to the assembled crowd -- he made a brief plea for everyone to register, get out and vote -- but this type of performance needs no running commentary. Each musical set piece flowed into the next, creating a seamless whole.
Also, anyone who ponders the lyrics of Byrne's songs knows that he's a thoughtful social critic, slipping messages (which can be earnest or cynical) into his musings about life and the ways the world works. At the BJCC, he closed the show with an impassioned rendition of Janelle Monae's "Hell You Talmbout," a protest song that lists the names of black Americans who died at the hands of law enforcement.
Bold and ambitious, entertaining and bracing, the "American Utopia" tour offered a unique experience that music lovers here are likely to remember for a long, long time.
Best show ever? Well, for some of us -- who've been waiting for Byrne to return ever since his 2001 appearance at the former City Stages festival -- it's a powerful contender.