BOSTON CONCERT PREVIEW: 10 essential David Byrne tracks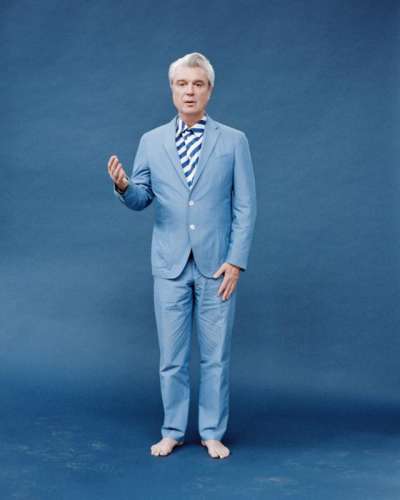 Photo by Jody Rogac
By Pete Chianca
He'll always be remembered for his groundbreaking art rock with the Talking Heads in the 1970s and '80s. But for almost three decades, David Byrne has been amassing an impressive body of solo work -- in addition to side projects like a book about bicycling and a disco opera, that is. (More on that last one later.)
On his current tour -- which Byrne calls his most ambitious since the Talking Heads' legendary "Stop Making Sense" shows -- he's accompanied by a choreographed 12-piece band on a set of solo songs along with Heads classics. To commemorate his two upcoming stops at Boston's Blue Hills Bank Pavilion, here's a run through 10 of the most memorable solo (and almost-solo) tracks from Byrne's post-Heads repertoire.
"Loco De Amor," from Rei Momo (1989). Byrne's first solo disc remains a masterpiece, merging his typically quirky lyrics with styles from merengue and samba to mambo, cumbia, and cha-cha-chá. This track, backed by Celia Cruz and featured on the "Something Wild" soundtrack, exemplifies the album's raucous spirit.
"Now I'm Your Mom," from Uh-Oh (1992). The message may be a bit muddled -- Byrne's song, about a man breaking it to his child that he is now a she, employs a host of points of view, and sometimes it's hard to keep up. But that he was singing about transgender issues at all in 1992 is remarkable, and that's some funky bassline.
"Buck Naked," from David Byrne (1994). Byrne boasted a rawer sound -- and much longer hair -- on this spare and effective release. This track, which makes a case for lowering our defenses and embracing our common ground ("We're all naked if you turn us inside out," Byrne points out) is, sadly, not about George Costanza's porn name.
"Miss America," from Feelings (1997). Byrne has spent a career stripping away America's shiny veneer, and this track -- where he declares of the titular nation, "I know how tall she is without her platform shoes" -- is no exception. In fact, it's never been timelier.
"Like Humans Do," from Look Into The Eyeball (2001). Finding the joy in the banalities of human existence is another Byrne trademark, and this bouncy ode to the everyday grind ("I work and I sleep and I dance and I'm dead") is a classic of the genre.
"The Other Side of This Life," from Grown Backwards (2004). Byrne spared no expense on this lushly orchestrated album, and even if it's not entirely clear what this song's about -- the perils of giving in to consumer culture, maybe? -- the gorgeous strings make it a keeper.
"Strange Overtones" with Brian Eno, from Everything That Happens Will Happen Today (2008). Taken from the more accessible of Byrne's two collaborations with Eno (the first, 1981′s "My Life in The Bush of Ghosts," made a splash with its use of ambient noise and "found sounds"), this track typifies the album's electronic gospel style and its themes of humanity vs. technology (noting, "a heart is not enough").
"American Troglodyte" with Fatboy Slim, from Here Lies Love (2010). Do yourself a favor and listen to the entirety of "Here Lies Love," the concept album based on Byrne's wild disco musical about former First Lady of the Philippines Imelda Marcos. It features 22 guest vocalists, from Florence Welch to Cyndi Lauper to Steve Earle, and this is Byrne's vocal contribution, a typically Byrne-ian treatise on our own willful ignorance.
"Outside of Space and Time" with St. Vincent, from Love This Giant (2012). On this album-length collaboration, Byrne proved a generous and effective partner with beloved indie artist St. Vincent (a.k.a. Annie Clark). This song about buildings and food, awash like the rest of the album with off-kilter harmonies and quirky horns, is a sweet closer to that collection.
"Every Day Is a Miracle," from American Utopia (2018). Byrne is back in rare form with his latest release, which embraces a classic Talking Heads sound with splashes of disco, electronica and world rhythms. This buoyant track -- which probes the mental and emotional states of chickens, cockroaches and elephants -- is the perfect reminder that we humans are the most absurd animal of all.
David Byrne plays Blue Hills Bank Pavilion, 290 Northern Ave., Boston, on Tuesday, July 31 and Wednesday, Aug. 1. For more information and tickets, visit bostonpavilion.net.