Steve Reich, Brian Eno & David Byrne Make Pitchfork's "The 200 Best Albums of the 1980s" List
Via Nonesuch Records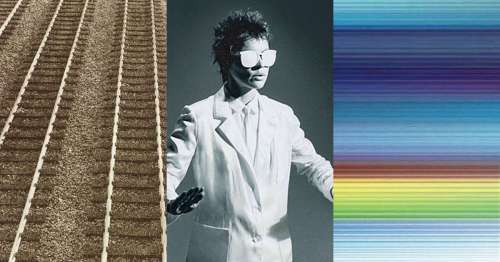 Pitchfork has published its list of The 200 Best Albums of the 1980s, which it hopes "represents the best of what this innovative decade has to offer." Among the "icons who defined a decade" are Steve Reich for Different Trains / Electric Counterpoint, Brian Eno & David Byrne for My Life in the Bush of Ghosts, and Laurie Anderson for Big Science.
Steve Reich's Different Trains / Electric Counterpoint, released on Nonesuch Records in 1989, comes in at No. 93 on the list. On Different Trains, which was performed by Kronos Quartet and won the Grammy Award that year for Best Contemporary Composition, Reich evokes his American childhood during World War II while also addressing the Holocaust. Pitchfork's Jazz Monroe calls it a "late-career masterpiece" for the composer. "The piece found a new tenor for Reich—clear-eyed, anguished, searching—that suited him. He wasn't a minimalist upstart anymore; he was a moral conscience, albeit as earthbound and lost as the rest of us." Also on the album is Pat Metheny's performance of Electric Counterpoint.
Brian Eno and David Byrne's 1981 collaboration My Life in the Bush of Ghosts is on the list at No. 81. On the groundbreaking work, Eno and Byrne used found sounds and trance-like rhythms, anticipating innovations of contemporary electronic dance music, world music, and hip-hop. Nonesuch released a re-mastered version of the album with seven previously unreleased tracks for its 25th anniversary in 2006, and a 12" double-vinyl edition in 2009.
"Originally envisioned as the folk music of an imaginary country, My Life in the Bush of Ghosts eventually emerged as something more sophisticated and revolutionary in its use of found sound and samples," writes Pitchfork's Nate Patrin. "The result is an exploration of folkloric styles and possible cultural intersections that's both avant garde and danceable. Its border-erasing grooves went on to be adapted by everyone from post-punk bands and early hip-hop groups, but neither age nor familiarity have managed to dull the album's unknown-transmission allure."
Laurie Anderson's debut album, Big Science, from 1982, is on the list at No. 22. The album, which Nonesuch released in a re-mastered and expanded version in 2007 for its 25th anniversary, foresaw the future, mixing performance art, pop, and electronics, as on the single "O Superman."
"Listening to Laurie Anderson's first album is like sitting down with a strange form of life that has been studying us for a long time," writes Pitchfork's Mike Powell. "It is minimal but warm, a little bit punk (it doesn't pretend to know anything) and very beautiful (it understands a lot)."
You can read more and see Pitchfork's complete list at pitchfork.com. You can pick up a copy of all three of the albums above in the Nonesuch Store now, and listen to Pitchfork's playlist of songs from The 200 Best Albums of the 1980s on Spotify and Apple Music.