Clockenflap 2018 day two: Jarv Is and David Byrne prove unforgettable
Via Gigwise
By David McKenna
Clockenflap truly hit its stride on day two with, among others, David Byrne and Jarvis Cocker providing contrasting masterclasses in showmanship on the Hong Kong festival's main stage.
Cocker is in Hong Kong presenting his new live band/show, Jarv Is, who include Serafina Steer (Bas Jan) on harp and keyboards and Emma Smith on violin (the latter's presence harking back to Pulp's Russell Senior, despite the difference in playing style.) On giant screens either side of the Harbourflap stage, his rangy frame is suspended in the night sky and jostles with neon skyscraper signage. Behind the crowd and across the water from Hong Kong Island, a building repeatedly flashes the question "Are you ready?" "Yes I'm ready!" says Jarvis, feigning indignation.
We've perhaps forgotten how good Cocker is at this – I certainly had. It's that seemingly effortless ability to collapse the distance between himself and a large crowd, to stir humour, pathos and poetry into each other – and also to write some glorious tunes. The few new numbers we get are hugely promising, strange, spindly pop with a folky bent, or euro MOR on a song that appears to be called 'Am I Missing Something?'. Odd lines - like a gag about Frankie Knuckles and "the crowds began to gather/the clouds began to gather" - leap out.
The band are gratifyingly spiky as they recast some of the better tracks from the solo albums ('Fat Children', the silky glide of 'You're In My Eyes', during which the point of a finger appears to set a disco ball suspended from the roof of the stage in motion) and a solitary Pulp number. Surprisingly it's a magnificent 'His 'n' Hers' from the 'Sisters EP' (peak Pulp?), during which Jarvis descends to the front of the crowd and starts to question audience members about what makes them scared. The answers he gets are "work" and "the Chinese government"; Cocker gives a brief, diplomatic response as possible about the importance of free speech before retreating to the stage. Inevitably, Trump is alluded to before the closing 'Cunts Are Still Running The World' and at another point he muses on what a Clockenflap might be: "Could it eat grapes…. and survive?"
Cocker also advises us to watch what he describes as the "possibly the best show… ever", David Byrne, who follows him on Harbourflap. There's been a consensus building along these lines; the enthusiasm is justified but could risk flattening out an appreciation of what this stage show does (and doesn't) do. 'American Utopia' is at once installation, contemporary dance performance and jukebox revue, thoroughly choreographed and immaculately played, with Byrne and his supporting cast besuited and barefoot and in constant movement within a chamber of silvery, slivery beaded curtains. It's contemporary theatre as rock rather than rock as theatre.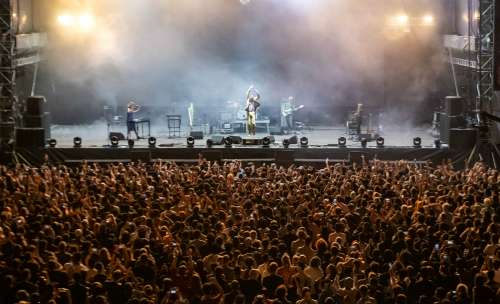 Byrne has a gestural range that places him somewhere between preacher and lecturer – on opener 'Here' he's definitely more the latter, contemplating a plastic brain and seems to be addressing it as much as us. He's a more distant figure than Jarvis and seems to play on this at times. A grey suit among many grey suits on stage, he sometimes disappears behind his fellow musicians/dancers (who all play live without any visible cables or amps, as Byrne is at pains to point out), perhaps not dissolving – Byrne's still the star here – but at least playing with the on-stage hierarchy.
There's fire here too though. How could there not be with songs like 'Once In A Lifetime' (which is sublime), 'Burning Down The House', 'I Zimbra' and the deliriously funky 'Born Under Punches'? The rising gospel energy, massed voices and marching band stomp lead us to a concluding cover of Janelle Monae's 'Hell You Talmbout', which names black men and women killed in America, largely at the hands of police, including Trayvon Martin, Sandra Bland, Eric Garner and Sharonda Coleman-Singleton, a pastor killed in the Charleston church shooting in 2015. The point here is abundantly clear and direct: the American Utopia is anything but for too many people.
Other things observed on the second day of Clockenflap:
Irvine Welsh's compendium of Dad dance moves
Housed within the strange, rubber-spiky Acorn/Computer stage, the one-time enfant terrible of Scottish literature DJs for a curious if somewhat immobile crowd. The most animated dancing comes from the man himself as he drops remixes of 'Burning Down The House' and Queen's 'Another One Bites The Dust'.
The fast-track to Your Mum for GDJYB
Missed on the first night, a shortcut gets you rapidly to the furthest stage from Harbourflap, called Your Mum (also apparently the name of club nights run by the Clockenflap team). Between Jarvis and David Byrne, we manage to catch a couple of songs by Hong Kong's own GDJYB. They're billed a math-rock but there's also an equal helping of shoegaze in there, and startling, soaring Liz Fraser-y vocals.
The people who hold balloons
A large string of balloons arcs overhead near Harbourflap. Rather than being moored to an inanimate object, though, they're held at either end by members of the festival staff. Once you realise this it's hard not to spare them a thought and wonder how regularly they change over.
--
Clockenflap continues today with Wolf Alice, Roni Size and The Vaccines among the picks

On Friday we witnessed incredible performance from Shame, Interpol and more. Read the review here