Concert review: David Byrne, Spark Arena, Auckland
Via NZ Herald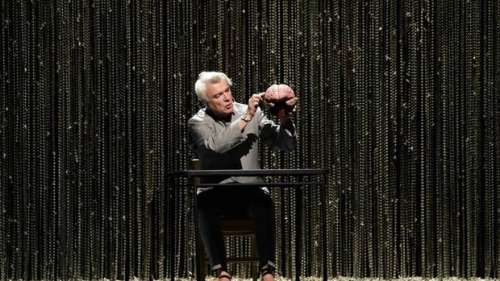 Photo by Dave Simpson
By Karl Puschmann
The suit may have been regular sized but every other aspect of David Byrne's Auckland show was big. Big band, big energy, big songs.
The expectation was through the roof. Back in his Talking Heads days Byrne fronted the greatest concert movie ever filmed, Stop Making Sense. A meticulously thought out and joyously executed performance that caught a ferociously talented band right at their creative and commercial peak.
Three decades on it still hasn't been topped. Although it's fair to say Byrne gave his younger self a run for his money last night.
This was a show. Band members regularly appeared and disappeared from the stage, there was choreographed routines and synchronised dancing, there was David Byrne holding a brain in one hand and detailing what the different parts of it did with the other...
The famed lamp from Stop Making Sense even made a cameo, although it didn't appear as you'd expect during the classic This Must Be the Place (Naive Melody).
Which kind of sums up the night. The past was recognised, acknowledged and celebrated, but Byrne wasn't beholden to it. It's pretty safe to say that people were there for the Heads hits and Byrne delivered, but he also dipped into his own critically celebrated solo discography and cherry picked from his new album, American Utopia.
That can sometimes be a bummer. Not here.
After opening with new track Here - and putting the brain away - he lurched straight into Lazy, his 2002 deep house hit. It's urgent four-to-the-floor beat and Byrne's idiosyncratically delivered vocals - "I'm wicked and I'm laaaaaaaa-zy" - saw an enthused crowd jump straight out of their seats.
From there, it was right into I, Zimbra, Talking Head's afro-pop exploration, and then the call and response of their classic Slippery People.
Byrne didn't talk much, but when he did it was a delight. His odd, awkward character detailing his day trip walking up Rangitoto or explaining how the music you were hearing was being performed live by the onstage musicians without the aid of loops or samples or other trickery.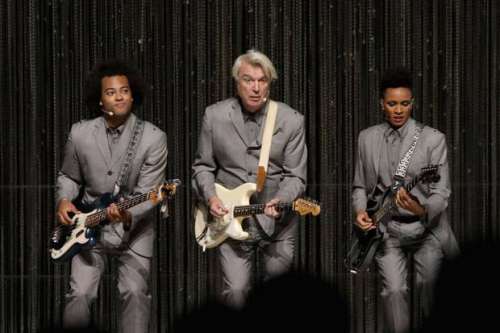 Photo by Dave Simpson
He said he'd been asked about this a number of times so felt he needed to clarify. It was easy to see why the question arose. Essentially he had repurposed the marching band concept with all the musicians dancing around with their instruments strapped to their fronts which looked cool as heck but could make it tricky to work out where, for example, the kick drum was coming from.
This deconstruction of the drum kit, matched with many percussionists, a guitarist, bassist, synth player and backing vocalists was often visually stunning, with Byrne freewheeling around the stage as his band formed circles that expanded and contracted and weaved in and out of each other as the beat went on.
A slapstick, exaggerated stagger at the front of the stage introduced a vital Once in a Lifetime, I Dance Like This saw Byrne busting out a solid robot while the jerky-funk freak out of Born Under Punches (The Heat Goes On) was just phenomenal.
By the time he got to Road to Nowhere and Burning Down the House I couldn't see anyone left sitting in their seats. The infectious enthusiasm of Byrne and his band, coupled with those monster hits, compelled you to dance along with them.
Byrne has always approached his music with the mindset of an artist and his performance last night had many, many moments that visually impressed, whether it was the use of light to cast enormous shadows behind him, the dizzying onstage movements of his 12 piece band or even staging certain set-pieces purely for the video screens that flanked the stage.
No, Byrne wasn't fooling around. But it was a party, it was a disco. It was one of the best shows of the year.