CONCERT REVIEW: DAVID BYRNE WAS A NATURAL FOR OUR CENTER FOR THE PERFORMING ARTS
Via Las Vegas Weekly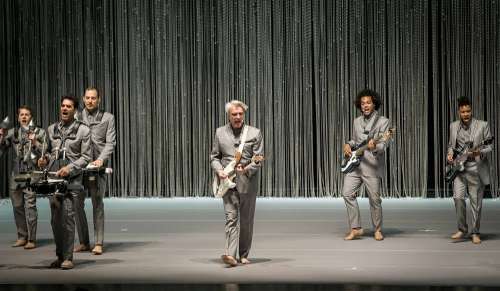 Photo: Erik Kabik/Special to Weekly
By Spencer Patterson

David Byrne April 18, Smith Center's Reynolds Hall.
David Byrne at the Smith Center. No matter how many times I say it, it still sounds strange. Not because it's a poor fit; it's perfect, actually. But on the few occasions when Las Vegas' six-year-old performing arts center has dipped its toe in rock waters, it's usually been for straight-ahead classic rock bands like Kansas and The Beach Boys—acts that would come off just as well in a casino room as in the elevated environs of Reynolds Hall. Yet here we were on Wednesday night—a few bodies short of a sellout crowd—watching the 65-year-old Byrne turn this town's most majestic freestanding venue into a place of imagination and wonder.
Arty opener Perfume Genius set the tone. Backed by a three-piece band, the Seattle-based singer-songwriter (real name: Mike Hadreas) unleashed an 11-song set every bit as emotionally transportive as the classical performances and Broadway musicals the hall was built to house. Ranging from ethereal, minimalist compositions reminiscent of '80s post-rock pioneers Talk Talk to aggressively harrowing pieces of a folkier nature, Hadreas rewarded listeners with open minds in his second-ever Vegas gig (following an early-career appearance at 2010's Matador at 21 festival). "You're in for a very intense experience," he announced toward the end, referring to Byrne's impending arrival, and he knew of what he spoke, having supported the former Talking Heads leader in San Diego and Tucson before pulling into Las Vegas.
Why aren't they bringing any equipment onstage—amps or drums or even cords? I wondered as the minutes between sets ticked by. A few moments later the house lights dimmed and I got my answer: because David Byrne doesn't need any of that. All he requires is his vision, and it's absolute.
Byrne and his 11 musicians performed in the musical equivalent of a scientific clean room, entirely devoid of objects beyond those 12 humans and their instruments, which—from drums to keyboards—were strapped to their bodies. Most of them, Byrne included, played barefoot, pacing or dancing around the open space in choreographed series of movements. A curtain of glowing beads encircled their zone of activity, cycling colors to bolster the songs' varying vibes.
Byrne chose a sequence that made use of his staging, his rhythmically oriented band and his appreciably strong voice. Seven cuts came from March album American Utopia, including single "Everybody's Coming to My House" and leadoff track "I Dance Like That," the latter of which opened with Byrne and his mates lying on the floor as if dead and ended with a silent dance routine beneath strobing lights.
Predictibly, the night's eight Talking Heads songs drew the loudest response, though some of those choices were unexpected for those who avoided peeking at the tour's setlist: "I Zimbra" off Fear and Music, "Slippery People" off Speaking in Tongues and "Born Under Punches (The Heat Goes On)" and "The Great Curve" off Remain in Light. Even more surprising, the show's best-known songs—"Once in a Lifetime," "Burning Down the House" and "This Must Be the Place (Naive Melody)"—brought the mostly middle-aged floor crowd out of its seats to boogie, the rarest of Smith Center occurrences.
Gripe-wise, I had just one: length. The main set lasted just an hour and 20 minutes, short for a man with such an iconic catalog, to say nothing of tickets prices running from $59 to $184, plus fees. But Byrne returned for three encore numbers, including a poignant cover of Janelle Monáe's #BlackLivesMatter anthem "Hell You Talmbout," updated—tragically—with the names of even more who have fallen since its 2015 release.
Byrne could easily have closed with "Psycho Killer" or "And She Was" instead, sending his fans home with one more beloved oldie. But David Byrne remains a performer in the purest sense, an artist who deserves a room like Reynolds Hall, in a Center for the Performing Arts. So, too, do many others who typically bypass Las Vegas altogether. Are you listening, Smith Center bookers?