David Byrne adds a thousand more tour dates to American Utopia tour…
Via Tiny Mix Tapes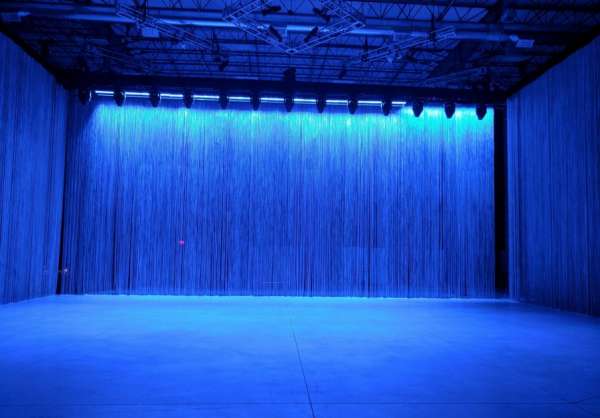 Written by Dan Smart
Sheesh, this David Byrne character sure knows how to stay in the news.
It was barely more than a week ago that we were falling all over ourselves trying to tell you about the man's forthcoming album American Utopia (yeah, yeah; still due March 9 and pre-orderable now from Nonesuch, blah blah blah…), as well as the recent "Reasons to be Cheerful" talk he gave in New York, a brand new single co-written with his life coach and squash partner Brian Eno, AND a pretty sizable smattering of world tour dates.
I mean, seriously — we even threw the goddamn cover art in there; it was en EPIC amount of news.
Welllllll, a mere eight days later, and we're basically writing this post all-the-fuck over again…because Byrne has just unveiled an even-more-vastly-expanded run of dates that'll keep him on the road clear through the start of September. In addition, he's let it slip that he'll be performing songs from the new album — as well as Talking Heads and solo-Byrne classics — in "choreographed" concerts backed by a twelve-piece band, referring to the set up as "the most ambitious show I've done since the shows that we're filmed for Stop Making Sense."
"I asked if every musician—drums, keyboards, singers, everyone—could now be mobile," Byrne said in a press release. "Guitars and singers no problem, we can have them be wireless with their amps and all that off-stage, but keyboards and drums? How does one do that?…"
In a recent tweet, he even shared a glimpse of the empty stage and elaborated (uh, slightly) on the tour's concept.
What can we say? Byrne speaks; TMT listens. So, here we are. Letting you all know what's up. ALL OVER AGAIN. Register for the ticket pre-sale here, and — what the hell? — check out the clip for "Everybody's Coming to My House" ALL OVER AGAIN too while you're at it:
American Utopia 2018 tour dates (hopefully once and for all):
03.03.18 - Red Bank, NJ - Count Basie Theatre
03.04.18 - Wilkes-Barre, PA - F.M. Kirby Center for the Performing Art
03.06.18 - Buffalo, NY - Center for the Arts
03.07.18 - Hershey, PA - Hershey Theatre
03.09.18 - Waterbury, CT - Palace Theater
03.10.18 - Kingston, NY - Ulster Performing Arts Center
03.16.18 - Santiago, Chile - Lollapalooza Chile
03.18.18 - Buenos Aires, Argentina - Lollapalooza Argentina
03.19.18 - Buenos Aires, Argentina - Teatro Gran Rex
03.20.18 - Montevideo, Uruguay - Teatro de Verano
03.24.18 - Sao Paulo, Brazil - Lollapalooza
04.03.18 - Mexico City, Mexico - Metropolitan Theater
04.05.18 - Monterrey, Mexico - Auditorio Pabellón
04.07.18 - Guadalajara, Mexico - Corona Capital Guadalajara
04.14.18 - Indio, CA - Coachella
04.15.18 - Tucson, AZ - Centennial Hall
04.17.18 - San Diego, CA - San Diego Civic Theater
04.18.18 - Las Vegas, NV - Smith Center for the Arts
04.19.18 - Mesa, AZ - Mesa Arts Center-Ikeda Theater
04.21.18 - Indio, CA - Coachella
04.24.18 - Dallas, TX - Winspear Opera House
04.25.18 - Oklahoma City, OK - The Criterion
04.27.18 - San Antonio, TX - Tobin Center for the Performing Arts
04.28.18 - Houston, TX - White Oak Music Hall Outside Lawn
05.04.18 - Atlanta, GA - Shaky Knees
05.05.18 - Atlanta, GA - Shaky Knees
05.06.18 - Atlanta, GA - Shaky Knees
05.06.18 - Nashville, TN - Ryman Auditorium
05.08.18 - Asheville, NC - Thomas Wolfe Civic Auditorium
05.09.18 - Charlotte, NC - Ovens Auditorium
05.10.18 - Durham, NC- Durham PAC
05.12.18 - Washington, DC - The Anthem
05.13.18 - Pittsburgh, PA - Benedum Center for the Arts
05.15.18 - Milwaukee, WI - Riverside Theater
05.16.18 - Madison, WI - Orpheum Theater
05.17.18 - Minneapolis, MN - Orpheum Theater
05.19.18 - Saskatoon, Saskatchewan - TCU Place
05.20.18 - Edmonton, Alberta - Northern Alberta Jubilee Auditorium
05.21.18 - Calgary, Alberta - Southern Alberta Jubilee Auditorium
05.23.18 - Vancouver, British Columbia - Queen Elizabeth Theater
05.24.18 - Seattle, WA - Paramount Theater
05.27.18 - Portland, OR - Keller Audiorium
05.28.18 - Eugene, OR - Hult Center
05.30.18 - Salt Lake City, UT - Capitol Theatre
06.02.18 - Chicago, IL - Auditorium Theater
06.05.18 - Des Moines, IA - Des Moines Civic Center
06.07.18 - Kansas City, MO - Kauffman Center for the Arts
06.08.18 - St. Louis, MO - Peabody Opera House
06.09.18 - Indianapolis, IN - Farmers Bureau Lawn Amphitheater
06.14.18 - Oxford, England - New Theatre
06.15.18 - Glasgow, Scotland - Glasgow Royal Concert Hall
06.17.18 - Birmingham, England - Birmingham Symphony Hall
06.18.18 - Manchester, England - Manchester Apollo
06.19.18 - London, England Eventim Apollo
06.22.18 - Prague, Czech Republic - Metronome Festival
06.23.18 - Prague, Czech Republic - Metronome Festival
06.25.18 - Zagreb, Croatia - IN music Festival
06.26.18 - Wien, Austria - Museumsquartier
06.30.18 - Ewijk, Netherlands - Down The Rabbit Hole
06.31.18 - Ewijk, Netherlands - Down The Rabbit Hole
07.01.18 - Ewijk, Netherlands - Down The Rabbit Hole
07.05-08.18 - Werchter, Belgium - Rock Werchter
07.06.18 - Roskilde, Denmark - Roskilde Festival
07.05.18 - Gdynia, Poland - Open'er Festival
07.11.18 - Oeiras, Portugal - Cool Jazz Festival
07.13.18 - Bilbao, Spain Bilbao - BBK Live Festival
07.13.18 - Barcelona, Spain - Cruilla Barcelona
07.14.18 - Barcelona, Spain - Cruilla Barcelona
07.17.18 - Zürich, Switzerland - Theater 11
07.19.18 - Ravenna, Italy - Ravenna Festival
07.20.18 - Perugia, Italy - Umbria Jazz Festival
07.21.18 - Trieste, Italy - Piazza UNita
07.27.18 - Camden, NJ - XPoNential Music Festival
07.31.18 - Boston, MA - Blue Hills Bank Pavilion
08.03.18 - Toronto, ONT - Sony Center for the Performing Arts
08.05.18 - Canandaigua, NY - Marvin Sands Performing Arts Center
08.08.18 - Grand Rapids, MI - Devos Performance Hall
08.10.18 - Detroit, MI - Fox Theater
08.11.18 - Huber Heightes, OH - Rose Music Center
08.12.18 - Cincinnati, OH - PNC Pavilion at Riverbend
08.16.18 - Oakland, CA - Fox Theater
08.18.18 - San Jose, CA - City National Civic Auditorium
08.21.18 - Sacramento CA - Community Theater
08.24.18 - Santa Barbara, CA -Santa Barbara Bowl
08.28.18 - Morrison, CO - Red Rocks Amphitheater