David Byrne & American Utopia at Fillmore Miami Beach
Via WPLG Local 10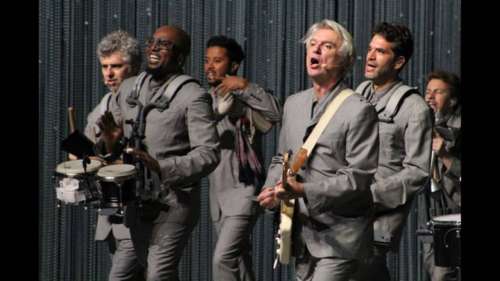 Photo by Brian Doughty
By Brian Doughty
MIAMI BEACH, Fla. - David Byrne brought his "American Utopia" tour to the Fillmore Miami Beach at Jackie Gleason Theater on Saturday, September 29th.
The openers were Tune-Yards, a musical project led by New Englanders Merril Garbus and bassist Nate Brenner.
There was no general admission. Seats filled the orchestra pit and directly in front of the stage.
The set was minimal, as were the matching outfits worn by Byrne and everyone in his band. No one wore shoes. The drummers didn't sit down; they danced as they played. Everyone in the band performed several complicated dance patterns as they performed.
The show opened with Byrne sitting at a table with a human brain.
Below is the set list:
1. Here
2. Lazy
3. I Zimbra
4. Slippery People
5. I Should Watch TV
6. Dog's Mind
7. Everybody's Coming to My House
8. This Must Be The Place
9. Once In A Lifetime
10. Doing the Right Thing
11. Toe Jam
12. Born Under Punches