David Byrne: American Utopia Sony Centre For The Performing Arts Toronto ON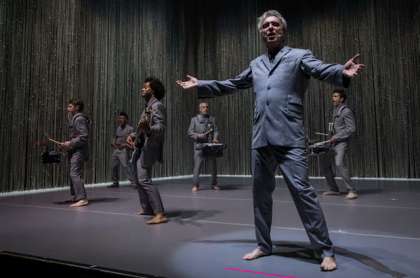 Submitted By Lenny Stoute
Just about the time, David Byrne was stagger dancing around a grey stage to "Blind", bulldozers were leveling the Beijing studio of dissident artist Ai Wei Wei, as arts programs across North America were getting the shiv in the ribs and Riot Pussy are again doing time. Once again, subversive art is under attack everywhere. So layered with the joyous and uplifting, especially as in bodies out of seats. David was a laying out a to-do list for the resistance. Ah, but we were there for the music and that never flagged nor disappointed. The set covered material from Talking Heads, Byrne solo albums from all periods, some collabs, a Love The Giant and some from the newbie, most given redos to fit a fun and funky vibe.
Keeping it grounded, between "Dog's Mind" and "Everybody's Coming to My House," Byrne encouraged everyone to vote "in every election they possibly can". He acknowledged that things up here were quite different from in the US, which was loudly applauded but cautioned us not to get smug, quipping "Two words. Ford Brothers." When doing "Burning Down The House," he delivered lines like "we're in for nasty weather," with a touch of vehemence.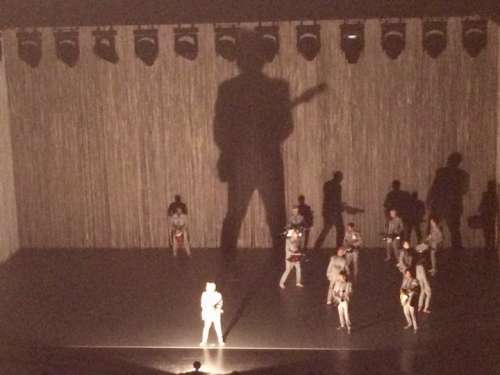 This unique and engrossing, show has an 11 member band which never seems to stop moving in intricate patterns. The stage is minimalist bare, not a single piece of equipment and walled with curtains of metallic beads through which band members and equipment appeared and disappeared. All instruments are hanging from their players whose harness so subtly designed that the keyboard player's instrument at times appeared to hover in front of him. 'Course, pop and choreography have a long history together but I've not seen working musicians moving this perfectly, rearranging themselves in mini-groups, diagonals, posing as for a portrait. rolling backward in circles, all the while delivering this engrossing, otherworldly funky music. While wearing identical grey Kenzo suits and barefoot. The auditions for this crew must have been quite the show in itself.
The here-for-the-Hitters were well taken care of via the Talking Heads songs seeding the setlist: a stepped down, groove riding "Burning Down the House," the steamy funk of "I Zimbra" into a pop classic "Slippery People." "This Must Be the Place (Naive Melody)," turned into a hard rocking dance party and "Born Under Punches" reminded us how smartly it blended genre elements, adding South American percussion to that list.
The dancing stopped with the last song of the first encore "The Great Curve." The second had only one song, a percussive rendering of Janelle Monae's protest anthem "Hell You Talmbout". Byrne explaining that the song remained regrettably relevant today. For the next five minutes, Byrne, musicians Simi Stone, Angie Swan, and Charles Wooten yelled out the names of black individuals killed by police, joined by swirling percussion and chants of "Say His Name," "Say Her Name."
The rendition was affecting and a rustle of discomfort could be felt as it unfolded, with Byrne's sympathies showing some of the teeth that are just below the surface of American Utopia. A somber ending to a strange and engrossing show.
A joy to see David Byrne still shit disturbing in his own subversive way. Big props to an amazing live band currently without peer.