David Byrne announces first solo album since 2004, drops new song
Via Chicago Tribune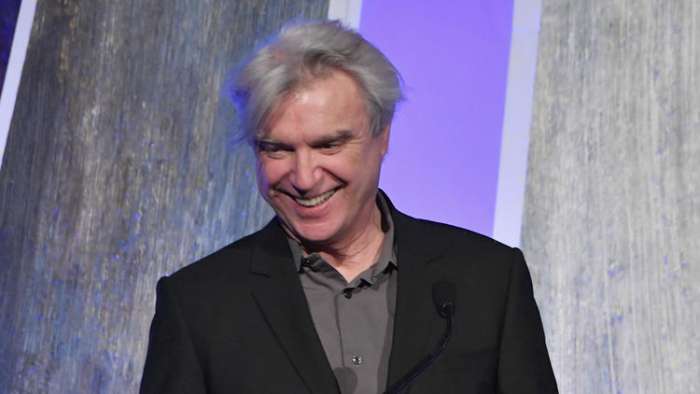 Mike Coppola / Getty Images for IFP
Written by Jem Aswad
David Byrne today announced his first solo album in 14 years, "American Utopia," to be followed by a world tour that the singer has described as "the most ambitious show I've done since the shows that were filmed for Stop Making Sense." The album will be released on March 9 on Todomundo/ Nonesuch Records; the tour (dates below) begins on March 3.
The album also marks Byrne's most extensive collaboration with Brian Eno in several years. The pair worked very closely together on the Talking Heads' influential late 1970s/early 1980s albums "More Songs About Buildings and Food," "Fear of Music" and "Remain in Light" as well as the collaborative set "My Life in the Bush of Ghosts" and the 2008 album "Everything That Happens Will Happen Today." Byrne and Eno cowrote many of the tracks on "American Utopia."
"American Utopia" was announced at New York's New School during a presentation of "Reasons to Be Cheerful," an ongoing series curated by Byrne of hopeful writings, photos, music, and lectures. While Byrne has collaborated on joint releases with Eno, Norman Cook (aka Fatboy Slim), and most recently St. Vincent over the past decade, American Utopia is Byrne's first solo album since 2004's "Grown Backwards."
The album track "Everybody's Coming To My House"-- co-written with Eno, featuring contributions from TTY, Happa Isaiah Barr (Onyx Collective), Mercury Award winner Sampha, and others -- and a visual companion piece can be seen below.
Speaking about the album, Byrne said:
"Is this meant ironically? Is it a joke? Do I mean this seriously? In what way? Am I referring to the past or the future? Is it personal or political?
These songs don't describe an imaginary or possibly impossible place but rather attempt to depict the world we live in now. Many of us, I suspect, are not satisfied with that world--the world we have made for ourselves. We look around and we ask ourselves--well, does it have to be like this? Is there another way? These songs are about that looking and that asking.
"This album is indirectly about those aspirational impulses. Sometimes to describe is to reveal, to see other possibilities. To ask a question is to begin the process of looking for an answer. To be descriptive is also to be prescriptive, in a way. The act of asking is a big step. The songs are sincere--the title is not ironic. The title refers not to a specific utopia, but rather to our longing, frustration, aspirations, fears, and hopes regarding what could be possible, what else is possible. The description, the discontent and the desire--I have a feeling that is what these songs touch on.
"I have no prescriptions or surefire answers, but I sense that I am not the only one looking and asking, wondering and still holding onto some tiny bit of hope, unwilling to succumb entirely to despair or cynicism.
"It's not easy, but music helps. Music is a kind of model--it often tells us or points us toward how we can be."
Current "American Utopia" 2018 Tour Dates (not sold out)
3/16/2018 Santiago, CHI Lollapalooza (Chile)
3/18/2018 Buenos Aires, ARG Lollapalooza (Argentina)
3/24/2018 Sao Paulo, BRA Lollapalooza (Brazil)
4/7/2018 Guadalajara, MEX Sonico Festival
4/14/2018 Indio, CA Coachella
4/21/2018 Indio, CA Coachella
6/22-23/2018 Prague, Czech Republic Metronome Festival
6/25/2018 Zagreb, Croatia INmusic Festival
6/30 - 7/1/2018 Ewijk, Netherlands Down The Rabbit Hole
6/30 - 7/7/2018 Roskilde, Denmark Roskilde Festival
7/5/2018 Gdynia, Poland Open'er Festival
7/11/2018 Oeiras, Portugal Cool Jazz Festival
7/13/2018 Bilbao, Spain Bilbao BBK Live Festival
7/13-14/2018 Barcelona, Spain Cruilla Barcelona
7/19/2018 Ravenna, Italy Ravenna Festival
7/20/2018 Perugia, Italy Umbria Jazz Festival
7/21/2018 Trieste, Italy Piazza UNita
7/27/2018 Camden, NJ XPoNential Music Festival