David Byrne at New Theatre Oxford: 'Enthralling show of hypnotic beauty…"
Via Oxford Mail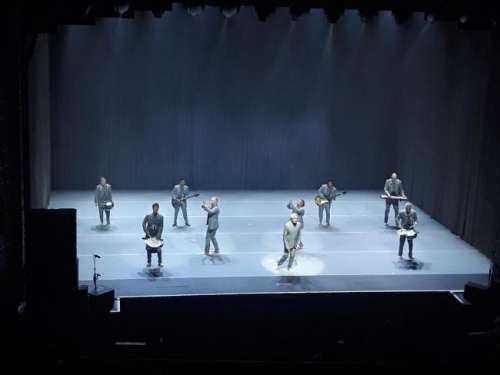 By Tim Hughes
When it was announced, at the very start of this year, that iconic musician and artist David Byrne was to launch his UK tour at Oxford's New Theatre, fans of the former Talking Heads frontman were wondering whether it was actually a show by one of the tribute acts which make up much of its programme.
This, after all, is a revered musician, responsible for some of the most creative, boundary-breaking and enduring pop music of all time. But while the rest of the tour was in huge venues, David picked the diminutive New Theatre for the UK opening of his American Utopia tour. he obviously likes Oxford.
The show has already toured extensively in the Americas and is finely honed and highly-polished – as you'd expect from this perfectionist. It takes the form of theatrically expressive, intricately choreographed performances of songs from either ends of his illustrious career, with a gap in the middle. It begins bang up to date with Here, from American Utopia – his 11th solo studio album, followed by Lazy (his 2002 X-Press 2 hit), but we are then transported back to early Talking Heads with tunes from Fear of Music, Remain in Light and Speaking in Tongues.
I Zimbra, Slippery People, Born Under Punches and This Must Be the Place have aged well, sounding fresh and relevant and better with the backing of an Afro-Brazilian backing band than when they were first released in the late 70s and early 80s. This is, it seems, how they were meant to be heard.
Byrne – bare foot along with (almost all) his band – is a lithe flexible 66 year-old, who channels his tunes through a body continually in motion – either gracefully arching and stretching, lying horizontal on the floor or, in the case of classic Once in a Lifetime, twitching, convulsed by repetitive gestures. It's a delight to watch, and for once, we in the cheap seats had the best view of a show which was balletic in its beauty.
Talking Heads classics (none from Little Creatures or True Stories, interestingly) are interspersed with solo tunes such as Like Humans Do, but it's the old ones that get the cheers and the crowd on their feet – such as closer Burning Down the House, and encore closer The Great Curve. He ends a second encore on a hard-hitting note with a cover of Janelle Monáe's protest song Hell You Talmbout – a litany of names of people killed in racial violence, some at the hands of the police, in the US – Byrne updating it with recent names.
David Byrne is as relevant as ever. We need to listen to him now more than ever.
TIM HUGHES 5/5