DAVID BYRNE AT THE SONY CENTRE FOR THE PERFORMING ARTS
Via Live in Limbo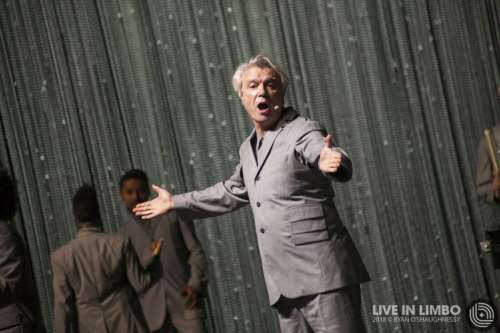 Photos by Ryan O'Shaughnessy
By Ruth Binns
David Byrne brings a unique show to the Sony Centre with staging as strong as his performance.
The curtain rises on Byrne alone on a huge stage, sat at a small desk and singing Here to a model brain in his hands. It's thrillingly original staging – and seeing Byrne's alone brings chills of anticipation for what's to come. The stage is lined on three sides with long beaded curtains, from which appear musicians from the wings. The lighting for I Should Watch TV is particularly inventive – with a bright light shining stage right to mimic the glow of a screen and the song ending with David walking through the light and offstage.
The barefoot band, all dressed in grey suits to match Byrne do a fantastic job of reproducing his eclectic back catalogue from Talking Heads and his many collaborations. Lazy had everyone up and dancing early in the set; the stage full of musicians with drums and other instruments held by shoulder straps and backing singers performing coordinated, sparse moves along with Byrne – albeit less energetic than in his Talking Heads days.
Once in a Lifetime comes half way through a thundering set that flew by and closed with Burning Down the House. The newer tracks from latest album American Utopia sit neatly with older songs; all tinged with a distinctly 80s-modern feel. Byrne closes the show with a cover of Janelle Monae's Black Lives Matter protest song Hell You Talmbout; saying the names of Black people killed by police in the U.S. It's a powerful song which may have benefitted from a more detailed introduction.
The show was dynamic and very original. Frankly, I'm at a loss for words.