David Byrne Begins UK, Australia, New Zealand "American Utopia" Tours
Via Nonesuch Records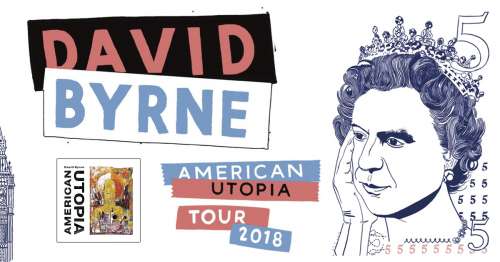 David Byrne, who closed out the US leg of his 2018 American Utopia world tour at the Austin City Limits festival last weekend, brings the show back to the UK and to Ireland for eight arena shows starting at the First Direct Arena in Leeds this Sunday and including concerts at the O2 Arena in London, Manchester Arena, Hydro in Glasgow, 3Arena in Dublin, and more. Benjamin Clementine will be Byrne's special guest for the UK and Irish dates. The tour will then make stops in Amsterdam and Paris before heading to Hong Kong, New Zealand (where Kimbra will be special guest), and Australia. "If you only go to one gig this autumn [or spring, depending]," says the Independent's i, "make it this: David Byrne's imaginative, breathtaking show is a work of art."
Byrne will perform songs from his new album, American Utopia, as well as classics from his solo career and his days with Talking Heads. A twelve-piece band will join Byrne on stage for an Annie-B Parson choreographed concert that he has called "the most ambitious show I've done since the shows that were filmed for Stop Making Sense." Annie-B Parson also choreographed the St. Vincent and David Byrne collaboration tour around Love This Giant. It will be Byrne's first tour of New Zealand since 2009.
The tour was in the UK for a week of sold-out shows this past spring, all met with rave reviews, starting with the NME's declaration: "The American Utopia tour may just be the best live show of all time." "An unforgettably unique, imaginative, and kaleidoscopically entrancing spectacle of music, dance, and theatre," exclaims the Telegraph. "This was something special." "One of the most mind-blowingly meticulous and awe-inspiring productions you could ever hope to see," says the Independent. "Perfection." "Daringly ambitious and full of joy," says the Evening Standard. "Mass exposure to his glorious, life-affirming American Utopia show alone would make the world a better place," says the Scotsman. "An extraordinary, ecstatic show." The tour was also shortlisted for a Q Award for Best Live Act.
For all the latest ticket details on the complete tour, visit nonesuch.com/on-tour.
To pick up a copy of the album American Utopia, head to your local music store, iTunes, Amazon, and the Nonesuch Store, where CD and vinyl orders include a download of the complete album at checkout. You can also listen to the album on Spotify and Apple Music.
DAVID BYRNE ON TOUR
Oct 21 First Direct Arena* Leeds, UK
Oct 22 Hydro* Glasgow, UK
Oct 24 3Arena* Dublin, IRELAND
Oct 27 Motorpoint Arena* Cardiff, UK
Oct 29 O2 Arena* London, UK
Oct 30 Brighton Centre* - Sold Out Brighton, UK
Nov 1 Motorpoint Arena Nottingham* Nottingham, UK
Nov 2 Manchester Arena* Manchester, UK
Nov 4 AFAS Live - Sold Out Amsterdam, NETHERLANDS
Nov 5 Zénith Paris, FRANCE
Nov 10 Clockenflap Festival Hong Kong, CHINA
Nov 13 TBS Bank Arena** - Sold Out Wellington, NEW ZEALAND
Nov 15 Horncastle Arena** Christchurch, NEW ZEALAND
Nov 17 Spark Arena** Auckland, NEW ZEALAND
Nov 20 ICC Sydney Theatre Sydney, AUSTRALIA
Nov 21 Convention Centre Gold Coast, AUSTRALIA
Nov 24 Margaret Court Arena - Sold Out Melbourne, AUSTRALIA
Nov 25 AEC Theatre Adelaide, AUSTRALIA
* w/special guest Benjamin Clementine
** w/special guest Kimbra