David Byrne / Benjamin Clementine Queen Elizabeth Theatre, Vancouver BC, May 23
Via Exclaim!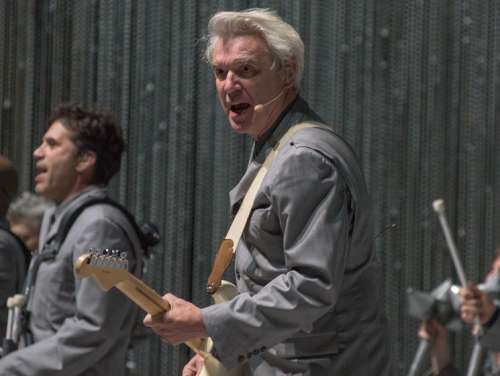 Photo: Sharon Steele
By Anna Alger
Legendary Talking Heads frontman, solo artist and collaborator David Byrne presented his ambitious tour in support of American Utopia to a soldout Vancouver audience Wednesday night, combining musical excellence, tight grooves and a sense of humour that delighted concertgoers. Byrne and company used his off-kilter lyricism and their social conscience to present a show that was both fun and at times poignant.

The UK's Benjamin Clementine brought elements of experimentation, and played with the audience's reactions, during his set, accompanied by a bassist as well as pre-recorded tracks. Clementine performed on the piano, dressed in a long coat and cowboy hat. His sometimes powerful, other times trembling vocals carried the audience through cuts from his latest record, 2017's I Tell a Fly, including "Jupiter." A mannequin stood onstage draped in an American flag, with child-sized mannequins and their limbs scattered on the stage. During "One Awkward Fish," Clementine left the piano to put the mannequin children back together, before the performance led him and his accompanist to abandon song structure as they weaved in and out of Byrne's curtains ringing the stage, Clementine singing echoing vocal tones. The performance concluded with the singsong-like, "By the Ports of Europe," which ended with Clementine and his partner bellowing "Porto Bello" at each other, confounding and entertaining the audience all at once.

Before too long, a model of brain was sat on a desk with a chair — ready for Mr. Byrne himself. The show opened with "Here" from American Utopia, a gliding, textured number, where Byrne's 12-piece band began to introduce themselves as he serenaded the brain downstage. Backing vocalists and skilled dancers Chris Giarmo and Tendayi Kuumba established themselves as mirrors and extensions of Byrne's performance — multifaceted and individually skilled. Each band member wore a grey suit and moved barefoot whilst executing the choreographed routine and playing their instruments live, of course.

A reworked version of X-Press 2's "Lazy" that led into a run of wonderful Talking Heads numbers, such as "I Zimbra" and "Slippery People," quickly made it clear that Byrne and his band are an incredible unit. The brilliantly layered percussion and robust bass lines of Talking Heads tracks, in particular, were translated with joy and technical prowess. Bassist Bobby Wooten's playing was high in the mix, and for good reason. He and numerous percussionists, including Mauro Refosco, carried the show. This is not to downplay the contributions of keyboardist Karl Mansfield, who nailed every synth part, simulating the strings and horns that feature on so many of the tracks that Byrne has worked on over the years. Guitarist Angie Swan performed a searing solo to cap off "The Great Curve," riling up a crowd that was already enthralled by the band.

Byrne and his collaborators have developed a set list that displays the continuity between his work on various projects well — most performances from American Utopia did not generate the fervour that came with "Burning Down The House," but this is to be expected. Vancouver fans were in it for the long haul and there was a clear appreciation for tracks old and new. "Born Under Punches" felt expanded, due to the large percussion section, its vocal harmonies rich as each musician was equipped with a wireless mic. Full use of the stage's metal string curtains occurred — musicians poking through with only their instruments exposed during more stripped-back numbers, other times the stage awash in colour. A lamp brought onstage for "Bullet" was reminiscent of Stop Making Sense, as were the large shadows created by the band members' movements during a sensational performance of "Blind."

After a truly dynamic performance where one often wondered when band members had a chance for a sip of water, Byrne and company returned for their concluding song. He explained that Janelle Monáe had given them her blessing to perform "Hell You Talmabout," a protest song that is continually updated to include the names of black Americans who have been killed by law enforcement officials and/or due to racialized violence. Indigenous Canadians Colten Boushie and Tina Fontaine were new additions to the song on this evening, the band imploring individuals to "say [their] names." In using their platform to highlight injustices within Indigenous and black communities, using their various percussion instruments and powerful voices to amplify their message, Byrne and his band closed out a show that displayed their excellence on many levels.