David Byrne, Brad Mehldau, Pat Metheny to Perform at Noches del Botánico on Tours of Spain
Via Nonesuch Records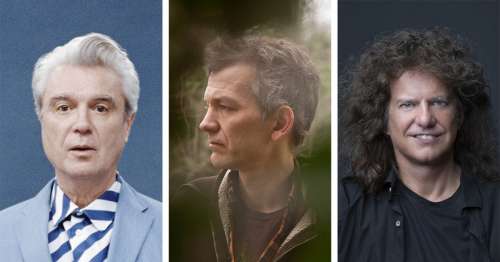 The line-up for the 2018 Noches del Botánico in Madrid, Spain, has been announced, and among the artists to perform in the Real Jardin Botánico at Universidad Complutense de Madrid in July are several familiar to readers of the Nonesuch Journal: David Byrne, Brad Mehldau Trio, Pat Metheny, and Caetano Veloso.
Pat Metheny performs first, taking the stage on July 2 with his quartet of drummer Antonio Sánchez, bassist Linda Oh, and pianist Gwilym Simcock. They stay on in Spain for a show at Teatro Axerquia in Cordoba on July 5 and a set at the Voll-Damm International Jazz Festival in Barcelona on July 7.
Brad Mehldau and his Trio—drummer Jeff Ballard and bassist Larry Grenadier—perform songs from their new album, Seymour Reads the Constitution!, due May 18, at Noches del Botánico on July 9, a double bill with singer Cecile McLorin Salvant. The Trio also performs at Palau de la Música in Valencia on July 10 and Auditorio de la Diputación in Alicante on July 12, then return to Spain to perform at Auditorio Kursaal in San Sebatian for Heineken Jazzaldia on July 27.
David Byrne brings his American Utopia European tour to the Madrid and the festival on July 10, followed by sets at the Bilbao BBK Live Festival on July 13 and Cruilla Barcelona at Parc del Fòrum on July 14.
Caetano Veloso takes part in a special family affair when he is joined by his sons Moreno, Zeca, and Tom Veloso to perform at Noches del Botánico on July 23.
For all of the details on the Noches del Botánico festival, visit nochesdelbotanico.com.
Also performing in Spain this summer, Fleet Foxes will be in Madrid for the Mad Cool Festival on July 12, preceded by a set at Festival Jardins de Pedralbes in Barcelona and headline shows at Kursaal Auditorium in San Sebastian and Teatro Laboral in Gijon. And this spring, Rostam performs at Parc del Fòrum in Barcelona for the Primavera Soundfestival.
For more upcoming performances by Nonesuch artists across the globe, visit nonesuch.com/on-tour.