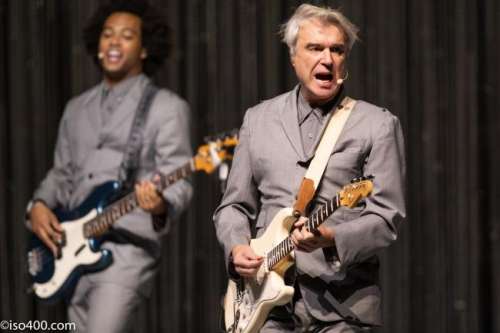 Photo by Michael Burnell

Brighton Centre, Brighton, Tuesday, October 30
WHEN David Byrne wears a suit on stage, he ends up reinventing rock concerts.
The Talking Heads star did it in 1984 with that famously baggy one in Stop Making Sense – and he's done it again in a smart grey two-piece for his brilliant new show.
Byrne's American Utopia tour may be one of the most remarkable, joyous, inventive live experiences ever – a triumphant mix of theatre, ballet and music that's constantly surprising.
The stroke of genius is that instead of the usual rock band clutter on stage – mics, drums, amps – there's just an empty space.
The show kicked off with Byrne singing a new song Here seated alone at a desk.
His 11-piece band slowly joined him, carrying their instruments, all bare foot and in matching suits.
What followed was a thrilling, beautifully choreographed 100 minutes.
There was a big helping of the American Utopia album, Byrne's poppy, oddly optimistic state-of-nation address, as well as Lazy, his hit single with X-Press 2.
But it was the eight Talking Heads songs that shone most brightly, including I Zimbra, Once In A Lifetime, Slippery People, Blind – brilliantly staged with a single light at the front of the stage throwing up giant shadows of the band – and the wondrous Burning Down The House.
Byrne, whose twitchy, nervous onstage persona was once described as "Norman Bates trapped in a disco", is a warm, generous star, happy to share the spotlight.
He was at pains to stress every note was played live and made the one political point of the evening – that all this wouldn't be possible without three immigrant Brazilians in the band.
Then again, the whole point of this show is free movement.
Byrne encored with Dancing Together – from an opera about Imelda Marcos written with Fatboy Slim (in the audience cheering) – and a percussion-only version of Hell You Talmbout, Janelle Monáe's anti-racism protest song.
If there's a precedent for this show, it's Brighton's very own Stomp but this is in a class of its own.
U2 may have the biggest, most expensive show on the road at the moment but it's American Utopia that's Byrneing down the house every night.
Simon Copeland