David Byrne Brings American Utopia Tour To The Palace Theatre
Via NYS Music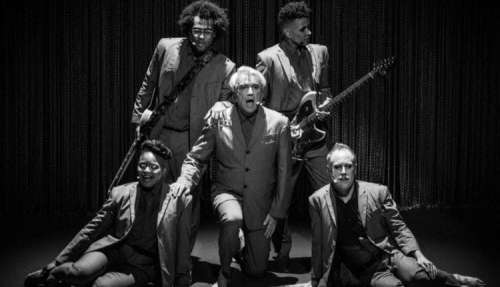 By Pete Mason
David Byrne's much-hyped (and rightly so) American Utopia Tour found its way to Albany's Palace Theatre on Sunday, September 9, after six months of crisscrossing the country, with all the buzz about the set and production having preceding each performance. Byrne's catalog of music was on display throughout the night, with 21 songs covering his solo work, as well as that with Talking Heads and with St. Vincent and Fatboy Slim, combining for a nearly two-hour performance with the psychedelic alt-rock of Tune-Yards opening the night. With a futuristic mix of electronic, new wave and indie pop, plus a lead singer dressed like a dystopian Supreme Court justice, made for an interesting prelude to Byrne. Forty minutes of pure energy and symphonic pomp was capped by "Heart Attack," and paired nicely with the variety of Byrne's music that would follow.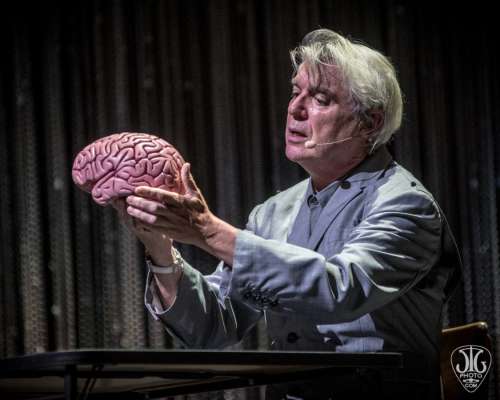 Nature sounds over the PA filled the air as the stage was set for David Byrne. When the curtain opened, we found Byrne sitting at a table holding a human brain, pointing out the purpose for the brain in the lyrics of the opener 'Here,' an anticipatory introduction into the evening's performance. Slowly, an 11 piece band, including six percussionists and drummers, emerged from behind the silver strand curtains that surrounded the stage on three sides, as Byrne moved into "Lazy," which could have easily been pulled from LCD Soundsystem's catalog. But it was the opening beats of "I Zimbra" that brought the audience to their feet in unison, like a preacher calling the congregation back from a moment of reflection.
Following "Slippery People," Byrne took a moment to recognize Headcount and encouraged everyone to register to vote, and then make sure they vote in elections, which was met by thunderous applause from the audience. The St. Vincent collaboration "I Should Watch TV" and "Everybody's Coming to my House" preceded two of the most familiar songs of the night, "This Must be the Place (Naive Melody)" and "Once in a Lifetime," the crowd singing along some of Byrne's finest work.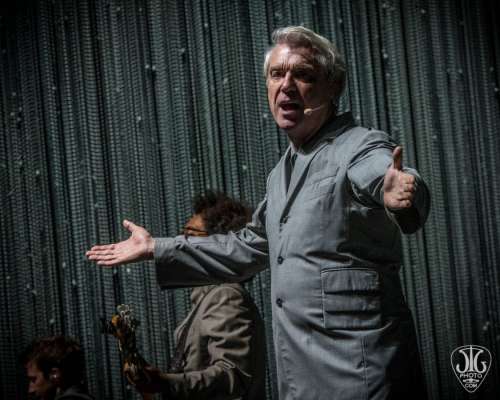 The band was introduced one by one for a slowly growing intro to "Born Under Punches" from the acclaimed Remain in the Light. Byrne's solo work was showcased with four songs that followed, "I Dance Like This," "Bullet," "Every Day is a Miracle," and "Like Humans Do." Blind" took on an ominous feel with low stage lighting projecting a monstrous shadow of Byrne on the curtains behind the band, with a raucous "Burnin Down the House" closing the 80+ minute set.
For an encore, Byrne introduced "Dancing Together" as a song with lyrics provided from Imelda Marcos' own words and originally from a musical Byrne collaborated on with Fatboy Slim about the former Philippine dictator's love of shoes and disco. A frenetic version of "The Great Curve" followed, with the woke audience moving to the enthusiastic Talking Heads original. Returning to the stage for a second encore, Bryne chose "Say Your Name" by Janelle Monae to put a coda on the evening, which shares the names of numerous individuals who have been victims of police and/or racial violence, including Trayvon Martin, Michael Brown, Sandra Bland, Amadou Diallo and others. It was a powerful statement to send the audience out on and left an exclamation point on an evening at The Palace.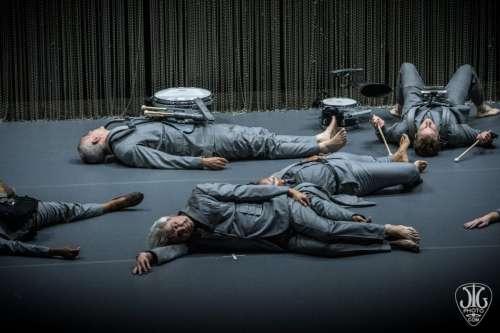 Byrne's American Utopia tour continues with stops in Syracuse on Sept. 12, Queens on Sept. 15, and two nights in Brooklyn Sept. 16-17.
Setlist: Here, Lazy, I Zimbra, Slippery People, Dog's Mind, I Should Watch TV, Everybody's Coming to my House, This Must be the Place (Naïve Melody), Once in a Lifetime, Doing the Right Thing, Toe Jam, Born Under Punches (The Heat Goes On), I Dance Like This, Bullet, Every Day is a Miracle, Like Humans Do, Blind, Burning Down the House
Encore: Dancing Together, The Great Curve
Encore 2: Hell You Talmbout*
*Janelle Monae cover