David Byrne brings his 'American Utopia' tour to Kiwi soil this November
Via Eventfinda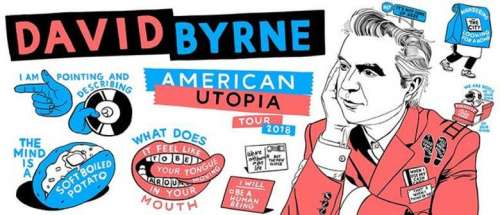 Image by Steve Powers
Talking Heads bandleader, solo artist, visual artist and author David Byrne will be bringing his 'American Utopia World Tour' to New Zealand this November. He'll be playing Wellington, Christchurch and Auckland before heading to his Aussie gigs happening in Sydney, Gold Coast, Melbourne and Adelaide.
The New York City-based artist will play songs from his acclaimed latest album 'American Utopia' as well as classics from his solo career and his days with Talking Heads. A 12-piece band will join Byrne on stage for an Annie-B Parson choreographed concert that he has called "the most ambitious show I've done since the shows that were filmed for Stop Making Sense."
"One of the most inspired, intriguing, energetic and joyful concerts in recent memory. To call it unique hardly does it justice." - The Calgary Herald
"It's honestly hard to believe the amazingness of David Byrne's live show... Byrne radiates a joy while performing that few—if any—musicians can match." - Seattle Weekly
"Already the toast of Coachella, Byrne's new road show was a knockout." - David Fricke, Rolling Stone
With his sets including a wealth of Talking Heads' tracks such as 'Once In A Lifetime', 'Burning Down The House', 'This Must Be The Place', plus his latest stunning solo work and his collaboration with St Vincent, these shows will be unmissable.
His first solo album in 14 years (following 2004's Grown Backwards) 'American Utopia' was released in March 2018. The first track from the album 'Everybody's Coming To My House' was co-written with Brian Eno. Contributions from TTY, Happa, Isaiah Barr Leader of the Onyx Collective, Daniel Lopatin (Oneohtrix Point Never) and Mercury Prize winner Sampha were also featured throughout the release.
"I've made a record that just has my name on it but is also the result of the contributions of many other people," says Byrne. "I suspect that like me it is asking what are we like, what do we want, and what are we looking for."
Byrne announced the release of 'American Utopia' during a presentation of 'Reasons To Be Cheerful', an ongoing series he curates of hopeful writings, photos, music, and lectures. The presentation was given at New York's New School to a live audience and also was streamed via his Facebook page.
David Byrne is one of pop music's true visionaries and during his spanning career, he has released six solo albums, collaborated with Eno, St Vincent, Arcade Fire, Fat Boy Slim, De La Soul and more; won an Oscar; founded the Luaka Bop label; turned a ferry terminal into a musical instrument, designed bike racks, and published 2012 book 'How Music Works'. The Talking Heads leader is currently on the road in the UK/Europe, having already taken his 80-date world tour everywhere from Santiago to Tuscan, Saskatoon to Mexico City.
Don't miss your chance to witness one of pop music's legendary performers, David Byrne, own the Kiwi spotlight this November!