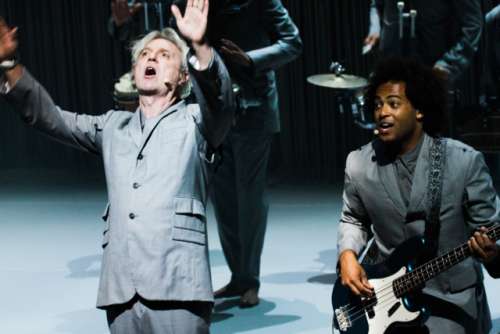 Photo: Laura E. Partain
By The Spin
What David Byrne and his band brought to the stage Sunday night during his monumental set at the Ryman was something more than funky, good-time music, though we certainly felt the funk and had a great time. As you may have noticed, we live in a parlous moment in history. The line between politics and art is often hard to discern, and the relationship between popular art and the mass audience that consumes it has become even more difficult to determine. A white rock star who made his reputation 40 years ago as an exponent of music created by black Americans like James Brown and Al Green, Byrne transcended his influences. The Spin has rarely seen a more kinetic two hours of music, and Byrne's ability to get asses moving matched his conceptual flair in ways that suggest that popular art might survive our current political malaise.
Byrne's sold-out Ryman show was part of a mammoth tour, stretching into October, that he is undertaking in the wake of his latest full-length, American Utopia, developed concurrently with his ongoing multimedia series Reasons to Be Cheerful. Performing with an 11-piece funk band that includes drummers, guitarists, singers and a keyboard player, the former Talking Heads frontman performed songs from American Utopia, Talking Heads favorites, a tune from his 2012 collaboration with St. Vincent, Love This Giant, and a couple of songs he wrote with English musician and record producer Fatboy Slim. Byrne sang about alienation, consumerism, individualism and the allure of television, but his light-footed funk helped us find cheer in the contemplation of American culture's myriad contradictions.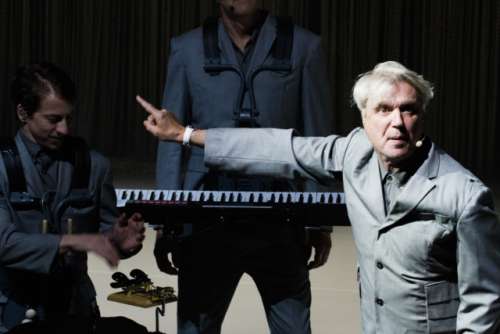 Photo: Laura E. Partain
Dressed in a gray, three-button, notched-lapel suit created by Paris designers Kenzo, Byrne created a radically democratic space for his band. There were no amplifiers or music stands onstage, and Byrne's group redefined the concept of the funk band. Everyone, including Byrne, was a dancer and a key player in the ensemble, and Byrne was merely first among equals. (Like Byrne, everyone onstage wore custom-made suits.) He and his fellow musicians were like members of an avant-garde marching band that never stopped moving.
After a fine opening set by English pianist and singer Benjamin Clementine that showcased his rhapsodic piano style and his penchant for wordless vocalizing, Byrne hit the stage and sang "Here," a song from American Utopia. He turned the Dadaistic funk of his Talking Heads song "I Zimbra" into a groove that was both weird and reassuring. The group's drummers moved in a circle, and the audience rose from the pews and boogied.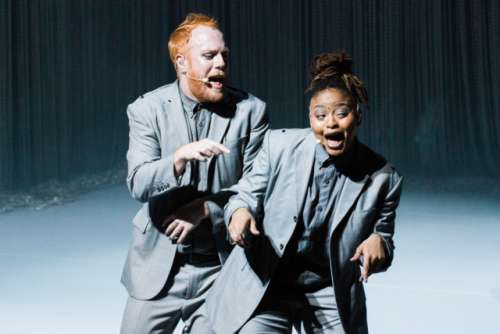 Photo: Laura E. Partain
Throughout the set, Byrne's mastery of funk grooves put us in mind of the great American funk musicians we've lost in recent years: James Brown, Allen Toussaint, Prince and, most recently, one of Brown's drummers, John "Jabo" Starks, who died earlier this month. Byrne was at his most visionary during his incredible performance of his Talking Heads song "Once in a Lifetime," an examination of the contradictions of American consumerism and complacency. We noted the way the ecstatic Ryman audience roared the song's key line: "My God, what have I done?"
"Once in a Lifetime" may have been the set's most stirring moment, but Byrne continued to explore American identity in "Doing the Right Thing," an American Utopia song about the pressures of middle-class life. He sang "I Should Watch TV" from Love This Giant, and he nailed "Bullet," another American Utopia tune.
We got off on his rendition of "Like Humans Do," a song from his 2001 full-length Look Into the Eyeball. Like much of Byrne's set, it was funky, minimalist pop that never overstepped its formal boundaries. Meanwhile, Byrne introduced his Talking Heads classic "Burning Down the House" with a lick he played on acoustic guitar. It was a familiar song that sounded brand-new, which we took as a profound political statement.
Byrne encored with "Dancing Together," a song he wrote with Fatboy Slim for the operetta Here Lies Love, about Philippines First Lady Imelda Marcos. Byrne amusingly described her as a disco fan who, back in the late '70s, loved to soak up the ambiance at famed New York dance club Studio 54. This was, as we heard it, an allusion to our current political situation, in which our leaders seek personal gain and tawdry pleasures while remaining disengaged from the needs of the citizens they are supposed to serve. He played a song from Talking Heads' 1980 full-length Remain in Light, "The Great Curve," about the nature of the world, which, as Byrne sang, "moves on a woman's hips."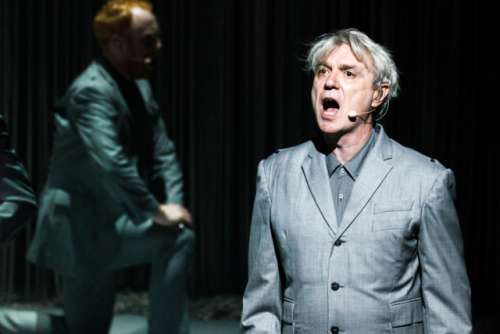 Photo: Laura E. Partain
Byrne ended the night with a version of Janelle Monáe's 2015 song "Hell You Talmbout," a catalog of men and women who have died as a result of racial violence and police shootings. Monáe's song mentions Emmett Till, Trayvon Martin and Michael Brown, among far too many others, and Byrne's rendition was both uplifting and disturbing. "Hell You Talmbout" was, in the capable hands of Byrne & Co., a commentary on the impossibility of separating reality from art. His music continues the work that James Brown began in the 1960s, and he and his band created a politically savvy musical dreamscape that Soul Brother Number One could have danced to. Byrne brought the funk while making us think about what that really means in this ugly political moment, and that's a major achievement.