David Byrne Burns Down the House at the Anthem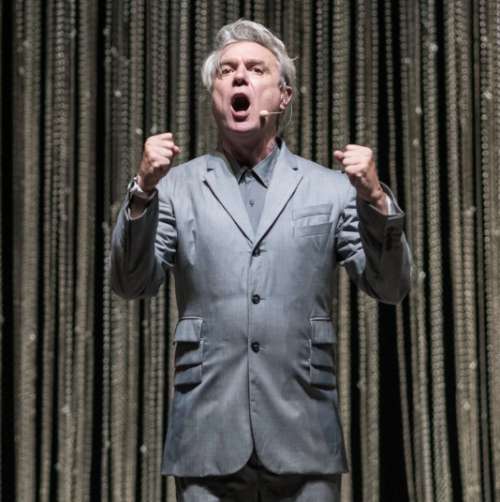 Photo: Kyle Gustafson for The Washington Post
By Chris Kelly
On Saturday night, the scene at the Anthem, in Southwest Washington's new Wharf development, was set: a bare stage, adorned not with instruments but with a folding table, a wooden chair and a fake brain. It felt more like a production in a black-box theater than the site of a rock concert. But when a beaded curtain rose and David Byrne emerged — gray-suited, barefoot, with that unmistakable shock of gray hair — it all started making sense.
Byrne, after all, is more than just the former frontman of art-rock innovators Talking Heads. He has collaborated on albums with Brian Eno, St. Vincent and Fatboy Slim; written a handful of books; scored films; worked in theater; and turned a building into a musical instrument. He's so consumed by his various pursuits that it had been 14 years since he released a solo album, which he did earlier this year with "American Utopia."
To bring "American Utopia" and various favorites from his sprawling discography to life, Byrne was joined by an 11-piece ensemble in matching grays and bare feet. Some played guitar, most played percussion, a few sang, and all danced, like a drum line in miniature. Every movement was deliberate, but not so deliberate as to mute the buoyancy and effervescence of the music. And while the choreography was deceptively simple, that was deliberate, too: "I dance like this because it feels so damn good," Byrne sang. "If I could dance better, well, you know that I would."
In his trademark talk-singing, Byrne mused about the ephemeral nature of life ("it's good to die and it's good to be alive") and satirized the political landscape (viz., the lyrics to "Dog's Mind" — "the judge was all hung over when the president took the stand, so he didn't really notice when things got out of hand"). At times, he was even more overtly political, shouting out HeadCount, a nonprofit that promotes democratic participation, and encoring the show with a cover of Janelle Monáe's "Hell You Talmbout," calling on the audience to say the names of the victims of racial violence.
But the main theme of the evening, and the thread that connects all of Byrne's music, is the idea of home: finding, building, losing, loving, remembering and forgetting home. "American Utopia" cuts "Everybody's Coming to My House" and "Doing the Right Thing" bracketed the one-two punch of "This Must Be the Place (Naive Melody)" and "Once in a Lifetime." All four songs celebrate the warm joy of home, even if its middle-class accoutrements or nostalgic haze make it unrecognizable. With all that in mind, closing his set with "Burning Down the House" made the most sense of all.