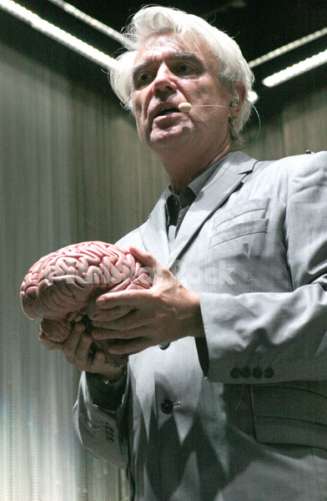 Foto: Markceröck
Texto: Jordi Campàs
"Lazy" nos lleva al mundo de la utopía, con una docena de músicos y coristas móviles que nos hicieron olvidar el cliché de ver un concierto normal. "I Zimbra" es el primer affaire musical de los legendarios Talking Heads, enganchando, sin respiro, otra reliquia de su pasado Talkingheadniano: "Slippery people". Vestidos de traje de un gris solemne interpretan "I Should Watch TV", que en su día grabo con la americana St. Vincent. Byrne es un contador de historias muy convincentes adornadas de diferentes melodías que van desde el pop hasta las músicas del mundo bailables. El saxo de "Everybody´s Coming to My House" invita a sumergirse en la casa de Byrne: el escenario.
La intro acústica nos anuncia el megaéxito "Once in a Lifetime": el público festivalero se rindió ante el mesiánico rey midas de la música. Se sucedían coreografías de baile; percusiones móviles y coristas armados con micrófonos inalámbricos llenaban por completo la visión sin perder detalle alguno. La caribeña "Toe Jam" nos acerca a los ritmos africanos para continuar con el discurso "I Dance Like This", enamorando a más de alguno, tal como dictaba el luminoso publicitario del festival. ¿Alineación de los astros? Para deleite, tres joyas de la corona: "Blind", "The Grand Curve" y la reversionada "Burning Down The House" pusieron al personal a bailar y cantar desenfrenadamente, uniendo generaciones de viejos fans y la esperanza de que el rock tenga cabida en los más jóvenes. "Aguanta hasta que termine la fiesta" ("Hold tide wait till the party´s over"): una línea de la canción parecía decirnos el mensaje a seguir, mientras que luces rojas simularon un incendio en la parte "quemando la casa" ("Burning down the house"). El ocaso del show lo marcaría la participativa versión de "Hell you Talmbout" de la afroamericana Janelle Monàe, que enganchó por sus primales coros e infinidad de instrumentos de percusión, acabando el show con un verdadero carnaval sonoro.
Es lo más grande que ha montado desde la gira "Stop Make Sense" por allá en los lejanos ochentas, exactamente en el año orwelliano 1984. Sin duda, David Byrne jugó de local y ganó el título de mejor directo del Cruïlla 2018.