David Byrne expands 2018 "American Utopia" tour with new US dates
Via Lemon Wire
Written by Jeremy Gurto
Talking Heads' frontman David Byrne promised an "ambitious" tour in 2018 late last year in support of an upcoming album. The live shows promised to experiment with light and color as well as utilizing wireless technology to make the most of stage space. New details have now emerged regarding Byrne's new album "American Utopia" due out March 9, his first solo release since 2004's "Grown Backwards."
Along with the album's supporting tour of Mexico, Canada, Europe, South America and the UK, a number of new US dates have just been announced including a show in Indianapolis on June 9 at the Farmers Bureau Lawn Amphitheater.
Byrne further expanded on his ambitious vision for the tour in a Twitter post, comparing the planned experimental staging of the tour with Talking Heads' 1984 Stop Making Sense tour and feature film.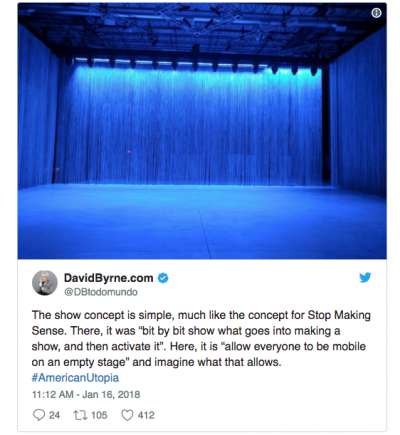 The new album American Utopia is intended as part of Byrne's larger multimedia project entitled Reasons to be Cheerful, a direct response to the current politically divided times in the United States and the declining state of the environment. Late last year Byrne had curated a playlist titled "One Year Later" comprised of pop songs released in the months up to the one-year anniversary of the 2016 U.S. presidential election.
However, in a press release for the album, Byrne remained ambiguous about whether the album was specifically political, instead emphasizing that "The title refers not to a specific utopia, but rather to our longing, frustration, aspirations, fears, and hopes regarding what could be possible, what else is possible."
The full itinerary for the "American Utopia" tour can be found on David Byrne's website. Listen to the lead single at the top of the article. The track is from the album "Everybody's Coming to My House."