David Byrne, Kimbra @ Gold Coast Convention & Exhibition Centre
Via The Music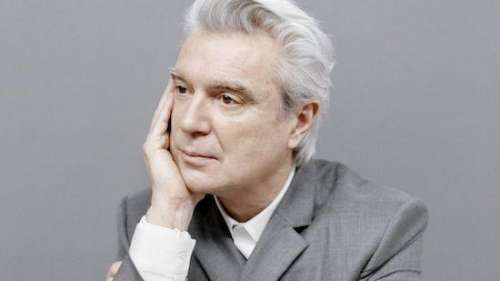 Photo by Jody Rogac
By Jake Sun
After throwing a pleasant curveball with her recent Songs From Primal Heart: Reimagined EP, Kimbra throws another by returning to our shores so soon after wowing audiences across the country in July. Where those gigs were highly energised, intimate engagements with fans, tonight sees her performing to a somewhat indifferent room. To Kimbra's remarkable credit, she doesn't for a moment let the audience's seated passivity distract from her connecting on the stage. Aside from Limbo, Love In High Places and a wonderfully warped version of Settle Down (including a sinisterly downbeat interpolation of Somebody That I Used to Know), the songstress strays from her past glories, opting instead to concentrate on more recent material. Hi Def Distance Romance and Black Sky showcase the potency of this pool, but it's on the mammoth closer Top Of The World that Kimbra really reaches for the stars.
While it's been 14 years between solo records for David Byrne, he's kept extremely active in this time, churning the currents of culture with a slew of soundtracks, collaborations and various creative projects. A colourful counterpart to Reasons To Be Cheerful (a cross-platform project drawn from positive news stories), his latest solo outing American Utopia is a vivid response to the social climate of our age, but it's this album's translation into the live arena that really pronounces Byrne's enduring artistry.
A near-empty stage, occupied by a lone chair and desk (complete with model brain on top), is brought to life from the moment a silver-suited, bare-foot Byrne walks out and takes his seat to commence with the incredibly potent opener Here. Brain in hand, he leads us on a musical tour of the cerebral cortex, and its lower neighbours, while a riser slowly transforms the stage into a minimalist realm of visual wonder. One by one, 11 silver-suited, bare-foot bandmates emerge to reveal a confounding configuration of bodies, which simultaneously delights and shocks the senses. There's somewhat of a discord between what is seen and heard, as each of the wireless musicians has their instruments harnessed to their bodies (the 'drum kit' remarkably comprised of five revolving percussionists!), enabling them to independently move about the stage and alter their configuration throughout. The result; a stunning synthesis of live music, theatre and contemporary dance born of a singular vision.
Byrne appears in the finest of forms with each energised movement and every song is given new life through this arrangement. Aside from the lone Born Under Punches (The Heat Goes On), the Talking Heads material is placed into couplings and spread throughout; I Zimbra and Slippery People come early on, This Must Be The Place (Naive Melody) and Once In A Lifetime midway, and Blind and Burning Down The House are the set closers. With all this strategic placing, his solo material holds up remarkably well in contrast, especially the standout Everybody's Coming To My House, which epitomises the urgent plea of openness and optimism at the heart of Byrne's recent work.
An encore of Road To Nowhere and The Great Curve delivers the final waves of excitement among the audience, before a cover of Janelle Monae's protest song Hell You Talmbout (which calls out the names of African Americans who lost their lives to police violence) brings a profoundly conscious close to the evening.