David Byrne live review: Talking head transforms rock show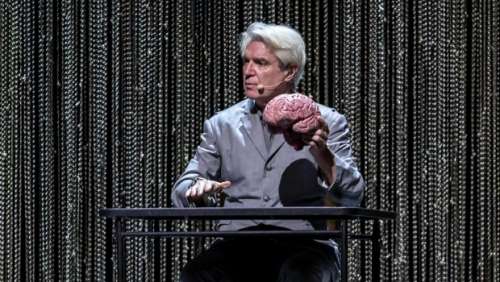 Photo Credit: Darker Arts
By Michael Bailey
This night's opening act, Kimbra, told us David Byrne was a "game changer" and at 66 years old, the former Talking Heads frontman went on to prove she was still right.
Boasting choreography of a standard rarely seen outside ballet, Byrne's show based around his 12th solo album American Utopia was a tour de force where the tunes, ideas and enthusiasm never flagged.
Wearing grey suit, grey shirt and no shoes, Byrne sat at a table showing us a plastic brain as the lights came up.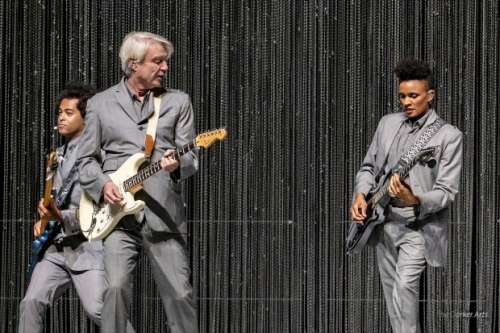 Photo Credit: Darker Arts
"Here is a region of abundant details", he sang, the croon more world-weary, less adenoidal than that on Talking Heads: 77. The opening line of American Utopia's final track summed up what was to come, even though barely another prop was seen on stage.
Advertisement
It was clear none were needed, as Annie-B Parson's choreography made Byrne's infectious collaboration with X-Press-2, Lazy, positively virulent. Byrne's 11 musicians joined him like the coolest marching band you've ever seen, the instruments strapped to their own grey-suited, barefoot bodies not stopping them from turning the number into a joyous aerobics class.
This lot were not Lazy at all, sweat soaking suits by about halfway through this 90-minute show, with special mentions to Chris Giarmo and Tendayi Kuumba, who combined duties on backing vocals (and in Giarmo's case melodica) with pas de deux that lifted songs rather than merely decorated them. Smiles barely left the troupes' faces as their joy in shared movement transferred to the audience, who went crazy after virtually every number.
Byrne's band was heavy on rhythm, including masters of conga, bongo, bass drum, bells and tamborim tree shakers, and he wisely chose a setlist that emphasised his back catalogue's funk, Latin jazz and Afrobeat influences. For all its soullessness, the excellent acoustics in this venue had these complex arrangements sounding crisp. In fact they sounded so good, Byrne felt it necessary to prove everyone was playing live with no backing tracks, and hence Born Under Punches was built up layer by groovy layer.
Warm pulse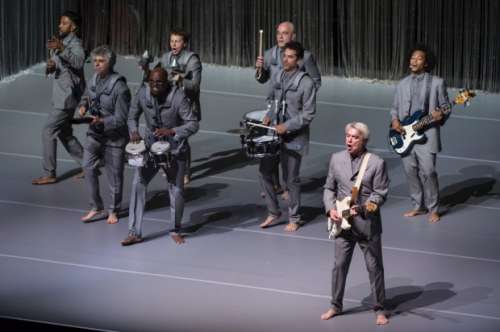 Photo Credit: Darker Arts
Talking Heads classics I Zimbra and Slippery People carried on Lazy's exuberance, before I Should Watch TV (complete with a whirling Byrne possessed by an offstage cathode ray) and Everybody's Coming To My House injected the outsider social observation that's defines the new record.
The warm pulse of This Must Be The Place (Naive Melody) finally got everyone out of their seats – helped by Byrne stopping the tune to "clarify the dancing rules" – and were kept there by a triumphant Once In A Lifetime and sublimely ridiculous Fat Boy Slim tropicalia collaboration, Toe Jam.
The pick of the new tunes were I Dance Like This, with its unashamedly '80s breakdown and remarkable strobe lighting effect which left Byrne suddenly alone on stage at its end, and Bullet, an affecting lament on the gun epidemic which saw him perfectly reproduce the choirboy high note of the album version.
We could have done without Dog's Mind or Gasoline and Dirty Sheets, but this quibble was forgotten as the show ended on a prolonged Talking Heads high. Burning Down The House did just that, Road To Nowhere evoked Byrne's Scottish heritage in a joyfully jaunty march treatment, and The Great Curve climaxed with an awesome guitar solo from Angie Swan, a Janelle Monae lookalike who deserves to be as big a star.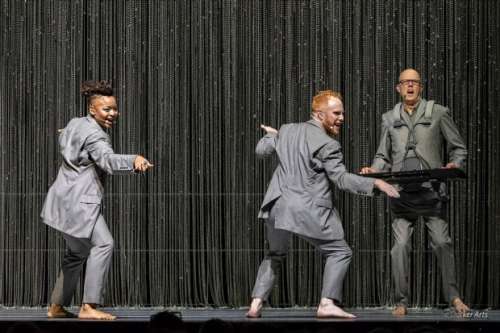 Photo Credit: Darker Arts
It was a song written by Monae that gave this night an unexpected conclusion. No, we didn't hear Psycho Killer, but Hell You Talmbout, a visceral namecheck of black victims of police brutality, became a chant that brought this room together at the end of a show with community at its heart.
David Byrne plays Melbourne's Margaret Court Arena on 24 November and Adelaide Entertainment Centre on 25 November.