David Byrne live: reviewing a slippery person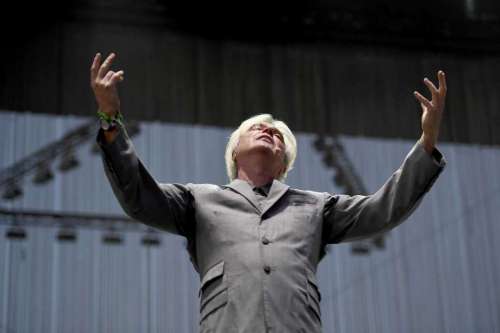 Photo: Frazer Harrison, Staff / Getty Images For Coachella
By Andrew Dansby
David Byrne's Saturday night show at White Oak Music Hall underscores a problem I've had with concert reviews from my days as a kid reading them to those as an adult writing them: What am I doing here?
If you were at the show, you know you saw something special. If you weren't, there aren't words I can string together that can replicate the experience of seeing this performance, which was indescribable using the usual jargon of concert review lingo: loud, visceral, emotional, etc.
To wit, someone near and dear to me asked after the show if Byrne played X, Y and Z songs, and the answer was no, no and no. And it didn't matter. The set list was carefully curated to touch generously on Byrne's time in Talking Heads -- more than a third of the set -- but he didn't lean entirely on the band's best-known songs. He snared a tune here and there from some of his lesser known recent collaborations. And he dispersed songs from his new "American Utopia" gently throughout.
Byrne has found some fascinating other world within the rock 'n roll concert experience, fusing it with visual art and musical theater. He's not like a McCartney or Buffett who can rely wholly on the songbook for a three-hour time-traveling experience into the past. Which is odd, because between 1977 and 1985 Talking Heads released six albums that range from very good to brilliant. Elvis Costello had a remarkable run during that span, but I can't think of a band that more great music in that time.
Yet, Talking Heads, even though they had a loose embrace with mainstream success, made outsider music. They had minor hits that would continue to show up for years and years on TV and in film. They found a back door to rock 'n roll ubiquity, which may be a better measure for success than charting hits, which lean on the whims of an era.
Anyway, Byrne at White Oak would offer up "Once in a Lifetime" and "Burning Down the House" -- his best-known perfect song and his best-known party song -- and another five or six great Talking Heads songs, and stir the gathered crowd into an awkward funky dance party.
But the assembled seemed just as thrilled with the very funky "I Zimbra" and "Slippery People" and later with "This Must Be the Place," "Blind" and "Born Under Punches."
But those songs weren't essential to the show's success. A Byrne performance isn't void of nostalgia -- his staggering around the stage as though pushed by tempestuous wind during "Once in a Lifetime" turned back time.
But where other guys have built their entire show around the past, Byrne folds the old stuff into the new with theatrical newness. He doesn't think of a stage show as an event built around viscera. He instead works like a watchmaker or a painter. All the pieces work in harmony. So his stage was surrounded by a curtain of faux chain-link drapery from which instruments would appear when needed and members of his remarkable band would enter. He basically codified the idea of stage as diorama. Offstage handlers were almost invisible.
And within that diorama, each move and each note was scripted, from the band's matching gray suits and bare feet to the fact that no member was tied down by his or her instrument. All instruments were affixed to their player, so members could roam about the stage as scripted. They formed clusters and lines, miniature drum lines and running dancers. The percussion, in particular, was impressive -- five or six guys replicating a drum kit on the more traditional songs, and offering up more exotic rhythms and solos when the song called for it.
When Byrne played Jones Hall nine years ago he reached for something similar in his mix of song and movement. It worked mostly, but occasionally the choreography became so prominent that the music felt secondary.
Not this time. Byrne's 11-person band was fascinating in its ability to pull together and then break into smaller components. When musical backing needed to be minimal, it was and the players disappeared behind those curtains. When percussion needed to be global and funky, it was. Byrne's voice and bassist Bobby Wooten were about the only constants across 21 songs.
I bring up the visual aspect, because the sum of it reminded me not of other art school type rock shows I've seen, but rather of how James Brown used to run a band. Byrne's capacity for shouts, grunts and other sounds is a sort of gawky update on Brown's work, and the almost militaristic organization of the band, too, reminds of the Godfather of Soul. Byrne has also for more than 40 years made music with influence from northern Africa. It's most obvious in the rhythms and the brass, but even those tightly coiled guitar parts that extend from Byrne's Talking Heads days to present span an ocean.
All these typed words, and I've utterly failed to describe the magical quality of this show.
But I'll say this, as a guy who has followed Byrne's solo pursuits, I was left cold by his St. Vincent collaboration and his album with Fatboy Slim. Both songs from those albums -- "I Should Watch TV" and "Toe Jam" -- rode strong grooves that made me want to revisit the albums.
For the most part, I thought the new songs from "American Utopia" held up quite well. Some like "I Dance Like This" connected with me more live than they did on the album. "Bullet" was the one that sat flat to me, BUT...
While I have implied this show was void of the viscera that makes people love, say, Bruce Springsteen, Byrne does manage to find this warm connective quality over the span of a show. As it progresses from "Here," the first song on the new album, to the end, there's a wonderful thawing effect and not just because he closed the set with "Burning Down the House."
He rose from a seat on "Here" holding a model brain, discussing what functions different parts of that brain do. It was decidedly and deliberately clinical. But the anxiety, paranoia and general jittery quality of Byrne's earliest work has shed its skin offering a more translucent view of a skeletal system and its beating heart.
This isn't a show with riffs that get into your bones or growls that stir your soul or any of those old rock cliches. Byrne's warble -- completely undiminished by age -- feels more like a haunting.
So his tiptoe toward emotional content was subtle until the show-closing encore, Janelle Monae's "Hell You Talmbout," which is a recitation of names of victims of racially-motivated or -influenced violence -- largely unarmed black men and women killed by police. The heartbeat percussion and the swelling outrage were full of warm blood, a crescendo I just didn't see coming.
And while that song fit with Byrne's older, dystopian musings, they also made it just a more recent point in an evolution of his work. So the angriest, most emotional point in the evening served as a "Good night..." yet also suggesting Byrne's nowhere near as cold as his presentation sometimes implies. The song and moment was informed by outrage, but even then, outrage precludes resignation. Which makes it about hope. Which is to say, NOT the same as it ever was. Not the same that it ever was.