David Byrne on 'American Utopia,' his bonkers new tour and whatever happened to that giant suit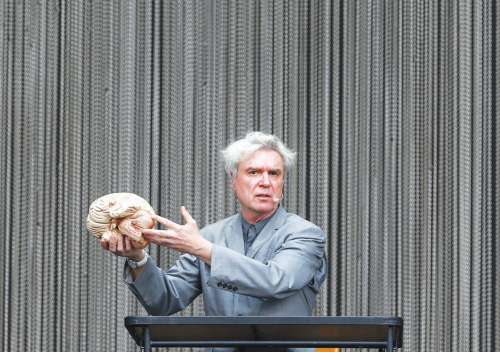 Photo: Alexandre Schneider/Getty Images
By Rudi Greenberg
For David Byrne, the tour behind "American Utopia," his first solo album in 14 years, is a culmination of every tour that came before it — including the 1983 trek that produced the landmark Talking Heads concert film "Stop Making Sense." As he did in the ambitious stage show immortalized in that movie, Byrne, 65, begins this one alone onstage, before the 11 members of his backing band gradually join him. And much like the tour behind 2008's "Everything That Happens Will Happen Today," Byrne and his band are constantly dancing around the stage. Only this time, taking a cue from his 2012-13 shows with St. Vincent, every member is on their feet — even the percussionists, split up like a drum line — and there are no amps or cords visible to the audience. "I experimented a little bit with having some of the brass players be mobile in the show I did with St. Vincent, but this time I asked, 'Can we do everybody? Can we take it further?' " Byrne says. "That then was like a domino effect." The lengthy world tour will bring Byrne to the D.C. area twice this year: first, a sold-out show Saturday at one of our newest venues, The Anthem, then a July stop at one of our oldest, Merriweather Post Pavilion.
Now that you've been playing the songs from "American Utopia" for a bit, how do you feel they're evolving and changing for you in the live setting?
They take on a different meaning. For instance, this song "Bullet," when we do that live it's in a very kind of theatrical manner — not dramatic but still very theatrical, which I think gives it, in a certain way, a more emotional and broader connection than it might have on the record. Another one of the newer songs, "Everybody's Coming to My House," we did a music video where a small choir in Detroit interpreted the song, and to me, seeing their version, it completely changed the meaning of the song. It made me rethink it. This song has hints of my own social terror at having a party at my house and I can't leave. From their point of view, it's incredibly welcoming. It's like, "Yes, we're all part of the same gathering, and everybody is welcome."
That's kind of the magic of music, right? We can all have our own different interpretations of the same song.
Yeah, so I can, as best I can, incorporate some of what I learned from their interpretation into my interpretation.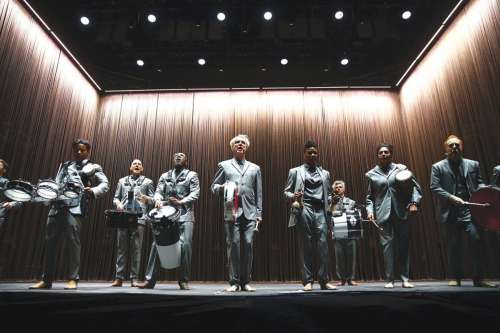 Photo: Rich Fury/ Getty Images
In some cases, you're singing songs that you've been performing with different musicians, in different ways, for 30-plus years. What do you get out of revisiting your earlier work with this new ensemble?
I'm lucky. I think that the songs as they were written, most of them, have enough wiggle room in them that you can have application throughout the years. They don't seem like, "Oh, this song is so '80s" or whatever. So I can kinda find fresh meaning in the stuff and, depending on what I choose to do, I can integrate older stuff along with newer stuff and it seems to work for the most part.
Is the live show still evolving or is it pretty set and regimented?
There's details that are evolving. We'll probably add little touches here and there, but the overall thing is pretty set. It has a fair amount of movement, and it's very theatrical in the most general sense. That doesn't mean it's sentimental and dramatic, but it's theatrical in another way.
Here, you'll first play our new concert hall The Anthem and then the outdoor Merriweather Post Pavilion in July. How does the show change for you from the smaller, indoor theaters to the outdoor venues and festivals?
I'm hoping that because there's so much movement onstage that it can accommodate both places.
Do you feel like it has so far?
Yeah, I think so. We've done a few festivals and I had reservations about how it might work, and it seemed to work. The audiences were sometimes kind of shocked and puzzled at first at what we were doing, and then they come around and they totally love it.We're not wowing them with explosions and this and that, we're kind of trying to bring them in with another means.
There's a dynamic on "American Utopia" where you have some songs that deal with dark subject matter lyrically but the music, or maybe the chorus, is uplifting. Is that something you were conscious of as you were writing?
Yeah, I was conscious of that — to balance along one with the other. The chorus and verses are having a conversation in a way. Or a debate.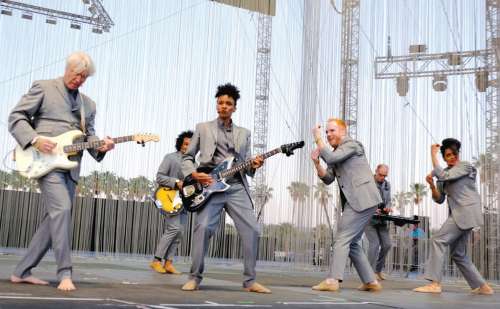 Photo: Frazer Harrison/Getty Images
On the same day you're performing in D.C., the Funk Parade — a New Orleans-style parade in the U Street corridor with a street festival and music — will be taking place.
That sounds really good. What time of day is that?
It's in the afternoon.
Oh, OK, so we could actually catch that.
I feel like they'd make you the grand marshal if you're interested.
[Laughs] I'm going to make a note.
I have to ask you this because I've always wondered: Do you still have the infamous giant suit from "Stop Making Sense"?
[Laughs] The specifics of where it is, I don't know. It actually went on tour with a museum show for a while. It might be on loan to the Rock & Roll Hall of Fame, but it has gone out and sometimes it comes back and it's in a very large box. When it comes back, that's where it goes in my office, and then sometimes it goes out again on its own. It has its own life.
Do you remember the last time you put it on?
No, I have no idea. Last time I probably put it on was one of those shows or I might have worn it for a TV appearance.
I wonder if it still fits.
I don't knoooow, I don't knoooow.
The Anthem, 901 Wharf St. SW; Sat., 8 p.m., sold out.
Merriweather Post Pavilion, 10475 Little Patuxent Parkway, Columbia, Md.; July 28, 8 p.m., $60-$130.
Do you want the good news first?
In January, David Byrne launched Reasons to be Cheerful, a website that chronicles people and organizations trying to make positive changes in the world. Frequent collaborator Brian Eno suggested one such organization, ClientEarth, which Byrne recently wrote about. "They try to effect change legally," Byrne says, using experts to find laws around the world that aren't being enforced and then taking action through the court system. "They have opened the way for, say, environmental laws or pollution laws to actually be put into effect," Byrne says. "Most of the time they don't succeed but occasionally they do. And occasionally that leads to real change. That's an example of which might apply to a certain part of Washington."