David Byrne Reclaims Relevance, Legacy on New Tour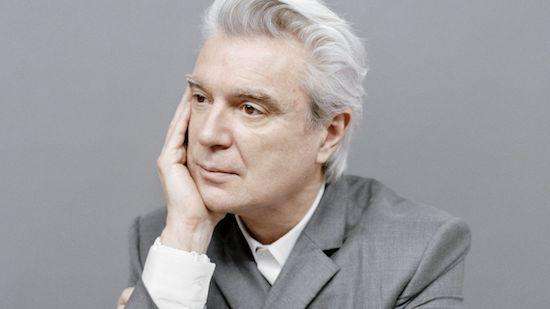 Photo by Jody Rogac
By Steve Palopoli
The "Final Transmission" episode of Documentary Now—the recent Netflix series in which Fred Armisen and Bill Hader lovingly skewer a different famous documentary in each installment—begins with a shot of Armisen's feet as he walks out on stage in a white suit and says, "Hi. I got a cool little toy." He puts down an '80s toy robot and starts singing a song about the street he lives on, with lyrics like "that's a mailbox on the corner, over here is a stop sign" and "a lady reads a book in front of a building."
It's a parody of the famous opening scene of Jonathan Demme's Stop Making Sense—the best music documentary ever made—which begins with a similar shot of David Byrne walking out by himself with a boombox and saying "I've got a tape I want to play for you." Armisen's song is a send-up of what is often seen as a streak of overly cute quirkiness in Byrne's work; it most closely mirrors "Don't Worry About the Government" from Talking Heads' first album, '77. That song was the main reason the band was labeled more "conservative" than their punk and New Wave counterparts at the time; the word wasn't meant in the political sense, but as a way of saying Talking Heads seemed artsy and safe for mainstream consumption in the midst of a boundary-pushing New York scene. (Ironically, the real first song in Stop Making Sense is "Psycho Killer," which was considered somewhat dangerous when it was released in 1977, because many people mistakenly thought it was about that year's Son of Sam Killer).
The "quirky" tag continued to dog the band the same way Byrne's oversized suit in Stop Making Sense dominated his public persona (he once joked that his epitaph would be "Why the big suit?"). Talking Heads put out brilliant album after brilliant album—from the jittery rush of '77 and More Songs About Building and Food to the ordinary-world-turned-upside-down darkness of Fear of Music, the swirling polyrhythmic mystery of Remain in Light and the stomping funk of Speaking in Tongues, they had the most stunning, inventive run of any American rock band from 1977 to 1984. Yet somehow it was still the harmless Americana of 1986's True Stories and the straight pop of the Heads' last two records, Little Creatures and Naked, that Byrne was most identified with for many years.
So you better believe it's no coincidence that Byrne is playing nothing off True Stories or Little Creatures on his newest tour, which comes to the San Jose Civic on Saturday. And the only thing off Naked that he's playing this time around is "Blind," Talking Heads' angriest and most political song—which now seems like it was about three decades ahead of its time when it was released in 1988.
"Blind" fits in perfectly with the songs on Byrne's newest solo album, American Utopia, which is a raw and jagged rejection of the state of Donald Trump's union. Clearly, Byrne realized this was the best solo album he's ever done (it's also his first to land in the Top 10), and saw a chance to build a tour around it that amounts to a no-holds-barred bid to claim his rightful legacy as one of America's most relevant songwriters. American Utopia's best songs—"Everybody's Coming to My House," "Here" and "Dog's Mind"—are oddly sort of buried on the album. However, they are they're front and center in the setlist, which remains mostly constant because of the highly choreographed nature of the show. He knows what he's got.
For this tour, he's also reclaiming Talking Heads and solo songs that audiences might have missed the first time around, like the amazing "I Should Watch TV" from his 2012 album with St. Vincent, and "Dancing Together" from his wild 2010 concept record with Fatboy Slim (which turned the Imelda Marcos story into a club-dancefloor musical, and later became an off-Broadway production). "The Great Curve" and "Born Under Punches (The Heat Goes On)" are two Talking Heads masterpieces that never got the pop culture moments they deserved, while "Once in a Lifetime" and "Burning Down the House" are the ultimate remember-how-great-that-band-was-everybody statements.
He's most definitely playing "This Must Be the Place" on this tour as a way of saying, "Yes, I know you've heard Arcade Fire and every other indie band playing it, but this is really my song." If Byrne has got to look at the word "quirky" shoved in front of his name for the rest of his life, he definitely wants to see "but important" in between.
David Byrne's 'American Utopia' tour comes to the City National Civic in San Jose on Saturday, Aug. 18. sanjosetheaters.org.