David Byrne Reinvented the Wheel with his Visionary New Tour
Via Shepherd Express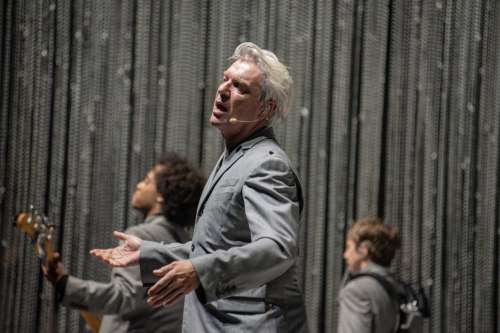 Photo: Daniel Ojeda
BY EVAN RYTLEWSKI
How's this for expectations setting? This winter David Byrne teased his new tour by calling it "the most ambitious show I've done since the shows that were filmed for Stop Making Sense." That's a big claim, given that Stop Making Sense is widely regarded as the greatest concert film ever made, and a boast that have easily just been the kind of hyperbole artists indulge in when they've got new music to promote (Byrne's latest solo album American Utopia was released in March). But here's the wild thing: Byrne's revelatory new tour is actually even more form-breaking than those Stop Making Sense shows. Byrne has always gone the extra mile in concert, but this was something else completely, an extra transatlantic flight. Calling his show Tuesday night at the Riverside Theater the most inventively choreographed concert I've ever seen—which itr was, by a long shot—doesn't even begin to do it justice.
The show's radical conceit: a bare stage, as white and pristine as Byrne's shock of hair. That's it. No drum kit, no keyboard mounts, no microphone stands, no guitar pedals, no unseemly cords. Instead every musician in Byrne's suited, barefooted 11-piece band played with their instrument strapped to them, drumline-style, a setup that gave them complete mobility and complete freedom to dance alongside one of the most limber 66-year-olds on the planet. Every song featured some elegant twist, be it a choreographic departure or a novel lighting display. Some were spectacles; others were poems.
It was an incredible achievement, not only on an artistic and emotional level, but on a purely technical one. How does a crew get that many wireless mics to sound that good? The takeaway from Stop Making Sense was the Talking Heads' sound was so massive, so powerful, it took an enormous rig to contain it. Here Byrne and his band conjured the same almighty magnificence on a flat plane without so much as a pair of shoes. And while the crowd lit up most for the Talking Heads favorites—"I Zimbra," "Once in a Life Time," "Burning Down The House"—his solo material soared, too. American Utopia is an uneven album, sometimes almost embarrassingly so, but it's got a couple of highlights that give Talking Heads' heyday works a run for their money. "Everybody's Coming to My House" and "Always Doing the Right Thing" were reminders of the electrifying highs this master is still capable of even this late in his career.
Creating a show that upends all assumptions of what a concert can be once is remarkable. Doing it twice is unprecedented.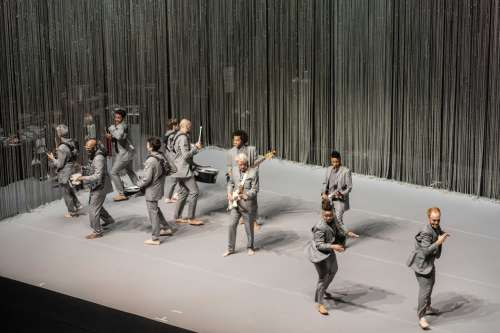 Photo: Daniel Ojeda