David Byrne reinvents the concert experience — again — with 'American Utopia' show at the Peabody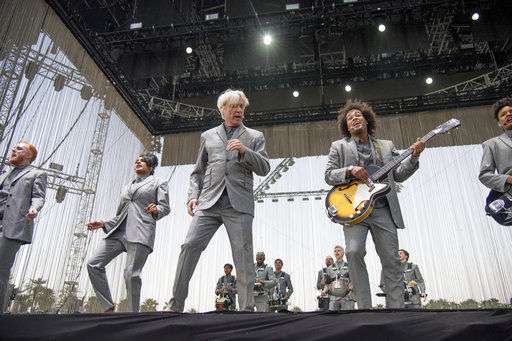 Photo by Amy Harris/Invision/AP
By Daniel Durchholz
David Byrne titled his latest album and tour "American Utopia," an apparently sincere act of hope and positivity, and even posted a pre-show request on social media for local fans to list their "reasons to be cheerful." But he chose to end his sold-out performance at the Peabody Opera House on Friday night with a cold slap of reality.
Byrne covered Janelle Monae's "Hell You Talmbout," a protest chant invoking the names of African-Americans who died as at the hands of law enforcement or in other incidents of racial violence. Ferguson's Michael Brown was prominent among the names mentioned, alongside Trayvon Martin, John Crawford, Laquan McDonald and many others.
"Sadly," Byrne noted, the 2015 song "is still relevant today," so much so that it requires constant updating.
It was a powerful and poignant coda to an eye-popping, mind-blowing concert that was achieved without the aid of props, video screens, or even a conventional stage set. Byrne's 11-piece band — each of them clad in a gray suit and barefoot, like Byrne himself — carried their instruments like members of a marching band, allowing them to dance and assemble in various formations.
Beaded curtains lined the sides and back of the stage, forming a boxlike space that the musicians could perform within, effortlessly exiting and entering as needed.
The overall look and feel of the show was hyper-theatrical, yet utterly human at its core. There were no backing tracks, Byrne emphasized at one point. "Everything you hear is being played by these incredible musicians," he said.
No stranger to innovation, Byrne reinvented the concert experience in the Talking Heads' 1984 film "Stop Making Sense." This current outing is, if anything, even more radical and engaging.
He opened the show seated at a table, a model of a human brain in his hands. "Here is a region that continues living even when other sections are removed," he sang, pointing. It was a strange, lecture-like manner in which to begin a concert, but it didn't take long to connect the brain to other parts of the body as the band entered and launched into the rhythm-centric "Lazy."
The audience rose as one and didn't sit down for rest of the show.
Seven numbers came from "American Utopia," including the kinetic "Everybody's Coming to My House," the sunny "Every Day Is a Miracle" and "I Dance Like This" on which Byrne sang, "I dance like this because it feels so damn good/If I could dance better you know that I would."
In fact, Byrne, 66, moved with incredible agility and verve as his cadre of younger musicians and singers swirled around him. His voice is still in top form, too.
A lot of that lung power apparently comes from Byrne being a dedicated bicyclist. Maybe someone should have listed St. Louis's bike-sharing programs as one of our "reasons to be cheerful."
Byrne touched on politics in "A Dog's Mind," a song about the public being as oblivious as animals to dark things being done in their name. Afterwards, he spoke of the importance of voting in local as well as national elections.
"Bullet" addressed gun violence, detailing matter-of-factly how a bullet passes through a human body, at the same time poetically addressing what it robs from its victim. "The bullet went into him/Through his heart with thoughts of you," he sang. "Where your kisses he inhaled/The lies and the truth."
A few songs originated from older works, including "Dancing Together," from "Here Lies Love," his 2010 rock musical about former Filipino First Lady, noted kleptocrat and apparent disco enthusiast Imelda Marcos; and "Toe Jam" a giddy 2008 collaboration with The Brighton Port Authority.
But the real crowd-pleasers, not surprisingly, were from the Talking Heads catalog, and Byrne's heavily rhythmic arrangements — six of the 11 band members were percussionists — of classics such as "I Zimbra," "Slippery People," "Once in a Lifetime" and "Burning Down the House" kept everyone onstage and in the audience in constant motion.
It was a dance party that never failed to keep the brain — perhaps not that disembodied one that Byrne had been holding, but surely everyone else's — fully engaged.
Opening act Benjamin Clementine didn't fare nearly as well. The British-born art-rocker and winner of the 2015 Mercury Prize is possessed of an extraordinary voice and provocative sensibility, but after about half an hour, he heard something from an audience member that he didn't like and walked off.
It probably didn't work in his favor that he began his performance with nearly five minutes of circling the stage in the dark, ringing a small bell, as if to ward off evil spirits. More to the point, it didn't seem to work.
Among the songs the pianist/vocalist completed, "Condolences" and "Phantom of Allepoville" were striking to say the least. But Clementine continued his bell ringing between songs, mumbled and shrieked, and there was some business with some onstage mannequins, one of them draped in an American flag, that was hard to decipher.
An unruly audience and a temperamental, somewhat inaccessible artist can be a volatile mix. Here's hoping Clementine gets a fair hearing here sometime soon, but he's going to have to meet us halfway.
David Byrne set list:
"Here"
"Lazy"
"I Zimbra"
"Slippery People"
"I Should Watch TV"
"Dog's Mind"
"Everybody's Coming to My House"
"This Must Be the Place (Naïve Melody)"
"Once in a Lifetime"
"Doing the Right Thing"
"Toe Jam"
"Born Under Punches (The Heat Goes On)"
"I Dance Like This"
"Bullet"
"Every Day Is a Miracle"
"Like Humans Do"
"Blind"
"Burning Down the House"
Encore:
"Dancing Together"
"The Great Curve"
Second encore:
"Hell You Talmbout"