David Byrne Releases "Everybody's Coming To My House" Video Performed by Detroit Students
Via Nonesuch Records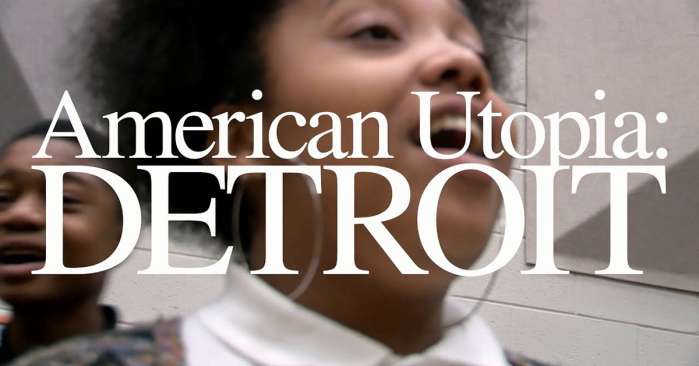 David Byrne, who added new US shows with special guest Tune-Yards on his American Utopia world tour this morning (see below), presents American Utopia: Detroit, a video for "Everybody's Coming To My House" from his recently released solo album, American Utopia, featuring a performance of the song by Detroit School of Arts (DSA) Vocal Jazz Ensemble students. The video, which includes personal perspectives and interpretations from the students, was filmed in part by their classmates from the school's Radio & Television Department. With the help of their beloved teacher Ms. Valentine, the Vocal Jazz Ensemble makes "Everybody's Coming To My House" their own. Watch it here:
Byrne said, "When I saw what the DSA students did with my song, it completely changed the way I thought of it. In fact, it changed the meaning of the song—I realized it was about inclusion, welcoming, and not being alone. It's a more generous interpretation of the song than what I do with my voice. We are all in the same house—if we want to be. Just goes to show how a song can change (radically!) depending on who is singing it."
The students concur: "American Utopia? Maybe it means ... togetherness? Like a group effort? We're just all in this thing together, and we just need to know that," said Michael Brown a twelfth grade vocal major. However, when the project it began it wasn't so easy: "When I first heard it... I literally said, um Miss V.... what are we supposed to do with this?!", explained eleventh grader vocal majors Ivon Harris & Katarina Johnson. Their classmate Justin Malone continued, "Half of us were like, "Oh...this song is okay." And then a quarter of us were like "...OMG who did this?!" And then we actually read the sheet music, and did it, it felt like a moment of togetherness."
Last night, Byrne spoke with Trevor Noah on The Daily Show about the video, the experience of making it, and how it ties into the musician's larger vision of both the American Utopia album and his ongoing Reasons To Be Cheerful series. You can watch that interview here:
American Utopia: Detroit was released as the latest installment of Byrne's Reasons To Be Cheerful (RTBC) series named for the song by the late Ian Dury. As with the album, the content of the RTBC series recognizes the darkness and complexity of today while showcasing alternatives to the despair that threatens us. RTBC highlights stories, news, ideas, and other items Byrne has been collecting over the last year, all of which either embody or identify examples of things that inspire optimism, such as a tech breakthrough, a musical act, a new idea in urban planning or transportation. A Reasons To Be Cheerful hub, where Byrne shares these items, can be accessed here.
The American Utopia: Detroit video crew was joined by Kandi Alexander and Malik Singleton, two students who are passionate about filmmaking and prominent in the school's radio and TV programming. The students helped to produce the video, participating in workshops hosted by the professional producers and camera crew. They used choir rehearsals to practice their own filming, and tried different camera techniques and approaches for each new group of singers. The final result of the entire run time is approximately 30% student camera work, with the other footage shot by a group of aspiring and talented young filmmakers living in Detroit.
To pick up a copy of the album American Utopia, head to your local music store, iTunes, Amazon, and the Nonesuch Store, where CD and vinyl orders include a download of the complete album at checkout. You can also listen to the album on Spotify and Apple Music.
Tickets for these newly announced dates with special guest Tune-Yards go on sale March 16 at 10am local time. For additional tour dates and details, visit nonesuch.com/on-tour.
NEW TOUR DATES
Sep 7 OceanFirst Bank Center at Monmouth University West Long Branch, NJ
Sep 8 Toyota Presents Oakdale Theater Wallingford, CT
Sep 9 Palace Theater Albany, NY
Sep 11 Merrill Auditorium Portland, ME
Sep 23 North Charleston Performing Arts Center North Charleston, SC
Sep 26 Florida Theater Jacksonville, FL
Sep 28 Dr. Phillips Center for The Performing Arts Orlando, FL
Sep 29 The Fillmore Miami Beach, FL
Sep 30 Mahaffey Theater Tampa, FL
Oct 6 Verizon Theater at Grand Prairie Dallas, TX