David Byrne review: Talking Heads star gives audience's brains a polish
Via Evening Standard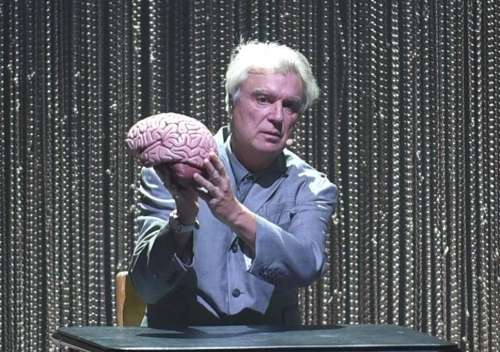 Photo: ANGELA LUBRANO/LIVEPIX
By David Smyth

On a bare stage, David Byrne sat at a table, holding a brain. A silver beaded curtain hung across three sides of an empty space traditionally filled with amplifiers, microphone stands, instruments — the rowdy clutter of a concert.
Byrne, who at 66 could easily be coasting on a rich back catalogue of solo and Talking Heads material, instead deconstructed and reimagined the live music experience in a way that was daringly ambitious and full of joy. It felt as though he had removed our brains, polished them and put them back with a new appreciation for what a show could be.
He was joined by 11 other musicians in matching grey suits. Fast-dancing backing singers Chris Giarmo and Tendayi Kuumba wore headset microphones, as did Byrne, and everyone else had their instruments strapped to them. Choreographed by Annie-B Parson of New York's Big Dance Theater, they moved in marching lines and circles, casting looming shadows on the curtain during the rollicking funk of Blind.
Songs from American Utopia, Byrne's first solo release since 2004, sat comfortably beside Talking Heads classics in this theatrical context. The kooky lyrics of Every Day Is A Miracle ("Elephants don't read newspapers/And the kiss of a chicken is hot") were forgivable next to its carnival chorus. I Dance Like This, with a jarring robotic segment that irritates on record, worked well here with strobe lighting.
Serious moments came when he urged the audience to vote in local elections and at the end, when he covered Janelle Monae's Hell You Talmbout, a chant of names of black Americans killed by police or in racial attacks. But as the band moved en masse to Burning Down The House, the show's abiding message was upbeat: so different, so memorable, so much fun.
Tonight (June 20), Eventim Apollo; October 29, O2 Arena. Buy tickets here.