David Byrne Said Their Names at the Fox
Via SF Weekly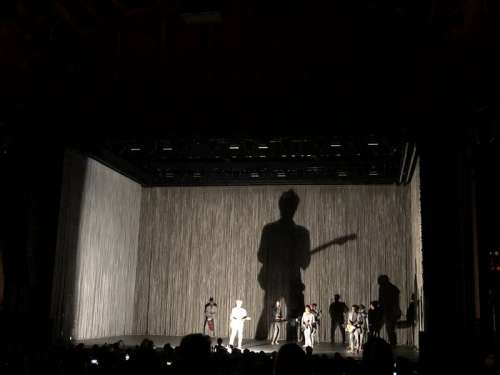 Photo by Zack Ruskin
By Zack Ruskin
Sometimes we go to shows to dance. Other times, we attend seeking offerings of wisdom from the artists in question. Usually you know which one you're going to get before the first notes are played, but rarely is a musician able to deliver both.
In an era when the term "legacy act" has become a bit of a slur — often used to forgive a subpar performance by proxy of what an artist has already accomplished in their career (see Dylan, Bob) — it's only fair that some fans may have wondered just what David Byrne had in store for Oakland's Fox Theater last Thursday. The Talking Heads founder has never been one to settle, having achieved success not only as a musician but also in theater, stage, and literature. Anyone a Tony short of the fabled EGOT is not likely to book a tour without good reason, and it didn't take long for Byrne to prove he wasn't making the rounds at age 66 simply to rest on his laurels.
With the Fox stage decorated by a three-sided silver curtain, Byrne appeared shoeless in a gray suit and launched into "Here" off his latest solo record, American Utopia. Quickly, the evening's main attraction joined, a diverse band in identical attire. With single drums or a keyboard slung around their necks, each member was unshackled from the confines of the standard rock-band arrangement and able to join Byrne in choreography for each song.
From Talking Heads highlights like "Born Under Punches (The Heat Goes On)" and "Once in a Lifetime" to tracks from across Byrne's solo career, the theatrics on stage only served to underscore the music's potency. After only three songs, Byrne stopped the show to make a heartfelt pitch to the crowd's younger members.
"In 2014, only 20 percent of 18-to-29-year-olds voted," he said. "We have to do better."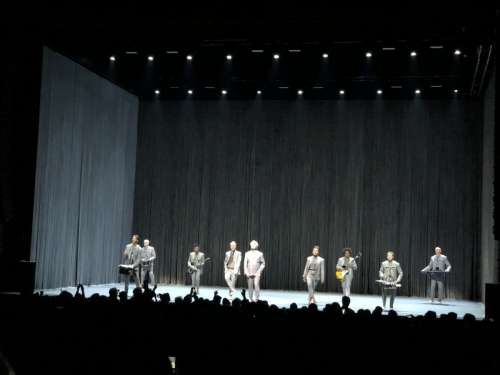 Photo by Zack Ruskin
Byrne is hardly the first artist to use his platform to encourage a stronger turnout from young voters, but it should be noted that his words were far from the obligatory lip-service one has come to expect at any public event in recent years. Instead, Byrne spoke from the heart about the importance of his plea — and chose to do so early in his set rather than over the noise of grateful applause to ensure a captive audience.
Following a performance that last nearly 90 minutes, Byrne returned for a second encore that changed the entire tone of the evening. Without retroactively reducing the joy he had so vociferously infused into the majority of his set, Byrne elected to close out his set with a somber yet radical cover of Janelle Monáe's 2015 protest song against racial violence and police brutality.
Solemnly noting that Monáe had given him permission to update the lyrics to "Hell You Talmbout" as necessary, Byrne and his band proceeded to fill the Fox with chants of the names of African-Americans murdered merely for the color of their skin. Tragically, the song could have lasted for hours, but the version Byrne offered included tributes to Trayvon Martin, Freddie Gray, and Emmett Till. However, it was the moment that Nia Wilson's name reverberated from the Oakland venue's walls that was perhaps the most powerful.
Stabbed to death last month at a BART station, the slain 18-year-old has become a catalyst for local action against societal ambivalence in the face of systematic violence against minorities. If you want to summarize the Bay Area as it currently stands in 2018, look no further than the scene that transpired on Thursday evening. To see an overwhelmingly Caucasian populace that was, only moments earlier, cutting loose to the strains of New Wave classic "Burning Down the House" (a song notably inspired by George Clinton's Parliament-Funkadelic) suddenly confronted with a roll-call of the dead was staggering.
Their absence was palpable. While the individuals who Byrne and his band highlighted assuredly had music tastes as eclectic and personal as anyone else, it was gut-wrenching to realize that instead of being in the audience at a show, there were now being asked to take on a role they never asked for — to serve as testaments to the truth of a vicious and devastating reality we all must accept our parts in.
When we dream of what our future may hold, we hope to hear our name chanted in the way the audience clamored for Byrne before his set began. However, for as long as there are other names to chant — names that must be spoken and remembered — it is both the privilege and duty of artists like Byrne to cede their spotlight.