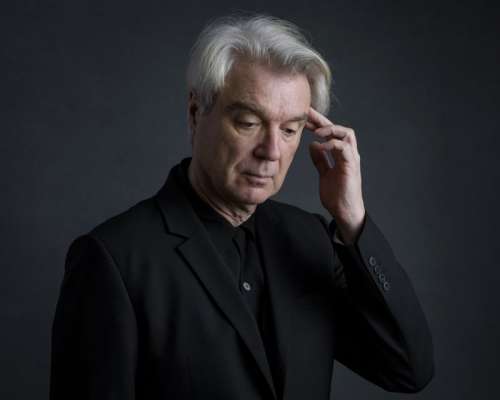 Photo by Drew Gurian/Invision/AP
Written by Michelle R. Smith
David Byrne has some observations about American life these days, and it worries him. The former Talking Heads frontman and prolific artist sees people divided into camps, not talking to one another, with politicians on both sides representing moneyed interests, rather than the people.
Something's gone wrong, he said. Byrne's new album, American Utopia, is about the longing people have amid fears and frustrations.
"They're all wondering, 'Could things be done in a slightly different way? Is there a better way than the way we've ended up?'" he said in a recent interview with The Associated Press.
The album's lead single, Everybody's Coming to My House, co-written with Brian Eno, is No. 5 on Billboard's adult alternative songs chart, giving him his first Top 10 hit in 25 years. Last week he launched an international, 90-some city tour, which he calls his most ambitious since the shows filmed for the 1984 Jonathan Demme film Stop Making Sense, considered among the best concert films of all-time.
And, he has started a website: ReasonsToBeCheerful.world, where he curates hopeful news about some possible paths forward.
American Utopia, out on Friday, is Byrne's first solo album in 14 years. It between those records his work included albums with St. Vincent, musicals about Imelda Marcos and Joan of Arc, books about urban bicycling and how music works, interactive art based on neuroscience and more projects.
Producer Patrick Dillett, who has collaborated with Byrne for years and works on American Utopia — along with Eno and Scottish producer Rodaidh McDonald — said Byrne's collaborative nature and openness to try new things is among the qualities that sets him apart.
"He does a lot of things well, but he's not doing them to be known for it. It's a way of becoming a fuller person," Dillett said. "He's as well-formed and well-rounded a person as I've ever known. If I could be someone when I grow up, I would be him."
Byrne, who was born in Scotland but moved to the United States as a child and held a green card for most of his life, became a US citizen in 2012. Asked why, he laughed, then made a confession.
"I have been voting surreptitiously. I was under possibly the mistaken impression that green card holders could vote for all local candidates," the 65-year-old said. "They just couldn't vote for president. That was the impression I had. And then at some point when I went into my local elementary school to vote, and they said, 'You can't vote!' I hope I'm not getting myself in trouble. But I truly believed that I was allowed to do that, and no one stopped me."
He said he finally decided to gain his citizenship so that he could fully participate in civic society.
"That felt good," he said.
Byrne's new website, named for the Ian Dury and the Blockheads song Reasons to Be Cheerful, Part 3, includes successful projects from around the world in areas such as sustainable energy and culture that could be adopted by other communities, he said. Byrne is fresh off a short lecture tour talking about the ideas, and said he was pleased by the questions he took at the end of each appearance.
"People were genuinely engaged. They weren't trying to change the subject and ask about a Talking Heads reunion or something like that," he said. Byrne has repeatedly said there won't be one.
The website and album aren't directly connected, but run parallel and "talk to one another in some ways," Byrne said. He imagined people in a refugee camp when he wrote the song Gasoline and Dirty Sheets, for example.
The album is "describing things the way they are, or the way I see them. Describing myself, and my own confusions and issues," he said, adding that artists "can offer not just a litany of complaints, but some kind of hope and answers and another way of viewing things."
While there is excitement surrounding the release of American Utopia, some criticised the album because its two dozen collaborators are all men. Byrne said in an online post this week that he regretted it, calling the choice "negligent," and saying that it doesn't reflect what he has done in the past or his current live show.
Byrne, who will perform at the Coachella and New Orleans Jazz festivals during his six-month trek on the road, said fans should not expect a "Stop Making Sense" redux.
"Many people will expect to relive some experience from their childhood. No. I'm not a time machine. I'm not your personal time machine," he said.
But conceptually, the new tour is similar to Stop Making Sense in its simplicity.
"[It] completely rethinks what you can do, what a band, what a show can be," he said.