David Byrne Suggests 'Jared Kushner: The Musical' to Steven Colbert
Via Noisey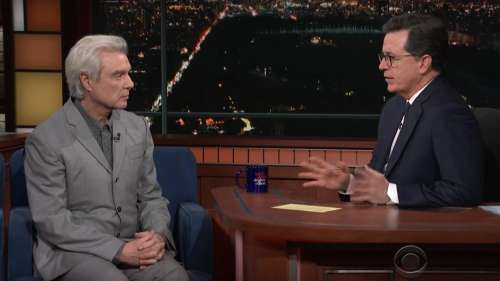 Image via screenshot
Written by Alex Robert Ross
Former Talking heads frontman and genuine pop music icon David Byrne's new album, American Utopia, came out yesterday. As the title suggests, it's a record that jabs away at the failures of the American experiment, half out of fear and half out of disappointment. "This is a place that's got some stuff to work out," he told our own Eric Sundermann in a lengthy interview published earlier this week. "The world is looking at the United States being like, 'What the fuck are you guys doing? Are you serious? We are going to look somewhere else for an example of what and how to live. How to work things out economically, politically, or whatever else.'"
Byrne was a guest on The Late Show with Stephen Colbert last night. He performed "Everybody's Coming to My House," the record's lead single, with a full troupe or besuited, bare-footed musicians and dancers. He even got Colbert in on the performance. It confirms that, yes, this probably is Byrne's most ambitious stage show since Stop Making Sense, just as he promised and then later sought to play down.
His interview with Colbert was odd and amusing in its own way. Colbert asked Byrne – whose 2010 collaboration with Fatboy Slim, Here Lies Love, became an off-Broadway musical – if he drew any inspiration from the dim-witted tragedy of any member of the Trump administration. "I was thinking about Jared Kushner," Byrne responded. Stone-faced, conflicted, and forever cursed by an inability to escape the same fate as his jailed father, Kushner would make the perfect modern Greek legend, according to Byrne: "Everything that Jared does takes him closer to what happened to daddy. He can't stop it."
Watch the performance and the interview below.