David Byrne, Symphony Hall, Birmingham - review with pictures
Via Express & Star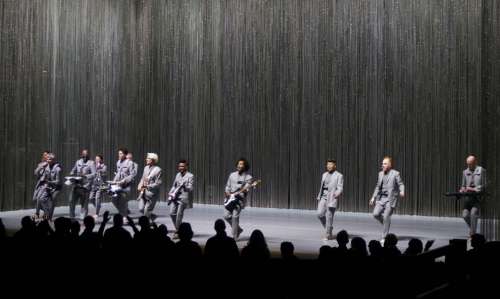 Photo by Andy Shaw
By John Corser
Birmingham fans filed into the Symphony Hall last night to see just what former Talking Heads leader David Byrne's return to live performance would deliver.
He did not disappoint with a fascinating show that was as much performance art as a rock concert.
The massive stage featured just a wooden chair and table bearing a human brain as the audience entered the venue amidst rainforest sound.
The singer/songwriter was in great form leading his 11-strong troupe of musicians, singers and dancers through a tour de force combining songs from his new album American Utopia, solo favourites and Talking Heads classics.
Opening song Here saw a barefoot Byrne, revealed by a single spotlight alone on stage at the table. He was gradually joined on stage by the rest of his group, all similarly without shoes and dressed in a uniform of pale grey suits.
Lazy upped the energy and following a romp through I Zimbra, it was Slippery People that got fans on their feet and dancing along.
The silver-haired star's energy through the long show belied his 66 years and there were plenty of Talking Heads favourites sprinkled through the hour-and-and-a-half show.
The backing musicians, all carrying their instruments, were constantly shifting and switching from on to off stage through the shimmering fronds of curtains surrounding the performance area.
There were dance routines aplenty and clever lighting added to the atmosphere.
He did chat to the audience, even revealing he had drawn Switzerland in a World Cup draw and delighting they had 'tied' Brazil, to the embarrassment of a trio of Brazilians in his ensemble.
Byrne's jerky out of control movements brought roars of applause as the band launched into a brilliant rendition of Once in a Lifetime that was one of the highlights of the night, along with Everybody's Coming to My House from his new album.
This Must Be the Place and Born Under Punches also delighted the audience along with a superb Blind with a single footlight creating giant shadows of Byrne playing guitar, which he played sparingly through the night.
The fantastic set ended on a high with Burning Down the House as fans applauded for minutes as the performers took their bows.
There was, of course, an encore of Dancing Together, from Byrne's musical about Imelda Marcos, and a final Talking Heads classic, The Great Curve.
As a final treat the band returned for a chanted performance of Janelle Monae's Hell You Talmbout, which lists black Americans killed by police and vigilantes.
Birmingham's own Laura Mvula had opened the night with an intense and entrancing set with multi-instrumentalist Troy Miller.
She was clearly delighted to be back home with her mother and father in the audience and her song Father, Father was one of the highlights of her set.
The former Birmingham Conservatoire student was back on the Symphony Hall stage for the first time since graduating.
For those who missed the American Utopia tour at Symphony Hall there is a chance to see it when it returns to the West Midlands in the massive surroundings of the Genting Arena at the National Exhibition Centre on October 26.