DAVID BYRNE WOULD LIKE YOU TO CHEER THE HELL UP
Via Newsweek
Written By Zach Schonfeld
At the Golden Globes on Sunday, one question dominated the evening: Should Oprah Winfrey run for president?
At the New School auditorium in Manhattan the next day, a bold New Yorker raised her hand with a similar proposal: "David Byrne for mayor?"
The genius of jittery pop, who became famous as the frontman of Talking Heads, laughed off the suggestion with a polite chuckle: "I do things in ways that I can." (In other words, don't hold your breath.)
Byrne was onstage at the New School to encourage optimism in the face of despair. More specifically, he was giving a presentation of a new multimedia project called "Reasons to Be Cheerful" (named after the Ian Dury song), which Byrne describes as "an attempt to counter the despair that threatens us during trying times."
The idea originated last year, when the musician was feeling adrift in a sea of bad news (particularly given his progressive leanings). "I wake up in the morning, I look at the paper and I often say to myself, 'Oh no!' Often I'm depressed for half the day," Byrne wrote in an information sheet that accompanied the presentation. "As a kind of remedy to this, and possibly as a kind of therapy, I started collecting good news that reminded me, 'Hey, there's actually some positive stuff going on!'"
Deciding to make his findings public, Byrne officially launched Reasons to Be Cheerful this week.
The New School auditorium on West 12th Street was packed tight with people eager to hear more—New Yorkers desperate for some post-holiday cheer, perhaps, or just fans eager for a glimpse of the man who sang "Once in a Lifetime."
Byrne, whose lengthy solo career has included high-profile collaborations with Brian Eno and St. Vincent, was not in performer mode. His twitchy anxiety, a trademark of his most famous vocal performances, was replaced with genial optimism. During his hour-long presentation, Byrne came off as part-college lecturer, part-future visionary, part-therapist. Clad in a pink blazer and dark shirt, the 65-year-old singer spoke on a range of subjects, while flipping through a slideshow of developments that brought him hope: images from last year's Women's March, news about drug decriminalization, statistics about the effects of the arts on crime and education.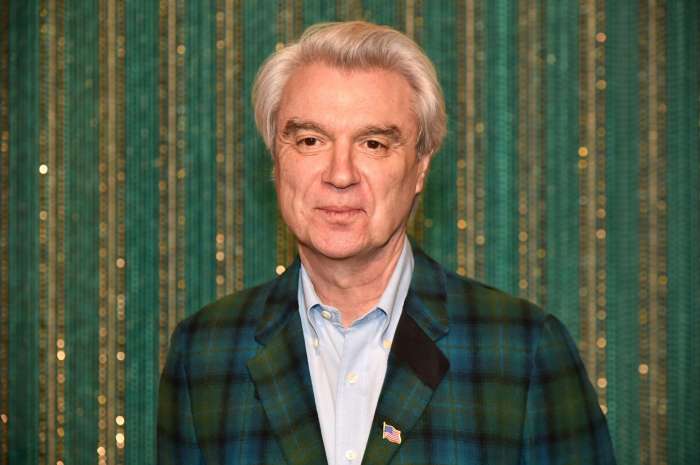 THEO WARGO/GETTY IMAGES
At the start, Byrne laid out parameters for his reasons to be cheerful. He wasn't, for example, interested in isolated human interest stories, like those found in viral, uplifting puff pieces—people winning the lottery, say, or a lucky puppy getting adopted. His interest lay in positive developments that have been proven to be successful and are not isolated to one culture. In other words, bits of encouraging news that might enrich your own life or community.
Byrne talked a lot about cycling. His interest is well documented: He wrote a book called Bicycle Diaries and is frequently spotted biking around New York City, where he does not own a vehicle. (In 2008, he designed nine public bike racks, placed around the city.)
Cities becoming more bike-friendly is good news for sustainability and urban-dwellers in general. "It changes the way people think about their city, and it changes their behavior," Byrne said, citing Paris and Bogotá as examples.
The rocker also preached the observed benefits of treating drug abuse as a public health issue rather than a criminal offense. He discussed drug decriminalization in Portugal, where the rate of overdose deaths has decreased to three per every million people. (In the United States, the rate is 147 per million people.)
Though he never mentioned President Trump by name, he devoted a segment of his presentation to civic engagement and 2017's encouraging rise of grassroots activism. Byrne shared photos of himself—in one, he was "dressed as a Southern white man," talking to voters in North Carolina before the election—and images from the Women's March, including a man holding a sign proclaiming "TRUMP LIKES NICKELBACK."
Of the the March, which he attended, Byrne said, "Of course, given my political point of view, it cheered me up that so many people were there."
The conclusion: "Citizens are becoming more civically engaged."
Another reason to be cheerful: The same day as the presentation, Byrne announced a new album, American Utopia, due in March. (Though the record contains contributions by Brian Eno, it is Byrne's first solo album since 2004's Grown Backwards.) The title and the cover artwork—an image by the late painter Purvis Young—relate directly to this ongoing project.
"I would like to think that collecting these reasons to be cheerful has rubbed off on the record I made," he explained to the audience. (A song from the album, "Everybody's Coming To My House," played from speakers when the crowd exited the auditorium.)
At the end of the presentation, Byrne opened the floor to questions. One audience member asked how to prevent overwhelming feelings of dread given world events. "I can't make that go away," Byrne admitted. "I read the papers, too. There are many, many reasons for dread. But if that's all I'm gonna live with, I'm gonna lose my mind."