David Byrne's AMERICAN UTOPIA Nominated For Best Alternative Album Grammy Award
Via Broadway World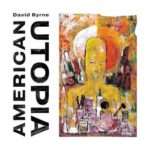 By BWW News Desk
David Byrne's American Utopia album, released earlier this year on Todomundo / Nonesuch Records, has been nominated for Best Alternative Album at the 61st Grammy Awards. American Utopia earned David his highest charting album ever, entering at No. 1 on the Top Current Album Chart and No. 3 on the Billboard Top 200 and topping both Rock and Alternative Album Charts, as well as achieving career-best spots internationally. American Utopia features Byrne's Top 10 single, "Everybody's Coming To My House," which he and his band performed on the Late Show with Stephen Colbert.
Byrne's last nomination was for Love This Giant, his collaboration with St. Vincent. In 1988, he won a Grammy Award for The Last Emperor soundtrack, for which he was also honored with an Academy Award.
American Utopia questions the current state of society while offering solace through song. NPR said of the record, "If a brain in a jar could observe the world, make sense of it and churn it into a batch of songs, it would make the album American Utopia." An extensive world tour, with what Byrne called "the most ambitious show I've done since the shows that were filmed for Stop Making Sense," was launched simultaneously. The sold-out, highly praised concerts featuring the singer/guitarist and an eleven-piece, untethered band, choreographed by Annie-B Parson, were named MOJO's Event of the Year and nominated for Q Awards Best Live Act.
Additionally, last month, in conjunction with The Criterion Collection's special-edition DVD and Blu-ray release of David Byrne's 1986 film True Stories, Nonesuch and Todomundo Records released a comprehensive soundtrack, collected for the first time in one package and in film sequence: True Stories, A Film by David Byrne: The Complete Soundtrack.
American Utopia (Deluxe Edition)
1. I Dance Like This
2. Gasoline And Dirty Sheets
3. Every Day Is A Miracle
4. Dog's Mind
5. This Is That
6. It's Not Dark Up Here
7. Bullet
8. Doing The Right Thing
9. Everybody's Coming To My House
10. Here