David Byrne's 'American Utopia' showcases his unique artistry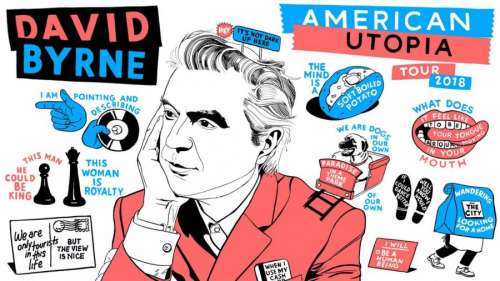 By Matt Leonard
The first time I listened to David Byrne was sometime around 2002 when his song "Like Humans Do" was included as sample music for Windows Media Player in Windows XP. Not only was it a captivating song for my young self, but it also existed as one of few songs on that computer.
I was reintroduced, haphazardly, through Talking Heads, as Byrne was the frontman for the band throughout the late 70s and into the early 90s. Songs like "Once in a Lifetime," "Psycho Killer," "This Must Be the Place (Naive Melody)" and "(Nothing But) Flowers" showcased Byrne's idiosyncratic nature and peculiar voice. I saw Byrne in concert with St. Vincent (Annie Clark) for their collaborative album, "Love This Giant," in 2012, which cemented Byrne into my musical repertoire. His new album "American Utopia" was released on March 9, and it is a lush dive into the Byrne's conceptualization of America.
The album continues Byrne's longstanding relationship with Brian Eno, but now Eno and Byrne are joined by Rodaidh McDonald as the album's producers. "Reasons to Be Cheerful," a larger project that "American Utopia" is a part of, is an attempt of Byrne to spread positivity. The project is a lovely reprieve from the negativity that often surrounds us, and Byrne's latest album captures that positivity with grace.
"I Dance Like This" jump-starts the album with each disparate components of the song—the chorus and verses sounding as if they are from different songs entirely. Byrne immediately reminds listeners of his head-space—an enigmatic warped perspective full of divergent melodies. What starts as a quiet piano piece with Byrne singing becomes a heady, droning electronic soundscape before cutting that production away.
"Gasoline And Dirty Sheets" jives and grooves as it explores intrinsic components of America's culture. With a melting pot of instruments—including a sitar, horns, bass guitar and more—Byrne embraces that nature of the melting pot and diaspora that make up America. He also sings about how people from anywhere and everywhere are worthy, but some are left out for no reason. Byrne has noted that the song is partially about those displaced by wars, living in refugee camps or being forced to start anew—people who had been doctors or other professionals left to struggle to be recognized as people.
"Every Day Is A Miracle" is another standout from the album, with Byrne's voice sweeping across lines like "The rose is pruned to a perfect shape / Perfect for whom, I wonder." The song juxtaposes the mundane, the bad, the weird with how amazing it is to be in the world. There is an uplifting quality to the track, as Byrne seems to say, "Yeah, everything is weird. I like it like that. It makes me celebrate the oddities and weirdness of life."
"Doing The Right Thing" mixes slow, plucky instrumentation with Byrne's extended voice build into a lush, confident crescendo. It is a lovely track full of soft bass, Byrne plucking at his guitar with string instruments—cello and violin—building the track out with a collection of hand drums during the chorus.
The rest of the album—tracks like "Dog's Mind," "Bullet," "Everybody's Coming To My House" and more—fills out a positive, powerful message from Byrne. In his eyes, there is a lot wrong in the world but there is also so much good—so much love and care that we don't see.
"Here" closes the album with a sense of totality and peace crafted through an evocative, sparse instrumentation that focuses the attention on Byrne's voice. As Byrne croons emotively about the captivating idea of "here," the song brings the album to a strong close with a final emotive punctuation.
I won't soon forget hearing "Like Humans Do" through tinny computer speakers in the early days of youth. And like those first glancing moments with the artist that is David Byrne, I won't be forgetting "American Utopia" for many years to come.
Byrne is a consistently impressive, restlessly artistic individual whose productions are a treat for the body and soul alike. "American Utopia" refines and condenses Byrne, while amplifying his wit and musicianship. As a part of the "Reasons to Be Cheerful" project, Byrne's album is infectiously positive and even in its darkest moments, it discovers more reasons (to be cheerful).