David Byrne's 'American Utopia' tour has been wowing crowds across the country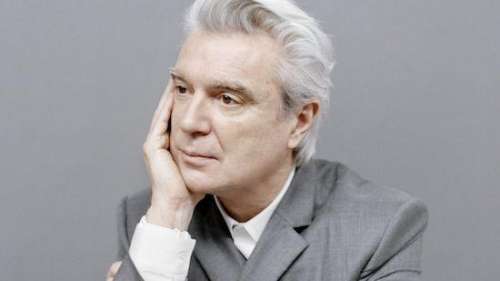 Photo by Jody Rogac
By Scott Mervis
What was he going to do, call his album "American Nightmare"?
If you know David Byrne, that's not very David Byrne.
The New York art-punk icon always has looked at the world with a seemingly naive and knowing sense of wonder, and nothing about that changes on "American Utopia." His first album in six years and his 10th since his swansong with Talking Heads in 1988 is another collection that percolates with sophisticated rhythms and textures aside wordplay even more eccentric than usual.
On Sunday, the 65-year-old Hall of Famer arrives at the Benedum, Downtown, on a massive tour that already has delighted fans at two major festivals. Writing about his set at the New Orleans Jazz Fest, Rolling Stone noted, "Already the toast of Coachella, Byrne's new road show was a knockout here as well."
For his first trip to Pittsburgh since playing Carnegie Music Hall in Oakland in 2008, he'll return to the building (formerly the Stanley Theater) where Talking Heads played the historically funky, innovative 1983 tour documented in the film "Stop Making Sense."
Once again, he's reinventing the live experience, this time with an untethered 12-member ensemble featuring two guitarists, a keyboardist, backup singer and seven (yes, seven) percussionists. He worked again with choreographer Annie-B Parson on what he deemed to be "the most ambitious show I've done since the shows that were filmed for 'Stop Making Sense.'" It's designed to look like a marching band routine, or perhaps a yoga class, as one critic called it.
On a bare stage, and mostly in bare feet, in matching gray suits, they run through seven of the 10 songs from the new album, breaking it up with five or so Talking Heads classics, selected solo pieces and a choice closing cover.
Generating new songs to go alongside such treasures as "Once in a Lifetime," "Born Under Punches (The Heat Goes On)" and "Burning Down the House" is always a tall order, and this was a highly collaborative one written and recorded over a two-year period.
"The initial writing," Mr. Byrne wrote of "American Utopia," "was triggered by some drum tracks that my friend Brian Eno made."
We're all well aware of Eno — from Roxy Music to early solo work to his ambient albums to his brilliant production for Talking Heads, David Bowie, U2 and countless others.
He continued, "They involve an algorithm that randomizes some parts of the playing/programming, which has the effect of making the programmed drums sound more human. Brian often countered this humanizing effect by adding effects to the drum sounds."
From there, he enlisted Scottish producer Rodaidh McDonald (The xx, Savages, Vampire Weekend) and musicians including Doveman, Daniel Lopatin (aka Oneohtrix Point Never), Jam City, Jack Peñate and Sampha.
It's bright, airy, less funky and angular than "Love This Giant," his previous studio effort with St. Vincent, and, with so many hands in the process, it seems a little unsure of what it wants to be.
"In the recording studio, I drew song grids in a notebook — labeled with verses, choruses, instrumental sections and endings," Mr. Byrne wrote in the annotations to a playlist of work from the "American Utopia" guest list. "When the contributions of some of these artists arrived over the internet, I'd note which sections 'worked' and which didn't — in my opinion. So we often ended up with a whole slew of contributors to a song, a patchwork — and somehow it worked."
Vintage Talking Heads-style songs are rare, but do arise, for instance, in "Everybody's Coming to My House," a song with echoes of "Once in a Lifetime." While you're listening you can try to decode the genius.com description of that song: "Channeling Deleuzian metamorphosic chants, it offers the postmodern Dionysiac Cure wrapped in the Eno-produced sound-wall using techniques to trick your ear into believing it's louder than it is."
Decoding the lyrics is another challenge altogether, as it always is with Mr. Byrne, who toes the line between the profound, surreal and nonsensical.
In one moment of clarity, he seems to suggest of the American utopia, "We are dogs in our own paradise/In a theme park of our own," existing without any real control of our direction or leadership.
At another point, he sings, "The world won't end/it will just change its name."
He launched the album with a website called Reasons to Be Cheerful, taken from an Ian Dury song, where he posts stories about positive things happening with grass-roots community efforts, sustainable energy, technology, culture, etc.
"Ideas, they are a dime a dozen. Even good ideas are a dime a dozen," he said in launching it.
"But," he continued, "to actually take a good idea and execute it and say, 'Look, I tested it and it works ....'"
He didn't finish the thought, but what we know of those "reasons to be cheerful" is that they change the world a little bit at a time.