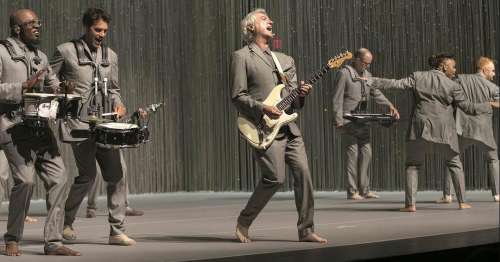 David Byrne's American Utopia tour made its way to the UK for a week of sold-out shows, starting at the New Theatre in Oxford and including concerts at Glasgow Royal Concert Hall, Birmingham Symphony Hall, and Manchester Apollo, culminating in two nights at Eventim Apollo in London. The concerts have been met with rave reviews across the board, from start to finish, not least from the NME, reviewing the tour-opening show in Oxford and declaring: "The American Utopia tour may just be the best live show of all time."
"Byrne and his 11-piece band put on an unforgettably unique, imaginative, and kaleidoscopically entrancing spectacle of music, dance, and theatre," exclaims Daily Telegraph reviewer Sarah Carson in a perfect five-star review of the American Utopia show at Eventim Apollo in London on Tuesday. "Even for an icon like Byrne, this was something special."
"The American Utopia tour is one of the most mind-blowingly meticulous and awe-inspiring productions you could ever hope to see," says the Independent's Jeremy Allen. "It might have taken more than 30 years, but Byrne has somehow made Stop Making Sense look ordinary. Perfection."
The Financial Times' David Cheal, in his five-star review, reports that "from start to finish, it is joyous, life-affirming, pulsating, moving, thrilling, exhilarating."
"Daringly ambitious and full of joy," says the Evening Standard's David Smyth in his five-star review of the concert. "So different, so memorable, so much fun."
Dorian Lynskey, a writer for the Guardian, Observer, and Q and music critic at British GQ, tweeted: "Even in this golden age of stage design the David Byrne show is something genuinely, astonishingly, inspirationally new. Like seeing someone reinvent the gig ... Damn."
"Since the end of David Byrne's show last night I've been trying extremely hard to think of a better gig I've seen. Within reasonable grounds ... I've failed to come up with anything," declares The Quietus reviewer William Doyle of the London concert. "Byrne's show provides a space in which to dance and sing together, to recharge ourselves and find worthwhile relief from the atrocities happening in the world outside of the venue, while simultaneously addressing them. Doing this while also deconstructing and rearranging what it feels like to watch a gig is ambitious stuff, but Byrne and his band completely pull it off."
"Stop Making Sense is for many the ultimate live concert film—here, at the age of 66, Byrne attempted and pulled off a remarkable coup: just maybe this was even more fully realised as a theatrical and musical event," says The Arts Desk's Peter Culshaw in his five-star review. "A delightful, inspired evening."
The Glasgow gig gets a perfect five stars as well, from the Scotsman. "David Byrne is one of a number of musicians over the last year who have chosen to respond to a global rise in repression and intolerance by pushing back with positivity," writes reviewer Fiona Shepherd. "Mass exposure to his glorious, life-affirming American Utopia show alone would make the world a better place." Shepherd says it's a "brilliantly conceived and executed celebration of a performance ... [an] extraordinary, ecstatic show."
There's a five-star review for the Manchester Apollo show too. "Billed as his most ambitious show since the amazing Stop Making Sense tour in the early 1980s, this set is an 'untethered,' highly choreographed show, full of energy and enthusiasm," writes the Manchester Evening News reviewer Dominic Walsh. "Each part of the show felt like an artistic piece on its own." He notes that it was Byrne's "still phenomenally powerful voice driving every song with incredible energy."
The tour heads to the Continent next and back to North America in July, returning to the UK for newly announced arena shows in October. For details and tickets, visit nonesuch.com/on-tour.
To pick up a copy of the album American Utopia, head to your local music store, iTunes, Amazon, and the Nonesuch Store, where CD and vinyl orders include a download of the complete album at checkout. You can also listen to the album on Spotify and Apple Music.